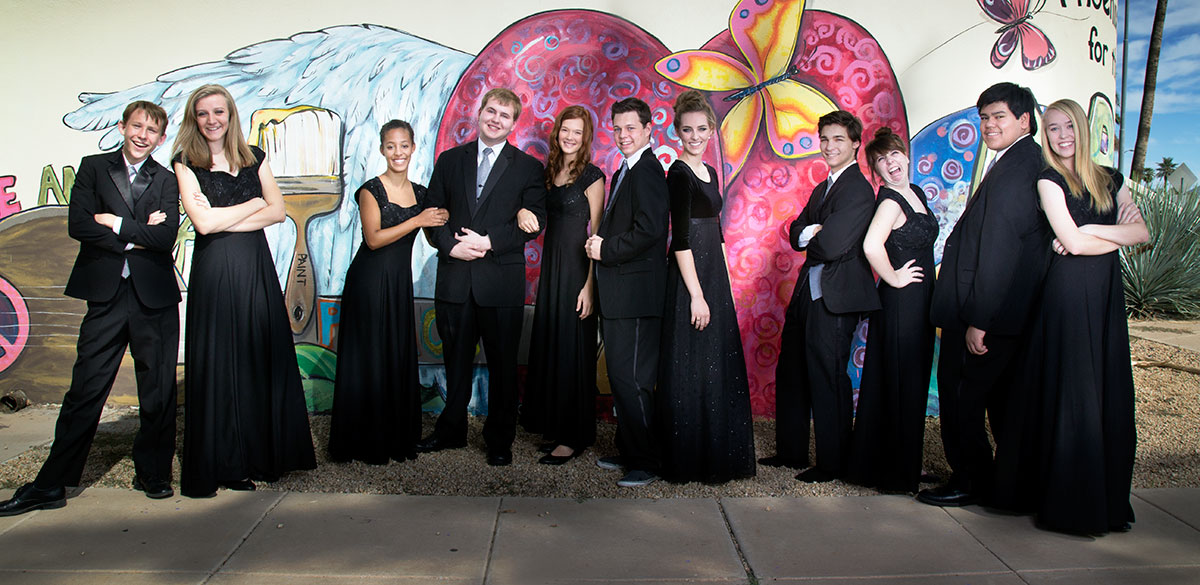 Yesterday I was asked to shoot one of the new choirs at Phoenix Children's Chorus. This is an elite group of singers that are available for gigs in the valley. This is one of my favorites from the shoot.
---
ON SIMPLIFICATION
I am going through a simplification moment in my life. Looking to do more with less, and not being enamored of every shiny object that comes along. Whether photography or design, I am taking a more simple approach and looking to let go of things that are un-needed or simply take too much time and attention. This post at Unclutterer caught my attention.
"Using simple tools, when that's all you need.

I used to be intrigued by all the fancy apps for creating and managing to-do lists, and those apps certainly make sense for some people. But at some point, I realized that for me,  a simple text file was sufficient, and going back to that basic tool made my life easier. Sometimes extra features are a distraction, not a benefit."
Yes.
---
CLASSICAL
The Italian Opera composer, Puccini could never have known that one of his arias would become a world favorite, and THE audition piece for every male opera singer to ever hit a "talent" TV show. The great tenor Pavaortti made the song a household tune in the late 90's.
From Wiki:
" "Nessun dorma" achieved pop status after Luciano Pavarotti's 1972 recording of it was used as the theme song of BBC television's coverage of the 1990 FIFA World Cup in Italy. It subsequently reached #2 on the UK Singles Chart Although Pavarotti rarely sang the role of Calaf on stage, Nessun dorma became his signature aria and, in turn, a sporting anthem in its own right, especially for football.[5]Pavarotti gave a rendition of "Nessun dorma" at his final performance, the finale of the Opening Ceremony of the 2006 Torino Winter Olympics, although it was later revealed that he had lip-synched the specially pre-recorded performance (at the time of his Winter Olympics appearance Pavarotti was physically incapable of performing as he was suffering from pancreatic cancer to which he succumbed the year following). His Decca recording of the aria was played at his funeral during the flypast by the Italian Air Force.[7] In 2013, the track was certified gold by the Federation of the Italian Music Industry."
In 1998, Pavarotti was scheduled to sing at the Grammy's, but at the last moment became quite ill. The show's producers, knowing that Aretha Franklin was attending the show, asked her to sing in Pavarotti's stead. She agreed, and this magical moment occured – live on TV.
While some Opera "aficionados" decried the performance because of the liberties Aretha took, many others welcomed this expression and personally approached rendition as something the classical world could certainly embrace.
I agree. Why not allow the performers to bring something new, their own spin to the songs we have allowed to go unchanged for decades. Jazz players do it. Pop music does it. Why not classical?
I am not suggesting adding a disco beat to the Verdi Requiem, I am happy with letting voices of renown add their color and personal attention to the performance. Perhaps one day we could look forward to hearing Sting in Pagliaci… yeah, that would be cool.
---
JAZZ
One of John Coltrane's most celebrated masterpieces was "A Love Supreme". (Wiki) It is one of the most highly regarded jazz albums of all time, and sold over 500,000 copies in Trane's lifetime… and hundreds of thousands since then as well.
Here is the incredible Branford Marsalis doing "A Love Supreme" and doing it supremely well.
---
PHOTOSHOP
And this may be actually a bit on topic, but it is very nice little look at Photoshop's Patch Tool.