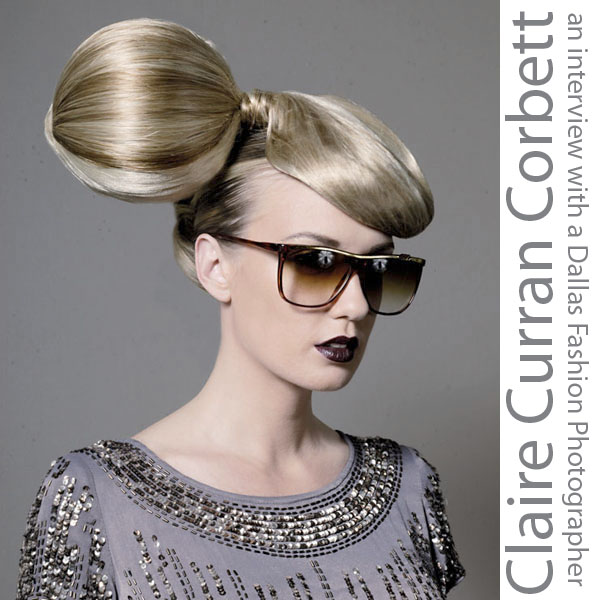 Hey everyone. It has been a terrifically busy couple of weeks. We are finalizing the book, getting the new DVD into editing form and shooting new work for clients all over the southwest. I will be sharing those images as they come out of embargo.
Today we get a chance to meet Claire Currant Corbett, a Dallas beauty and fashion photographer. I met Claire when we did the Dallas workshop. A delightful young photographer, Claire also brings a wit and strong eye to the work she does in Dallas, and Los Angeles. You should follow along as she builds a solid career for herself.
Before we get to the interview, a few things. It does look like I will be heading to England for a workshop, and we are looking at adding an Ireland component to it as well. For any of my readers from Europe, I would love to come to Spain and Italy too… hint hint.
Here are some previous Interviews. Some on the magazine site.
Michael Maersch
Joshua Targownik
Jimi Giannatti
Kieth Taylor
Laurie Meehan-Elmer
Jay B. Sauceda
Eduardo Frances
Take a moment or two to visit with these photographers. I think you will find it highly interesting and a bit motivational.
I will be in Cleveland in a few weeks, so if you are thinking of taking a workshop this summer, get a jump on it and take a look at the Lighting Essentials workshop. We just finished the Washington DC/Baltimore workshop and it was fantastic. As well as the great goodies and solid lighting information we give out, you get a free one year Pro Account at SmugMug ($150 value). We are very close to announcing our ongoing lighting seminars online (also no charge to any seminar attendee… ever.)
OK… enough about me, let's talk to Claire Corbett about photography and getting started as a beauty/fashion photographer.

1. How long have you been in business? Was it a slow transition or did you just open shop?
I would say I have been in the business for about two years. It was a bit of a slow transition… I was in college and started taking things more seriously in my last year. I feel like the quality of my work greatly improved, and I really started focusing on having a strong portfolio. I think once my book started to improve dramatically, I began working a lot more.
2. How did you get started? Any mentors or great stories here?
I started taking photography courses when I was a teenager in Houston. I attended Glassell, which is a extracurricular art school at the Museum of Fine Arts, Houston. My teacher was Amy Blakemore, who is a prominent Houston-based photographer. The funny thing is, I was very young at the time and was completely unaware of this. I decided it was something I enjoyed and took seriously, so in high school I was chief photographer for the yearbook my junior and senior years. After high school I interned in New York City for a fashion photographer and got a glimpse of what a real commercial shoot what like. I then moved to Santa Barbara to attend Brooks Institute. It was a long process but definitely worth it.
3. Describe an average week at your studio.
Recently I have had a lot of other photographers working in my studio. I don't mind that though, I have a lot of retouching I need to catch up on! I usually shoot 1-2 days a week, and the rest of the time I focus on editing and marketing.
4. Why (your city)? Have you considered anywhere else?
I really like Dallas! I have considered moving back to Houston eventually, but I plan to live here for a while. The type of work that I enjoy is based here. I would never leave this state though… I am a Texan, and I can't see myself anywhere else.
5. What motivates you, or gets you going? What do you use for inspiration?
I definitely enjoy fashion and am motivated by current trends. I spend a lot of time going through foreign publications and online looking for new things… color palates, hair styles, etc. I try and keep my book looking current, and love to test out new lighting ideas to create moods that go with the wardrobe.
6. What is it you like the most about being a photographer? Do you do anything else for a hobby or avocation?
I like being an entrepreneur. I have always been a business-minded person, and love that I can combine the two. My favorite hobby is definitely traveling. I also play Wii a lot.
7. Are there any downsides to being a commercial photographer that you would like to change? How would you change them?
I feel like a lot of photographers don't know their rights, which can complicate things for everyone else. I have turned down a lot of work simply because I don't give away my copyright. It's unfortunate so many photographers agree to terms like that. Sometimes I feel like people don't read the small print… I wish I knew how to change it! Also when you are first starting out, everyone tries to get you to work for them for free. Editorials, ad campaigns, everything. I don't know how many times I have heard, "This could be a great opportunity for you." I'm not a big fan of that.
8. What was your most memorable assignment?
Oh… I have no idea. Too many to say.
9. Any 'war' stories you would like to share? You know, the ones that always start with "There was this one job where…."
Ha! Well… I would like to say that I have never had a bad shoot. Even the hairiest situation can end up being fun. For example… I am a big fan of desert shoots. Those always have interesting stories. Working 8-10 hours in the hot sun on location with one generator and no toilet… not to mention a styling team and models… yeah. Running back and forth to the nearest store to buy bags of ice… doing wardrobe changes in the back of my car… Fun times. The images always make it worth it though.
The only real problem I have had on set is stage-moms. I have been so lucky with most of the models I use. Many agency models get scouted as young at 14, so of course their parents are on set to make sure everything is ok. 99% of the time their parents are really great, and you can tell it puts the models at ease to have them there. I can only think of 1 time where the models mother was seriously hard to work with. She was running into the shot, posing her daughters arms and trying to coach her. It was bizarre! She kept telling her 15 year old daughter to "push her chest out" … meanwhile I am standing behind the mother shaking my head no! She eventually got a phone call and stepped out, so I never had any confrontations. And the photos turned out ok!
10. What would be your ideal assignment?
Neiman Marcus, The Christmas Book.
11. Future plans for Claire and her photography?
I have a few editorials coming up, which I am excited about. That is my main short-term goal… getting more editorials!
12. Tell us a little about your new work…
I just finished up a ton of shoots in LA which I have finally finished editing. They are mainly fashion and beauty stories… I was lucky to work with some really talented people which makes things so much more interesting! I also completely redesigned my website from scratch. I am not a web designer… so it took forever! I think it looks much better though.
13 Oh, and what is on the music box right now at your studio?
(yes, it was supposed to be 12, but what the heck…)
The Presets, Apocalypso
The Octopus Project, Hello Avalanche
The Tough Alliance, A New Chance
Thanks to Claire for this interview. You can see more of Claire's work at her website and blog.
www.currancorbettphoto.com
www.leroystudios.com
Claires Blog
Claire's Facebook