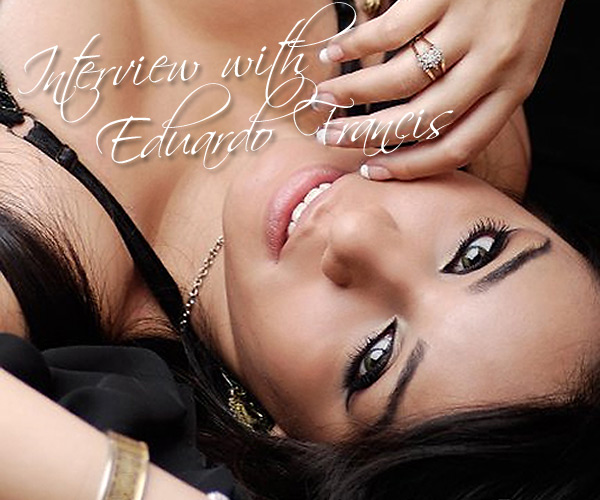 Well a few changes are in order, more about them later.
This post is a wonderful interview with my buddy Eduardo Frances. Eduardo specializes in people and glamour work in San Salvador, El Salvador. Take a look at his interview, then drop over to one of his sites and let him know how much you enjoyed seeing his work and hearing what he has to say about the business.
But of course there are a few housekeeping things…
1. If you have been to one of my workshops lately, please take a moment and send me a few images so I can do a special post in June.
2. If you are considering a workshop this summer, take a look at what we offer at Lighting Essentials Workshops. We think they are one of the best workshops you will attend… there are a lot of good ones out there, but we think we offer something pretty unique.
3. I would love to come to Europe this summer and do a workshop in the Paris or Seville or Ireland… not that picky. I would need 16 students – two weekends of 8 attendees – to make it work. If you are interested in hosting or setting up a workshop in Europe, let me know.
4. I am looking for some dates in the good old USA for the summer too. Take a look at Learn To Light's schedule page for where we are currently booked.
5. I am a new correspondent for ProPhotoResource and my article on "subject centric lighting" is there now. You workshop attendees know what I mean, but it may be a bit of a new concept for many of you.
Well, that's about it for housekeeping so let's get on with Eduardo Frances and shooting beauty in San Salvador. As far as those changes… keep posted, they are really terrific.
Eduardo Frances: Beauty and Fashion Photographer in San Salvador.
1. How long have you been in business? Was it a slow transition or did you just open shop?
I've been at this for almost 4 years of non-stop fun! To tell you the truth, I think it was slow in some parts and fast in others, I started as a photographer for a small model agency here, then I worked for another photographer (something I now regret because he is not a good person) and after that I decided to go "solo", and here I am now!.
2. How did you get started? Any mentors or great stories here?
It's funny, I was totally into drawing and illustration before even thinking about photography, not that I was good at it but I liked it. In my career we get an introduction to photography and I totally got in love with it. For me it was a revelation, an epiphany, if you like to be able to freeze time. I had the luck of receiving this introduction with Ernesto Tejada who is an awesome person and a excellent teacher, his assigned instructor for the class (a good friend of mine) Angel Hernandez is a friend and a talented photographer too, both made photography even more interesting for me. After 2 semesters with them I learned a whole lot and my curiosity drove me and I was day after day trying to get new info on how to do more stuff with my camera (the net is a great tool for this). I also got a lot of invaluable help and guidance from my great friend and mentor Ron Barber who kindly offered me a whole lot of help with the barrage of dumb questions I could formulate at that time, (thanks Ron!!!) and other people at Deviantart.com too. I share "notes" with Roberto Ventura a heck of a great photographer that works for a local newspaper and a great friend too. I also got to know about David Hobby's blog and your site too: Lighting Essentials while searching for more places to learn, I really think both LE and Strobist are landmarks on what the net has become today and what will be in the future too.
To this date, I keep searching info to learn, visiting blogs, participating in many forums too, reading books, I really think photography is a never ending learning process where you have to keep yourself fresh with new stuff and this has helped me a whole lot.
3. Describe an average week at your studio.
It would be getting in contact with clients, models, make up artists (MUA'S), and visiting them, you know the drill: networking, networking, and more networking! This business doesn't allow you to sit flat on your behind and wait for work to come and ring your doorbell: if you want to make a living off this you have to do serious networking. Then it is also getting price quotes for the prospective clients, negotiating, etc. and it ends with shooting content for said clients and also my own projects too.
4. Why San Salvador? Have you considered anywhere else?
I was born and raised in San Salvador (capital city of El Salvador in Central America) this city is my home, and it's a place choke full of talent! Although I would love to move to a bigger city and try things out in another country like the USA or Spain in the future (my father is from Spain so I have both nationalities: Salvadorean and Spanish).
5. What motivates you, or gets you going? What do you use for inspiration?
Life is a wonderful source for inspiration! For me inspiration comes in many forms, it could be something I have seen while driving in my car, any form of art: museums, TV, movies, magazines, etc; everyday I see something unique that adds to your creative soup cooking in my head.
I also buy magazines religiously (Harpeer's Bazaar, Vogue -European Edition-), because they get in me in contact with the aesthetic trends around the globe. I am, also, a big advocate of self studying the history of art as means to diversify your point of view on what we do; traveling to other cities and countries helps too, seeing other places adds to your point of view about things.
What gets me going is that first feeling I had when I used a camera the ability to stop time and make something great with a lil' bit of magic and light.
6. What is it you like the most about being a photographer? Do you do anything else for a hobby or avocation?
The interaction I have with other people when doing a photo shoot. I had the luck of meeting a whole lot of awesome people that display their talent in front or behind the camera. To me that's what's so awesome about being a photographer: being part of a team of people dedicated to help each other to create a photo!, it is great to be in the same vibe with so much people with a common goal!.
As for hobbies I have geeky hobbies! I love doing scale models! I draw a little (not that I'm good at it, but it is fun), I love reading too, and having chats at Cafés.
7. Are there any downsides to being a commercial photographer that you would like to change? How would you change them?

Wouldn't it be fun that the client said yes regardless of whatever crazy project and budget we planned? hahaha i'm just kidding ;).
To tell you the truth I really enjoy it a whole lot, I can't think of any downside to being a commercial photographer; as I said before, you get to met creative people, you get to know them and work with them sharing the common goal of doing something great. I can't think of a better job than this. Ok, sure, it has its moments of stress though.
The only thing that I can think is like a downside is when a client confuses negotiating a price quote so it fits their budgets and haggling like it is a flea market.
8. What was your most memorable assignment?
Doing photo shoots for a national TV station. The assignment was to shoot the hosts and hostess that worked there for Mobile phone content. I was super nervous at first, as I didn't knew them in person, but suddenly it was all great, they are really a group of awesome people, no divas, no dramas, it was sure a lot of fun, they were totally collaborative and willing to do their best to create great photos; the photos came out great thanks to all the team members involved (from the production and organizers, to the people who posed in front of the camera and those who helped me behind the camera like the MUA's).
9. Any 'war' stories you would like to share? You know, the ones that always start with "There was this one job where…."
I think it is an experience we've all had at some point: the client's problematic mom, dad, aunt, uncle, granny, brother, sister, etc.!
Before doing only commercial photography I did weddings and never got a complaint from the clients. There was one time though; I was hired by the couple who were, both of them, a charm, really nice and polite people. But the bride's mother was what we know as a "momzilla", she was a pack of high wired nerves. She spent the whole time (afternoon and night) shouting and screaming to everyone: saying horrible stuff to the catering service people, to the waiters, etc., you can get the idea. In the end though, the photos came out great even if the mother of the bride shouted me a couple of times (the poor bride was very apologetic each time it happened).
When the time came to choose the photos to be printed, the bride and the groom came by, but they also brought the bride's mother. The mother started to shout that the photos were no good and that she demanded a discount (she was yelling she wanted 40% off the price). The groom started to whisper to the bride and the calm bride in a firm voice suddenly said: "WE love the photos, mother. So sit down and be QUIET!"… At that point the mother sat down and didn't said anything anymore. The groom and the bride were happy with the photos and, in the end, while they were leaving, the bride and the groom apologized again; I explained to them that there weren't any hard feelings, that it was OK. I also told the bride that who would have thought that such a sweet and polite woman could turn into such a strong order enforcer, we had a good laugh :).
They received the prints some days later and they liked them, so the story has a good ending, but after that I developed a "sense" to know a problematic client, and in the future I passed on jobs where the client was a "zilla". There's no amount of money in the world that can pay you to withstand impolite, rude people.
10. What would be your ideal assignment?
Shooting a series of photos of the people who inspire me: photographers, models, MUA's, etc. and not only from here, I would love to do this project with the people I know around the globe! Taking it more to a conceptual photo shoot of their other passions (music, writing, painting, etc) getting to know what they love to do when they aren't in front of a camera.

11. Future plans for Eduardo Frances and his photography?
Lots! Right now the work flow has slowed down because of the economic crisis. This is, however, the best time to get in contact with new potential clients and also to work on personal projects!, I want also to expand to other areas like couple/engagement photos too, that's a topic of interest for me, couples in love have certain magic between them that I would really like to capture.

12. Tell us a little about your new work…
I'm looking forward to do some glamour work, not just T&A stuff. I want to do some fashion/glamour crossover –curvy models in a fashion environment retaining glamour in them- in various locations, and right now I have some people interested in doing this. Hopefully by June I should be starting to shoot it!.
13. Oh, and what is on the music box right now at your studio?
From Frank Sinatra and Nat King Cole, to Green Day and Tenacious D! It depends on what's the mood of the photo shoot; I can't deny I'm rather eclectic with my choices of music ;).
You can find Eduardo at his Flickr site,
and Model Mayhem.
———————————
Thanks Eduardo.
I hope you all enjoyed the interview, and looking at Eduardo's work is enchanting, isn't it?
See you next time on Lighting Essentials. If you are considering a workshop this summer, I hope you take a look at the Lighting Essentials Workshops. You can find more information at Learn to Light. Thanks and see you soon.