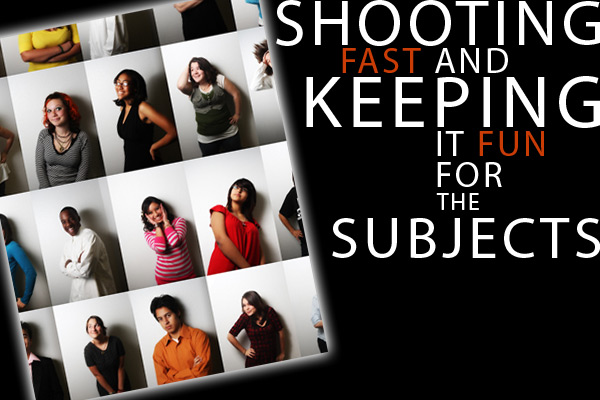 Well this was a fun gig. Once per year my friend Troy asks me to photograph his choir kids for a year of marketing for them. We spend about 4 hours and shoot a gazillion images. Neat part… he lets me do what I want. I can be as 'creative' as I want – as long as we get it done in 4-5 hours.
This time Troy wanted to do a poster of the kids to introduce the choir program to the school. He wanted to make it fun and exciting – not the normal 'choir robes' type of static shot. In this, as in many other inner-city schools, getting kids interested in choir takes a commitment to marketing. We started by sketching up a grid poster idea, then looked in the room for a place to shoot it. In Troy's classroom, there are very few blank walls… it is a haven for music lovers. Posters, charts and more on every square foot.
We found a spot, took down a few posters and set it for our shoot space. This would be a place I would return to every moment I wasn't shooting the choirs and the seniors. (I told you we shoot about a gazillion images, didn't I?) To do that, I had to keep my 'MOJO' in play. That little thing inside us that keeps us centered or crazy (depending on need) for extended time. Mojo is an old, out of date term… I'm old and out of date… seems apropos. More after the jump below.
Before we take that jump, let's take a quick look at some very cool posts from the web.
ProFotoResource.com has an article about the single portraits I did of the seniors. Check it out.
Hamburger Eyes from Chase Jarvis. You just gotta watch it.
Kirk Tuck stirs thing up with this post on the Flickr-ization of Photography. Leave a comment!
Bruce DeBoer has an interesting interview with Dominek Rella, Creative Director, at Permission to Suck.
Workin' hard to get those Social Media numbers up? Seth Godin has some insight.
Good advice from Gary Vaynerchuk… as always.
And some popular posts here as well.
8 Essential Sites for Photographers.
Branding Your Photography Business: A Practical Approach.
10 Nifty, Excellent Excuses for Failing at Photography
If you are looking for a workshop, take a look at Learn to Light for our schedule and sign-up pages.
Jan 16, 17 : Phoenix (first one of the year… woohoo!)
Jan 30, 31 : Seattle (This workshop rocks… great studio and incredible talent)
Feb 6, 7 : San Diego (Last years San Diego workshop was amazing.)
Feb 27, 28 : Houston (Three-peat for Houston. Great town for us)
March 13, 14 : Santa Cruz (First time in Santa Cruz. Excited about that.)
March 27, 28 : New Orleans (Never even been to NO… very cool!)
April 17, 18 : Philadelphia (Philly is one of my favorite towns.)
April 24, 25 : Omaha (We had a ball in Omaha last time… probably have one again this time!)
Look for an announcement about Austin coming soon. we hope. Heh.
We have had some pretty interesting discussions at the LE FLickr Forum lately. Marketing, introducing your work to potential clients, lighting information and more. Join us, it's free and fun.
And if you are looking for gear… MPEX has a little icon on the upper right of this page. Clicking on that will take you to the Lighting Essentials page (stuff I like) and you can save 10% on your first order. As long as you enter through this link, you can then go anywhere on the site and the 10% will be in effect. Save $180-$200 on Dynalite and Profoto Lighting kits… That's cool. Thanks MPEX.
You can also save 50% ($100) on Selina Maitreya's incredible audio program "The View From Here"… Just use the code FOSLE at checkout. I bought a little iPod shuffle and loaded this on it. Walking, flying, relaxing in the yard… that little iPod is clipped to my shirt.
Now let's take a look at how to keep the shoot moving, under pressure, without losing the enthusiasm of the subjects.
I arrived before dawn to get the gear unloaded. I had an assistant for carrying stuff, but not a true 'photographic' assistant for this gig. I was going to be moving too fast and without an assistant who knows how I work (LOL… seriously… my assistants simply have to hang on for a few months before they totally understand the manic and furious way I think and work), I would spend more time telling them what to do than doing what I had to do. A sherpa was all I needed.
Kit:
Lenses: 20-35MM 2.8 L, 80-200MM 2.8 L
Lighting:
Speedlights: 580 EX, 430 EZ, Lumo Pro.
Studio lighting: 2 600WS ProFoto mono's in a travel kit.
Modifiers:
2 43″ Bounce Umbrellas Satin
2 33″ Shoot Thru Umbrellas
1 60″ Bounce Umbella (Satin)
1 36″ Zebra Umbrella
1 SuperBounce with Stand
Honl Kit (snoot, flag, grids)
Speedlight ProKit: 1 Small Box, Beauty Dish, Accessories
Shower Curtain (goes everywhere with me)
Gels for Color Correction
Additonal Gear:
Elinchrome Wireless Triggers
Cybercync Kit
4 12′ stands
Tripod
Small Boom
Clamp Kit
Shoot Kit
Stand Bagger for carrying gear.
After locating and cleaning the wall, I set up the Canon 430EX in a shoot thru umbrella and did my lighting tests. We both liked the shadows as it added dimension. I like shadows… just do, so we placed the umbrella to give us a nice dramatic shadow on the wall to camera right. The shoot-thru umbrella worked well with all the white walls and the SuperBounce was brought into the shot in front of the subjects and just out of camera view. This kept some fill on them without filling in the shadows.
I like the gritty look to the images. We could have blown out the background and had them floating on white… but the shadows and the texture just felt right. These kids love this room… it is a safe haven for them. Music and friends and memories abound. I didn't want to remove all of that and make it so sterile that it could be anywhere. I wanted the reality of the room and the light. I think a lot about this stuff when I am preparing and shooting. The choices we make as photographers are based in contextual thought.
I placed a piece of tape under the center part of the stand to keep it in the same place for each student.
EDIT: I was asked about a setup shot. I forgot that I did one, so I am adding it here. I took this setup shot just before I added the fill card so I added it in with photoshop.
That was the easy part.
We had over 200 kids to shoot if possible. I was also shooting the full group shots of the different choirs. so we would return to this shoot whenever time permitted. I would have nearly no time to work with each of the kids… a few shots – 3-6 and next kid.
These kids are sometimes into it and sometimes not. The key for me is to engage them in the shoot. Make them get out of their comfort zone and lose the inhibitions of 'people are looking at me' and they will really perform for you. It is really fun to see what they will do.
In order to do that, I have to be a little more crazy than they are.
Just not crazy with stress.
Of course things are moving fast and furious. A battery change means that the kids start to line up and more stress is introduced to the shoot. I handle those things with mock fury and real smiles. The kids get the sense of urgency, but also a sense of fun and the knowledge that it is OK to be in a hurry… we make it part of the process. If the kids get the sense that you are rushing them, uninterested in each one of them… they become uninterested in the project. Drifting off to chat instead of being excited to be photographed. I photographed every kid who was in line at lunch. If they were willing to stand there, I shot them.
I talk with the kid in front of me, and the kids around me. Joking and being somewhat irreverent to the situation brings them to my side. You have to be careful and know the limits of irreverence though. No 'dissing', no making fun or even sounding like you are making fun, and no off-color humor at all. Safe and fun.
I do it by making myself the point of the 'joke' not the subject in front of me.
Getting kids to smile, let alone get goofy, is a challenge. I let their friends laugh at them with the knowledge that they would get to laugh back at their buds when it was their turn. I make them part of the experience. I chimp and share. I laugh and exclaim loudly that it was great… do it again… again… more. Always upbeat and always 'with' them, not aloof from them. I see that aloofness so often with photographers who are not able to identify with the subjects. Aloofness may be cool for hanging at the Starbucks, but it doesn't cut it when shooting people in stressful situations.
We shot 136 kids against the wall. I didn't have to choose, the choir director did that. He narrowed it down to the 24 on the poster and sent me the image numbers. Are there ones that I would have picked in the set he didn't choose? Of course. But I am not the client, that is their job… mine was to give them as many to choose from as possible. I think we could have made at least 70 of them… but, that would be a different type of poster and require a lot more computer time. Which also isn't free.
In the end I designed the poster with four different type treatments. He can choose the one he wants and we will wait for next year's call and another chance to work with great kids, listen to great music (the A Cappella Choir sings all the time… beautiful), and explore portraiture… something I love to do.
Here is one of the type treatments for the poster.
Just gotta keep smilin' and workin' and never, ever let the Mojo go. You stay on top of all that is around you. It is YOUR shoot and you OWN the space. Bringing people into it and letting them have fun is one way to extend the power of your portraiture.
Please share this post if you found it interesting. Follow me on Twitter, and visit my website at dongiannatti.com to find out what is going on with me. My 365 Photoblog is at Posterous (I love those guys) and I hope you take a moment to see what is there from time to time. See you soon.