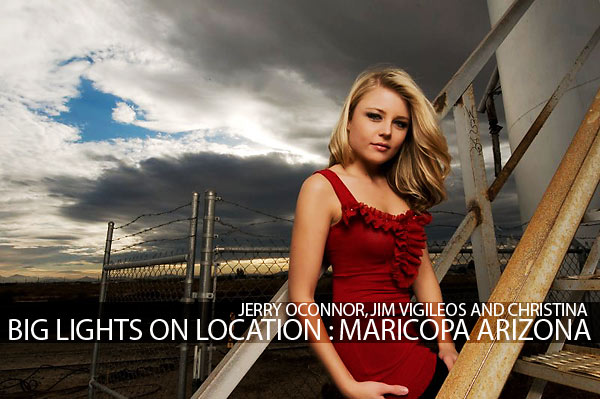 Photographers in Phoenix like dramatic skies. We get so many days in a row of bright, blue that when it gets dark and moody up there some of us grab cameras. My friends Jim Vigileos and Jerry OConnor did that recently and along the way they grabbed Christina to add to the mix.
Both shooters use small strobes a lot for their work. Moving fast with speedlights, they shoot everything from classic pinups to glamour to portraits both on location and in the studio. Today was big light day… Jim with his AB's and Jerry with his Elinchrome Ranger and beauty dish.
The day started with me having a ton of work to do and sitting in front of the computer getting ready to do it. A text comes in from Jerry saying he and Jim were working with Christina, did I want to come down and hang and have lunch with them. Pile of work versus hanging with a couple of fun guys and Christina… no brainer. It takes me about 25 minutes to get to Maricopa, a tiny, but growing, town south of Phoenix.
The day had started with lots of bluster and the skies were threatening rain. Perfect. We had lunch and headed over to a site Jim had scouted earlier… an old grain elevator on the tracks there in Maricopa. I was happy to go along to photograph them making pictures.
Before we continue, be sure to check the 2009 Workshop Schedule. I have been working on the new workshop daily, with workbook and shooting with Briana for it… It will be a truly amazing two days and the amount of lighting we will cover will be staggering. The workbook and supersecret DVD for only the workshop attendees will make the experience even more valuable.
Let's see these guys in action.

Photographing on location is very serious business. After we determined that the fence had been knocked down well before we got there, we checked the area out. What seemed like a good place to shoot if it rained also turned out to be a wonderful place for pigeons to sit after eating… ya know. Nixing that, we decided to keep the gear close and under many of the little buildings… if it rained we would drive the vehicles to the gear and go.
The shot we start with is Christina on the stairs with a red top and black leggings. The buildings were all a uniform gray color on a very gray sky day with flat light. I mean nearly no shadows at all. Christina's blond hair and red top would be a wonderful subject against that very monochrome surrounding.
Jerry shoots with an Elinchrome Ranger kit that has become his favorite lighting tool. Combining it with the very large beauty dish, the unit is self contained, battery powered and pumps some of the nicest light you have ever seen.
Here is a shot of the setup Jim did. That's me sneaking in there to make a shot of Christina and Jerry shooting on the steps. Jim fired the ranger from his position so you can see how the light falls from the beauty dish.
Jerry wanted a deep and moody sky, so he has set the light to give him a two stop difference from ambient to flash. The beauty dish is in pretty close to keep the power needs as minimal as possible and to provide a nice wash of light with a little wrap to it. No fill cards were used here, and Christina worked toward the light to keep from being too contrasty on the shadow side of her face. (Briana's recent Model Behavior article addresses models working with the light.)
Here is Jim in close with his 14-24 Nikkor.
Some of Jim's shots in the same light:

Jim was using his new Nikkor 14-24 f2.8 for this outing. He was wanting to both get shots of Christina and make sure he was familiarizing himself with the new gear before using it on a job. That's a great way to work, BTW. Know your gear before committing to working with it on someone else's dime.

Jim used his softbox, AB800's and a Vagabond to set this shot up on the tracks.

Here is Jim working on getting it set up:

Keeping the softbox for his main light, Jim wanted the ambient light to be darker and moody. Here the ambient is two stops less than the exposure for the softbox and speedlight combination. Jim metered the ambient, tested a few shots to make sure that two stops under would be the look he wanted in the sky and the surroundings and then built his light to give him the exposure on Christina of two stops brighter… choosing that combination for his shot.
When we first arrived, Jerry wanted to try out something with his 50MM 1.2L. He set the aperture to 1.2, and using the TTL set the background to -2 and the strobe to +2. He made a few exposures of Christina on the tracks to see how it would work. I played human boom and the speedlight was about 4.5 feet from Christina. The high speed Canon flash worked nicely and Jerry got this shot with minimum DOF from the 1.2 aperture and great dramatic lighting… even at a shutter speed of 1/3200.

Jerry set up this shot on the side of the silo there. He liked the shape of the curve and what it would do with the light as it fell off of Christina.

Jerry knows his light pretty well and knew that at the distance he had it, and the power setting he wanted, the Elinchrome would perform quickly and give him the soft, yet punchy light that is becoming a stylistic choice for him. He takes great pains in chimping in the background to make sure it is exactly as he pictures it and then lights Christina with that ambient setting in mind. Keeping a loupe with you for viewing the image on the LCD as close as possible is a great idea and you won't find Jerry far from his loupe.
Here are a few images from that set. You can see how well the large beauty dish performs on her skin and face as well as the subtle light that seems to pool around her.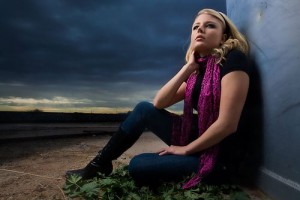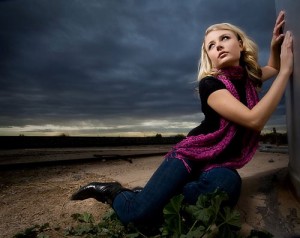 Another wardrobe change and we find Jim shooting Christina in an old doorway. Using a speedlight with a gel in the room behind her, Jim used his medium box with the Alien Bees AB800 for his main light. Both he and Jerry use wireless triggers to fire their strobes remotely. Jerry uses Pocket Wizards and Jim uses the Alien Bee wireless setup. Both also use large battery units for their on location strobe work.
Keeping the angle of the box at an definite angle to Christina, Jim was able to provide a nice wash of light as she stood in the doorway. The distance of the softbox also let a nice, defining shadow fall on the unlit side of her. Controlling that falloff is the angle and distance of the softbox. Jim worked the backlight from an opposite direction and that little nuance helps give the image even more depth.

One more shot from Jim. On this one he used the speedlight at a low setting to get a nice, subtle rim light to Christina on camera right. This subtlety is so important when trying to make something stand out.

Well, thanks for having me along guys. And thanks to the readers for coming along on what ended up being a very fun, and challenging day. It never rained, and that was good. The sun started going in and out behind lighter and darker clouds so you had to be aware that ambient was changing by as much as a stop and a half.
Jim and Jerry both know the value of learning the equipment you use inside and out. Testing the limits and playing with the units in a somewhat real situation can give you the practical and valuable experience you need when on assignment.
I hope you all enjoyed this shoot. I enjoyed bringing it to you.