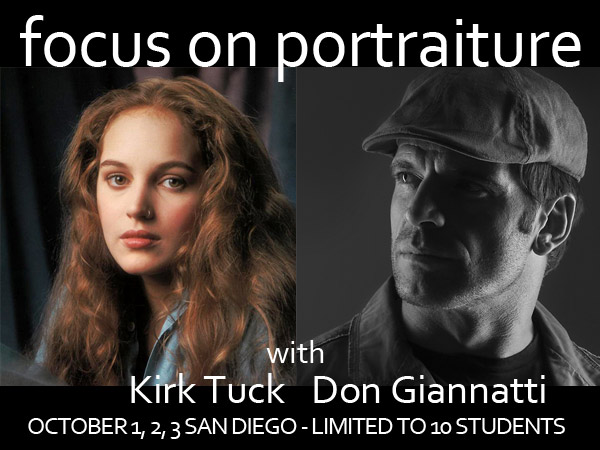 OK… this has been in the works for a while, but it is time to take off the wraps and announce a truly special workshop with yours truly and Kirk Tuck of Visual Science Lab. We discussed it a bit last month when I was in Austin, and yesterday we decided to pull the trigger on it. This is a three day workshop. Saturday, Sunday, and Monday. Since we love the beach, and there isn't one in Phoenix or Austin, we decided to do it in beautiful San Diego.
NOTE: THE DATE HAS CHANGED TO OCTOBER.
October 1, 2, 3 – THREE FULL DAYS!

Venue:
San Diego, CA

Beaches!
Balboa Park!
San Diego!
La Jolla!
Del Mar!
What a cool place to be during the long hot days of summer. It will be a small, intimate workshop with only 10 students. We want to immerse you in photography, lighting, location portraiture, a little motion shooting, models and more… lots more.
NOTE: This is a hands-on workshop. You will be shooting shooting shooting!
Three days / Ten students / Two instructors
Saturday Morning:
Introduction breakfast.
Introductions and meeting.
Discussion of editorial and location portraiture.
Lighting on the go. Working fast and light. Visualizing the photograph. Creating a good portrait even if you have no time.
This will be lecture/demonstration of lights and modifiers as well as how to get yourself mentally ready to make images.
We will then hit the streets with two teams – one led by Kirk and one led by Don. Portraits on location, with powerful lighting is the goal.
Regroup for Lunch and some quick editing:
Either in Downtown San Diego or La Jolla.
Saturday Afternoon:
Lighting for effect. Modifiers and Sources.
Working on location with fast and easy setups.
Creating a kit that works for you.
Portraiture and still life approaches with simple lighting.
These are lecture / demonstrations / shooting.
6pm to 8:30 PM Free shoot to sundown.
Venue for this will either be La Jolla or Coronado Island. (We are working on details at this time)
Sunday Morning
6AM Optional Walk around shoot: Pacific Beach.
Don will be there to shoot. We will look for an editorial approach to photographing the very colorful area.
9AM
Photographers Adding Motion:
An introduction by Kirk.
Lighting for Motion:
Working with Talent within the set:
Combining Stills with Motion with Don
Shooting for maximum impact using simple tools.
More and more, still shooters are including some little video snippets. Learning how to do them well can be the difference between getting and not getting the gig. We aren't making movies here, we are doing quick video snips to add depth to our book.
Lunch
2PM Team shoots:
Layouts and Story boards to shoot motion and stills.
Kirk with one team and Don with the other.
6PM Models on the beach.
Lighting and production for beach shots.
Shooting more than one model
Using natural and artificial light.
Evening time for editing the assignment.

Monday Morning:
7AM : Breakfast
Review of Saturday's assignment.
Review of Beach Shoot.
Location Portraiture (Balboa Park)
9 – 1PM
Using available and enhanced light to make dramatic portraits in any location.
We will have models for this part of the workshop as well.
We will go from mild to wild – natural light to multiple light setups.
9 – 11AM – Don with Team A / Kirk with Team B
11AM to 1PM – Kirk with Team A / Don with Team B
1PM Lunch at Balboa Park.
2PM to 6PM.
Assigned shoots with models. Every team member will be assigned a specific shot to do. Kirk and Don will work the the teams to create the shots assigned. This is an intensive time, and the images we want to create are rich with light and gesture.
7PM
Wrapup and Tacos at Old Town Cafe (best damn Mexican in San Diego) in Old Town.
Price $950
Includes model fees, Workbooks and some more goodies to be discussed soon.
We will have hotel information for you as soon as we get an idea of how fast this thing will fill.
This will be an intensive three days.
Lots to learn – lots to shoot.
To signup, go to this page at Learn to Light.
What will you need?
Working on that as well, but a DSLR with the capabilities of video would be important if you want to take advantage of that part of the workshop. The rest of the gear list will be pretty travel friendly.
You will have to like getting up early and going to bed late.
You will have to love getting deep into it and making strong images.
A good appreciation of Mexican Food will help, but there will be Gringo food too.
Questions or Comments? Let us know ASAP!
Thanks!