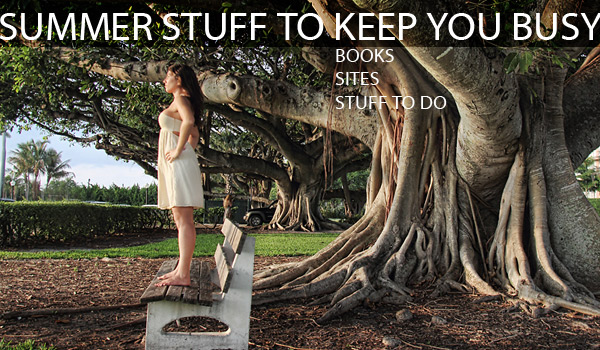 Well, the hot days are here. Believe me. 110 in Phoenix today. We experienced three of the heat wave days in New York, and then some great respite up in Old Orchard Maine.
This is a gathering of some things I think you may enjoy as we prepare for the long hot days of summer. (Of course, just as you cannot take it anymore, there is this cool little workshop in San Diego I think you should know about… heh.)
So for starters, I would like to give you 5 books that are "Must Have's" for creatives in this wild and crazy world. They are not photography books, but books that have lots of information to help you define and refine your photography business. We will then look at 5 photographic books that I am loving right now.
Workshop NOTES:
Columbus is coming up in two weeks, then Portland. I am very excited for the opportunity to bring lighting instruction to venues that may not be on the "A" list. They are on my "A" list for sure. I love the smaller towns and cities, and we bring a huge workshop experience to them.

Let's look at the book list. Take the jump.
Note: click the book covers for links to their Amazon pages.

"The War of Art" and its companion piece "Do the Work" are two books (considering it as one entry) that should be on every photographer's shelf. Actually, NO… they should be in your hands daily until it sticks.
"You Don't Need a Job, You Need Guts" – Link on right column. This book helps open your eyes to what is possible once you kick fear out of your life. Written in a saucy, no-nonsense manner, I love the message and the way it is delivered. Consider it brain food for the entrepreneur. This link will take you to the book's page.

"The Art of Non-Conformity: Set Your Own Rules, Live the Life You Want, and Change the World" by Chris Guillebeau is on the nightstand now. I read it a little every night. It has highlighter all over it and I may have to order another copy so I can have a clean one for the bookshelves. This book will expand your view of what you should be doing versus what you can do with some creative push.

"UnMarketing: Stop Marketing. Start Engaging" by Scott Stratten. I love this book. Engage is one of the words that I use a lot these days. The point is that engaging and discussing and working with your customers makes more sense in this tech-world. Get this book… you will love it.

Yes, it is an older book, but it is a classic. Tim Ferris' "The Four Hour Work Week" is like a bible for me. From the focus on time management to the development of a strategy based on what you WANT to do, the book simply rocks.
Five Photographic books you should consider:

"Phototrekking" by Nick Onken. I really like this book, and Nick's work is some of my favorite as well. It is a well organized, and fun book to read. If you are into travel photography, this book will come in really handy.

Bruce Barnbaum's wonderful "The Art of Photography" is as relevant now as it was when it was first released. If you are interested in the aesthetic approaches of image making, this book will really engage you. And the images are awesome.

"Professional Portrait Retouching Techniques for Photographers Using Photoshop" by Scott Kelby is on my Kindle reader (iPad) and is really a nice, well done approach to different types of retouching using Photoshop. From mild to wild post processing, the book shows step by step instructions that are very easy to follow. If you are looking fro some different ways to approach your post, this book may be just the ticket.

"Why Photographs Work: 52 Great Images Who Made Them, What Makes Them Special and Why" by George Barr. This is a very interesting book, and it will provide a lot of great things to think about as you go out to make images yourself. A serious book, with a wide range of imagery to explore and learn from.

Tim Hetherington: "Infidel" is a great book of imagery of an American military platoon in one of the most dangerous parts of Afghanistan. An intimate, and powerful set of images that will make you think about portraiture, photojournalism and the power of the still image.
Sites to visit:
Rodney Smith: "The End Starts Here" – a favorite photography blog.
Danielle LaPorte: "White Hot Truth" – powerful marketing and entrepreneurial advice.
Social Media Examiner: If you are engaging with social media, this site is a must read.
Men with Pens: If you are writing for a blog or your book (you are writing a book, right?) this blog has an amazing amount of info.
Jake Chessum: The Daily Chessum. It's just a lot of fun to see what Jake shoots each day.
Things to do this summer:
Join Project 52.
Get involved in the Lighting Essentials Second Annual Photography Contest.
Take a Workshop.
Take a road trip (like on the way to a workshop… heh)
Hit the beach (while preparing the images for the contest above.)
Seriously… I have to do a little self promotion.
Hey, if you have a favorite book or site to share, add it in the comments.
Thanks folks. Follow me on Twitter Follow @wizwow
, find out more about me, and have a great week. Oh, and did I mention that Kirk Tuck and I are hanging in San Diego in August with only 10 photographers? I did? Sorry.