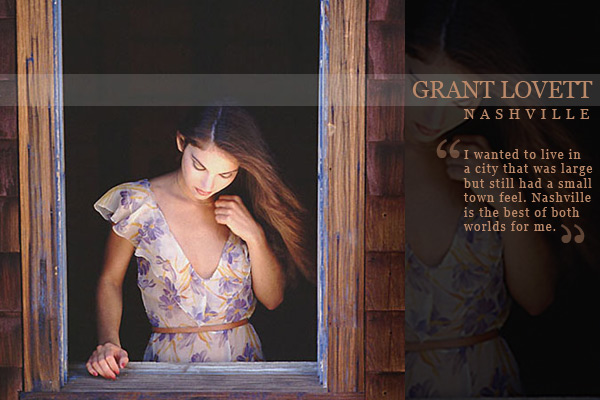 Working in Nashville means music, fashion, celebrities and more. And Grant Lovett is in the middle of it. A soft-spoken shooter with a deep portfolio, Grant keeps the bills paid with shoots of musicians and fashion models.
We have an interview with him that you will really enjoy.
A couple of things before we get going on Grant's interview.
1. We have had some wonderful workshops this year and are set for a great Summer/Fall schedule. Thanks to all of you for a great season so far. Our next workshop is in Missoula, Montana and it will be something to remember. If you are near that area, come on down and rock with the workshop.
2. I am working on a new set of posts on starting out as a professional, or even a pro-am shooter. What to do, how to go about it, some check-lists and a personal assessment of tools and preparedness for the jump. Let me know what you might like to see added to it.
3. I hope all of you are aware of the depth of the site here. Click on the categories above for dozens of articles in the specific category you want. From small speedlight posts to full studio strobes, there is a lot of information for you on Lighting Essentials.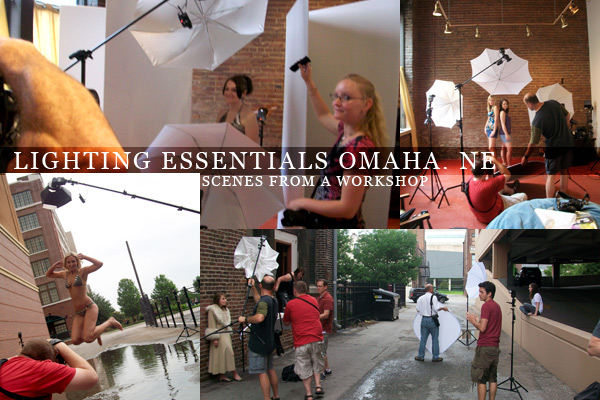 Now on to the interview with Grant Lovett, Nashville Photographer.
I met Grant when we used his beautiful Nashville studio for our workshop. He was a wonderful host and a talented photographer. Opening up his studio to a bunch of crazy's was a leap of faith, but he shares my interest in helping photographers become as good as they want to be. Thanks, Grant… and thanks for the interview as well.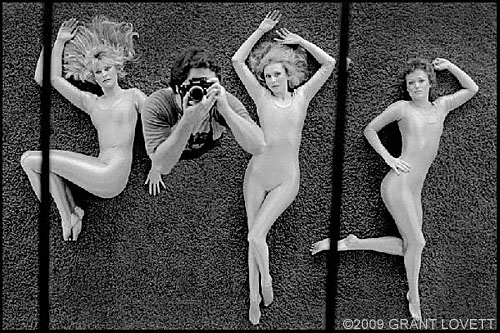 1. How long have you been in business? Was it a slow transition or did you just open shop?
I've been shooting professionally now for 30 years, but started doing paid photography jobs while still in high school. So I guess there was no real transition period for me, I've been doing photography for almost as long as I can remember.
2. How did you get started? Any mentors or great stories here?
I picked up my first camera as a sophomore in high school, where my school had a very strong journalism program. I went from never touching a camera to shooting 25 to 30 rolls of film a week. I basically dove in head first and never stopped shooting.. The big turning point for me was getting to study with Ken Marcus in 1982, which transformed me from photojournalism to studio work.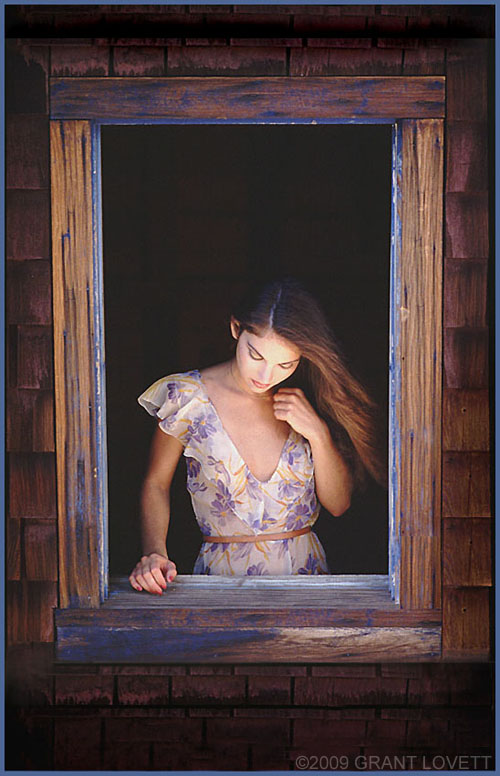 3. Describe an average week at your studio.
I usually shoot 2 to 3 shoots a week, each being a full days shoot. I also now teach at one of the local photography colleges, and between shooting and teaching I have no free time. But since I'm only happy when I'm busy I really can't complain.
4. Why Nashville? Have you considered anywhere else?
I chose Nashville primarily due to the music industry work here, along with the size and location. I'm from a small town, so I wanted to live in a city that was large but still had a small town feel. Nashville is the best of both worlds for me.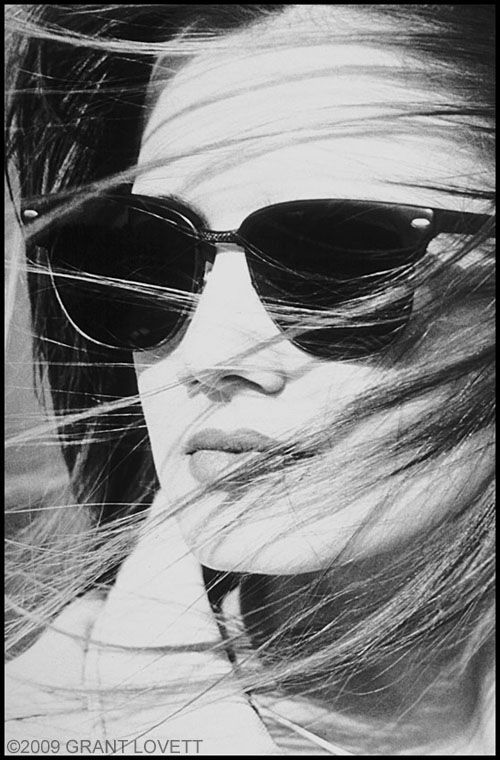 5. What motivates you, or gets you going? What do you use for inspiration?
Through out my career, the thing that has always motivated my photography is light. I'm still fascinated and inspired by it, and find nothing more fun that throwing the camera in the back of the car and chasing the setting sun and shooting the light. Light is something that is artistic and organic at the same time, and stirs my emotions and inspired me to photographic it. That's what pure photography is all about.
6. What is it you like the most about being a photographer? Do you do anything else for a hobby or avocation?
The freedom of being self-employed and doing something I love. Photography is not just what I do, it is a major part of who I am. Sometimes I thing that I didn't choose photography, it chose me. The other things I like to do are play golf, write songs, and discover new micro brewed beers.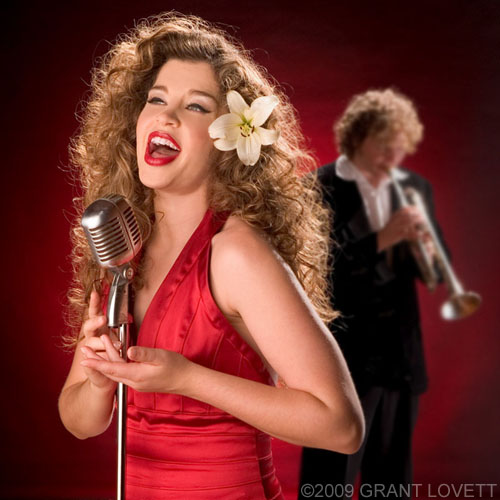 7. Are there any downsides to being a commercial photographer that you would like to change? How would you change them?
The hardest part about being a photographer is dealing with the burn out phases. Being in a profession that requires being creative on demand can take a toll on you spiritually, emotionally, and physically. The only real way to deal with them is to from time to time step away from the camera. and recharge your batteries. That way you can come back with new vision and ideas.
8. What was your most memorable assignment?
I had the opportunity to meet and photograph Roy Orbison and Bob Dylan. Both were recording in Muscle Shoals, Alabama (my hometown) and I got the call to shoot them as a senior in high school. It was the first time I had ever shot someone famous, and I still remember how nice and down to earth they were, and accommodating to me while I worked with them. I was very nervous and they went out of their way to make me at ease and important. It's one of the things I have noticed about working with celebrates, the bigger they are the nicer they are. I think being a genuinely nice person is one of the factors that determine how successful a person will be, and this is certainly true from my experiences with the music artists I have worked with.
9. Any 'war' stories you would like to share? You know, the ones that always start with "There was this one job where…."
Most of the bad experiences I have had have been long burned from my memory as I tend to move on as quickly as possible from them. There are still a few that remain with me still today, but that is just part of the business. It is impossible to please everyone, so I try not to focus on them and instead remember the good ones. It helps keep me sane.
10. What would be your ideal assignment?
My ideal assignment would be one where every member of the creative team shared a singular vision. Commercial photography is for me a system of artistic compromise, and while I try to express my artistic vision, pleasing the client is the primary goal. Working with music artists, creative in their own right, can be hard as they like to call all the shots. But most know that true creativity is a collaborative effort. Shooting a project where everyone shared the same vision would really be nice, as it doesn't happen very often, But when it does, it reminds my of why I became a photographer in the first place.
11. Future plans for Grant and his photography?
To keep shooting for as long as I still enjoy it. I enjoy teaching and cooking, and think it would be fun to someday own and operate a restaurant. But you really never know where life will lead you.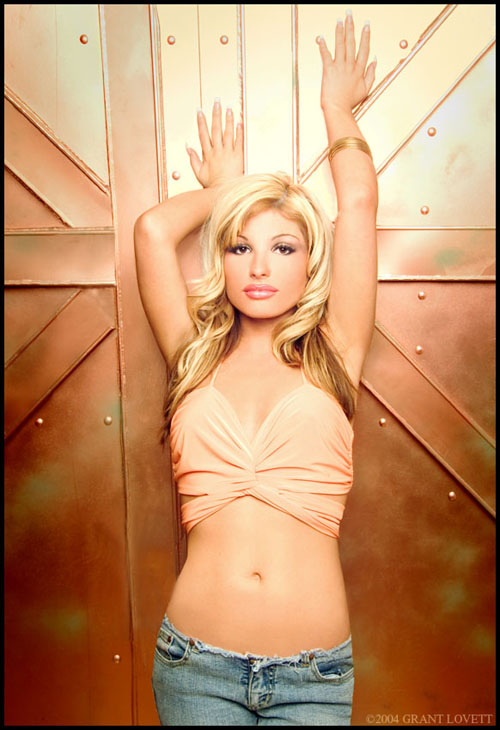 12. Tell us a little about your new work.
Most of what I am shooting now involves lots of location work. I have spent so many years in the studio that now I want to travel and photograph life away from the confines of the studio. I have a few coffee table books in the works, and am starting to shoot much more personal images. But I change my mind all the time so what I will be doing this time next year is up in the air. I like it that way.
13 Oh, and what is on the music box right now at your studio?
(yes, it was supposed to be 12, but what the heck…)
Foo Fighters, Flyleaf, Garbage, Peter Gabriel, and INXS.
Thanks again for the interview, Grant. Visit Grant's site here.