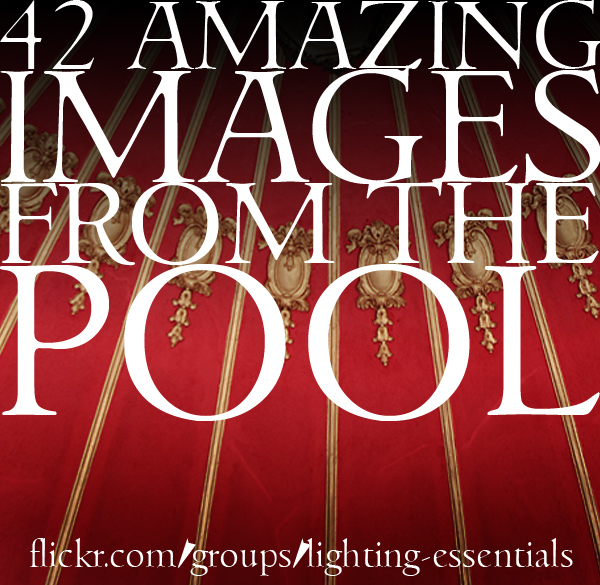 Well, we enter that last week before the holiday week. That is the week between Christmas and New Years. Another fun post of images from the Lighting Essentials Flickr Pool. Some of the best Flickr photography around. And speaking of that forum, I have decided to kick it (and myself) in the ass and ramp that baby up. We will be creating original content, challenges and interesting discussion posts to perk us all up.
Starting today there, BTW.
So the holidays are upon us and for a lot of us self employed blokes, it is a slower time. Clients are getting ready for the holidays, and if it needed to be shot for Christmas of New Years, it's probably shot by now. So traditionally we have some time during the holidays up until the mid January point to get some things done. Things that we may have been putting off and now need to get to and clean up for the end of the year.
I am working on some personal imagery, redesigning the workshop site, finishing the book and getting the new curriculum for next years workshops ready. Wait, I did say it slowed up didn't I? Heh, well… maybe it isn't all that slow.
Some interesting things from around the web:
Kirk Tuck, and Austin Photographer had some choice words for Tom Friedman, the totally useless economist writing for the New York Times. Kirk was interviewed here on Lighting Essentials a while ago.
There's still time to save 50% (that's $100 off) Selina Maitreya's amazing audio program for photographers. Just enter the code FOSLE at checkout.
Looking for a hot deal on a lighting system? You are gonna love this deal at MPEX. 500WS Bowens with on location Battery Power… for $699. Remember to use the promo code LIGHT to get 10% off your purchase.
Scott Kelby has a fantastic post on portfolios, and the power of editing to only your best work. Check it out and then see this post on portfolios here at Lighting Essentials.
Photographers and great imagery… we have a few to share here today. Sarah Wilmer, Rhea Anna and Acei.
If a workshop is in your schedule for next year, check it against the schedule at Learn to Light to see if our workshop may be one that you will want to look into. I like to go to places that a lot of other photographers don't go. Smaller towns and cities are so much fun for me. And the small, very small classes make the workshops a real photographic experience.
Well… on to the 42 wonderful images from the LE Flickr forum. And if you aren't a member, you should be.
Thanks for taking a look at the talented photographers we have on Lighting Essentials. Follow me on Twitter for updates all through the day. We 'tweet' about photography, not soggy sandwiches or messy romances.
See you next time.