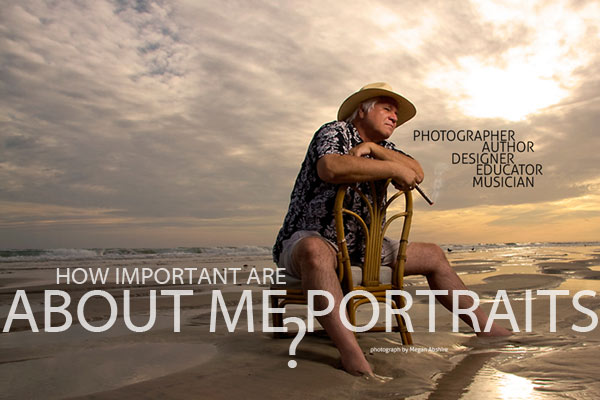 Over at Project 52 we did an assignment to do a self portrait, or at least a portrait of ones self. An "About Me" page is such an important part of the website that it must be addressed in a professional and stylistic manner. Some statistics show that it is the most 'hit' page of the website.
Since the summer is a great time to get some things done, I am offering some links and a look at some of the shots we got for the Project 52 assignment. (For those of you who do not know, Project 52 is an ongoing 1-per-week assignment/critique site. Come on over and join in.)
As social media sites become more and more a part of our life, having an image of you that supports your 'brand' is important. Facebook Pages, Twitter backgrounds, About.Me pages, Blog Headers and Gravatars are all sites that make having an image of yourself important. And because we are photographers, that image should show a level of competence and style that helps us let our viewers know a bit more about us.
The shot I use for a lot of stuff was taken by Megan Abshire in Mexico. The class had decided they wanted to do a shot for Bill's Rangefinder article. I grabbed a cigar and a chair and headed for the water. At the time I planted my self in the surf, it was swirling around me. By the time they got down with the lights and the booms and such, the tide had moved on out. And that worked pretty well.
To me it shows enough fun to get the message across (I am kind of a laid back, fun, politically incorrect kind of outspoken guy) and has a high level of interest and 'brand'. It shows me as I like to see myself, and it represents me as being that kind of guy.
Take the time to create a shot that will tell your possible clients how you see yourself. And how important the imagery on your site is. Even a photography of you means doing the best job you can do. I rarely shoot self portraits, but would rather have someone else shoot it.
Your personal brand gets a lot of attention these days, and you should make sure your image presents it with the best possible solution.
How do you see yourself? What can you do to let people know a bit about you, your work and your style?
I wrote this post a few years ago, "It's All About Me! Photographers 'About Me' Pages" – it has a lot of photographer's about me pages to take a look at.
Here are some links to some galleries of "About Me" webpages. While they are not necessarily about photographers, the information is very much what we need to know.
Six Revisions has 30 Inspiring 'about me' pages.
"About me" pages have the ability to engage and inform your site visitors in a personal and friendly way. For web professionals, our "About me" page can be critical in establishing a true connection with potential clients, and it can set us apart from a sea of other designers and developers."
Best Practices For Effective Design Of "About me" Pages at Smashing Magazine.
The Definitive Guide to About Me Pages at Web Design Ledger.
Showcase of Inspiring "About Me" Pages at Net Tuts.
Let's take a look at some of the "About Me" portraits from the Project 52 members.



Wonderful feel and a whimsical approach to the image.

Chris looks intense, and the old film camera helps tell the story of craftsmanship that he brings to his imagery.

If you are going to do a camera shot, do it with this attention to style. Kyle brings a gritty look to a well known shot.

Nick's avocation as a trucker was recently brought to a close. He is now a full time photographer.

Tucker presents a more 'hip' look with a bit of fun in his 'about me' photograph.

Eric brings a more formal approach to his image, which fits his target audience.

Charles presents a straight up shot for his consumer base.

Richard chose an interesting shot to create an image that showed his way of working with light.

Very moody, yet fun image of Perl_Monger. A very nice shot for an about me page.

Steve shows a great style and a bit of humor in his self portrait.

Kindred adds some warm, stylistic lighting to his portrait.

Rob D shows a very formal portrait in an informal environment. That is in keeping with his style.

A nice environmental by Pete.
A good about me photograph for your website is very important. These shots may give you a good idea for your photo.
As always, follow me on Twitter, learn more about the workshops, visit the Facebook page, or find out more About Me.