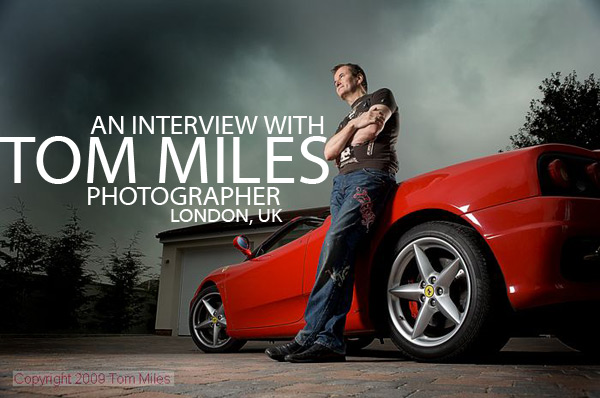 Tom Miles joins us for an LE Interview that I know you will find fun and inspiring. August is traditionally a slow month for me, but not this one. Big event taking place all month (secret – you'll have to wait) and it is keeping every spare moment filled. Seriously.
Last weekend was a Seattle Workshop at SPA, and it was really amazing. They have a great studio there and provided models and MUA's and a terrific stylist and the students were simply on fire. I don't know what it is about Seattle, but there is some really vibrant photography going on in that town. To all of you who came and worked with the workshop gang, thank you.
We started Friday evening with a 3 hour discussion on the business side of photography, preparing for becoming professional even part time. It was the first time I had presented this talk, and it went really well. I am thinking that I might add a slide show to the presentation. If so, it will be available to all the workshop attendees ever… that is my policy. We don't do no upsell, kids.
Saturday we were in the studio and worked with 1 and 2 light setups. Cloudiness became less dark in the afternoon so teams went to a small area and made some amazing shots with big lights outside – gotta love those Vagabonds.
Sunday started with rain while we calibrated our speedlights and worked with some modifiers. Blending and beating ambient was academic part and we worked outside to perfect distance/power understanding.
Then the sky cleared, we had sun and headed to the water for a most amazing daylight shoot. Students mixed flash and sunlight and shot natural light and it was amazing. Watch for a Seattle post soon of some of the shots they did. If you may be interested in a workshop this Fall, take a look at Learntolight.com for more information.
————————————
UPDATE:
A wonderful blog post on Microstock by Mark Stout was just sent to me. If you are considering MicroStock, you may want to take a moment to read this well written and researched article.
————————————
BTW… if you want to keep up with the exploits of your host, you can follow me on twitter. And I am on FaceBook as well. If you are a Facebook member, look me up.
I hope to be able to share some wonderful changes with you on the first of September, so stay tuned.
Now on to Tom Miles and a wonderful interview as he answers the (in)famous LE 12…
1. How long have you been in business? Was it a slow transition or did you just open shop?

Amateur at 13 (1991), and mucked about for 2 years. Did work experience at the local paper when I was 15, and never really looked back. Worked for them and myself for the next 2 years whilst still at school, then went to study at Blackpool for a degree in photography. Got more work experience whilst there, but this time down in London with advertising and fashion photographers. After leaving college (1998) I started out as a photographers assistant and had a fantastic time working for about 30 different photographers over 3 years. Digital wasn't on the scene yet, and I worked with almost any and every technical setup you can imagine, from huge film sets to still lives, and from 35mm up to 10×8", in which I became a bit of an expert. I'm convinced I hold the world record for the most 10×8" polaroids processed in a day (286 if anyone fancies challenging it)
I got a lucky break within 9 months of starting assisting. One of the photographers I worked for was also the creative director of a magazine, so could commission work as well as shoot it. He started handing me some of his smaller jobs, and I built things up from there. In May 2001 I officially retired from assisting, and have been shooting for myself ever since.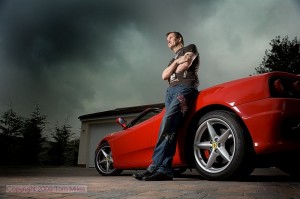 2. How did you get started? Any mentors or great stories here?
I've kind of answered the first part, but can provide more detail for the second.
I was blessed with some marvellous mentors. John Robertson, who took me under his wing when I was 15 at the local paper, and Geoff Clarke, who was my tutor at college, were probably the main two. Besides these guys I had the benefit of assisting some awesome photographers, and was able to learn lots of business and technical stuff from them, whilst also getting paid. I still believe that assisting is the best way into the business, but recognise that these days it's harder and harder to make a living.
As far as great stories goes I could probably ramble on for ever, but since we're talking about starting out I'll stick to a faintly relevant one! When I applied to Blackpool college I was in the all too familiar situation of being on my own – I didn't have the required basics to get on the course, and should have done at least a year's study of Art Foundation. However, I was allowed through the door, and got to the interview with 2 tutors (one of whom was the aforementioned Geoff Clarke). They looked through my portfolio in about 15 seconds and then started to grill me. The fact that I had no art background obviously concerned them, but they latched on to my A-level in English literature, and mined that seam. Questions like "which themes within Shakespeare do you feel reflect on your daily life?" and "How do you stand on the argument between a traditional Omnipotent God, and the idea of an Omnipresent natural deity, as put forward in "Tess of the D'Urbervilles"? I answered as best as I could, and walked out thinking I'd blown it. 2 weeks later, an unconditional place arrives on the mat, and I'm very pleasantly surprised.
Cut to the first night at college, and there's a small welcome do, upstairs in a pub (Blackpool's not a big college….) After a little dutch courage I wandered over to one of the tutors from the interview and asked him in no uncertain terms, what the hell the interview was about. He scowled at me, as if trying to recall who I was, then a wave of recognition crossed his face:
"Oh yeah, you were that young kid who had no Art. Well, we knew you could take a decent photograph, but we wanted to know if you could THINK. And you could, so you're in."
3. Describe an average week at your studio.
Don't have a studio, as I hire them when required (rents in London are prohibitive, and would add massively to my overheads). I also genuinely don't have an average week. Last week I was in the studio twice, once to shoot some covers for Men's Fitness as well as some features stuff, and then the second studio shoot was for Inside Poker, again covers and features stuff. I was also shooting on location in a Gym with some guys doing Krav Maga. And I shot an old friends wedding on Saturday, but never charge for that sort of thing and don't consider it work. This week I've only been shooting once, and that was more Men's Fitness covers and features in the studio. Next week I'm shooting some Judo, followed by flying over to Corsica for a few days to photograph something called Mouvement Naturelle, which looks very cool.
On average I probably shoot about 3 times a week, 2 of those would be on location (and that can be literally anywhere) and 1 would be in a studio. I tend to use the same studios for shooting in, my favourite probably being the Lemonade Factory, as they're great people to work with.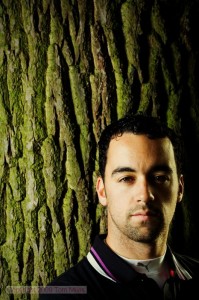 4. Why London? Have you considered anywhere else?
London is the centre of the publishing, advertising, design and media industry in the UK, hence the vast majority of my clients are here. When I first left college I was determined to only come down to London for a brief period, then move back to somewhere with better access to mountains for a different quality of life. This pipe dream was soon stifled when I realised that:
a) The commercial photography market outside London is considerably smaller. It's possible to make a living, and I know a few mates who do, but the opportunities are fewer and further between.
b) Things were going so well, so soon after moving to London that I realized I'd be stupid to leave it.
11 years after moving here, and now of course I can't contemplate moving. I love the city, probably 80% or more of my friends live here, and I've got everything (apart from mountains) on my doorstep. I can get on a bus and go and watch Ian Mckellen and Patrick Stewart at the theatre, and walk home if I feel inclined, just like I did the other weekend!
5. What motivates you, or gets you going? What do you use for inspiration?
These days I'm usually motivated slightly more by situations and things, rather than images. I'll read about something, or chat to someone, and think "that'd be cool to photograph", and then go out and try and do it. Besides that I'm generally motivated by the job itself, and the opportunities it creates – see next question for more extrapolation.
Inspiration still comes from visual sources as well though. Other photographers work, exhibitions, web sites, magazines, books, well-shot films and so on. Ever since college I've got into the habit of building a "sourcebank" of visual reference material, and with the internet these days it's mostly become a huge bookmarks folder of websites and images I love as well as an ever-growing folder on the computer. What I enjoy these days is the ease with which stuff can be tracked down. I can watch a film, track down the cinematographer on IMDB, and then find everything else they've done, for example. Just the other week I watched the surprisingly good Outpost, expecting it to be a proper turkey. Not only was it an enjoyable film, but it was beautifully shot, and the DP has his own site, which also looks very cool.
I'm also lucky that I have a very inspirational group of friends. Amongst my mates I can count animators, curators, radio producers, designers, policemen, doctors, pilots, biologists, teachers, soldiers, sportsmen, authors, along with a host of other diverse and interesting people. I'm never short of a new outlook or approach with people like this around me, and they're a never ending source of inspiration. I learnt at college that a creative person is best served by having lots of differing opinions around them, as long as these opinions are well argued rather than simply dogmatic. Once you start to add such a breadth of experience as I'm exposed to it only makes the mix all the richer.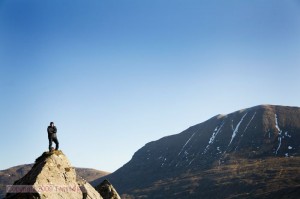 6. What is it you like the most about being a photographer? Do you do anything else for a hobby or avocation?
There are many things I love about my job, but after all these years I think the best thing is getting to meet and work with truly exceptional people, on a regular basis, and being placed in interesting situations all the time. When I'm sent to photograph someone it's usually because they're exceptional in some way. They may be Olympic Athletes, cancer survivors, millionaires, or any number of things. I've always been attracted to people who stand out from the crowd a bit, and I guess that side of my nature is very fulfilled shooting what I shoot.
There are 2 other great aspects of this. Firstly I get to actually "hang out" with these people, often quite closely, and sometimes for a decent period of time, or we get to share a good experience together. It's really very special to end up having beers in the pub with a comedian who provided you with such enjoyment throughout your teenage years, and having them invite you along to their next gig. Secondly is the fact that I get to contribute to the story, if that makes any sense, and take something away with me from the shoot in the form of images that I created.
As far as hobbies goes, I run, play squash, and swim fairly regularly, though not competitively, I go Lindy Hopping as often as I can, and I hike up in the hills of northern England and Scotland whenever I get the chance. Living in London I'm lucky to have a vast wealth of cultural stuff on my doorstep, and I take as much advantage of that as I can – plays, gigs, exhibitions, cinema etc. I also enjoy exploring the city, particularly from the river (I can highly recommend the Rib Voyages). I cook whenever I'm able, and I used to love gardening, before I bought my flat and no longer have the opportunity. I read probably too much, and get through about 50 books a year. I'm a big fan of history, and that makes up about half of what I read, the other being pretty much anything from trash to science. I've been known to spend a certain amount of time playing Company of Heroes against a friend of mine who works in Military Intelligence, but we're both so bad it usually becomes a catalogue of errors rather than a brave campaign. I try and catch up with my mates as often as possible, and this is starting to sound like a lonely hearts ad. I've got a good sense of humour, and would like to meet someone who enjoys firelight and romantic music.
7. Are there any downsides to being a commercial photographer that you would like to change? How would you change them?
Late payment of bills. However, I don't see how you could change it unless you managed to change the entire financial structure of the capitalist system, and that's a little beyond me! It may be possible to make charging interest on late payments compulsory, rather than the ineffective "opt-in" system we have in the UK at the moment, but even then I suspect there'd be either a loop-hole, or an unpleasant hidden cost.
Other than that, I really have very few complaints. One recurring problem is the state of photographic education, and how badly it prepares students for the real world. However, through my efforts on my own blog, my work with the Education group at the Association of Photographers, and my lecture tour I think I'm doing almost everything one person could to correct that problem!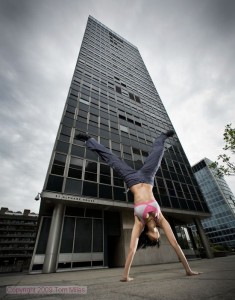 8. What was your most memorable assignment?
Tricky that, as I really do get a superb range of jobs and adventures. Rather than try and pick the best one ever, which would be almost impossible, I can think of a few recent ones that were very cool. Shooting a 3 peaks race whilst also competing in it (about 30 miles walking, 3000m climbing, and 10 hours driving, all in 24 hours), shooting a Golf Marathon – 4 rounds in a day – a week later, shooting a catalogue for a friends' charity at Richmond Rugby Club, which turned into a kind of school sports day, and spending the night in the New Forest with an SAS survival instructor. I could go on, but you'd be better off just subscribing to the blog!
9. Any 'war' stories you would like to share? You know, the ones that always start with "There was this one job where…."
You mean war stories that are also unlikely to get me sued for libel, and don't involve nudity, foul language, personal injury or flammable materials? Hmm, they may be a bit thin on the ground.
I'll confess to a couple of stupid mistakes if you like. Sitting on a bus on my way to a job in Maidenhead (before I bought the car), phone rings, and the art director calls to say "blah, blah, blah, Maidstone, Blah blah blah". "I'm sorry" says I, "did you just say "Maidstone", only I'm on my way to Maidenhead?" Luckily I was still in Central London, and could divert fairly easily, but that could quite quickly have become an unpleasant day. Did a similar thing in Gateshead once, as there were 2 streets with exactly the same name, and I wondered why the old lady answering the door wasn't the middle-aged bloke I was looking for!
I've also seen my fair share of colleagues – usually journalists, hospitalized, thankfully with no lasting consequences. One particular incident in Borneo a few years ago involved me having to photograph a 180km, 2 day cycle trek. I started out on a bike myself, but gave up by the first lunchtime, as I realised I was never going to be able to keep up and shoot stuff. Throughout the afternoon the journalist I was with, and who I was supposed to be photographing, was nowhere to be found. Eventually when all the support vehicles regrouped I discovered him at the back of one of them with 3 full plastic bags of vomit around him. He'd eaten some spicy Tom Yam soup the day before, and it didn't like him. On admission to hospital the doctor simple wrote "Tom Yam" on his sheet, and attached him to a drip. He made a full recovery, and was back on his bike the next day, but not before he'd made some truly awesome noises in the toilet!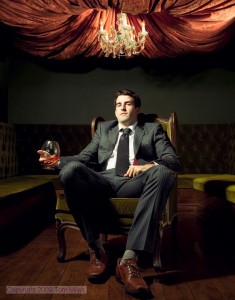 10. What would be your ideal assignment?
Photographing Humphrey Lyttleton. Oh bugger, he's dead. That'll teach me to put things off!
Or photographing Frankie Manning. Oh bugger, I sense a theme developing here…..
11. Future plans for Tom and his photography?

Get off my arse and do some marketing! I hardly ever take my portfolio round, as I'm usually too busy, but I'd like more of some of the work I've been doing lately (bigger PR jobs, design agency jobs, and book covers) and I won't get these without a bit of marketing. I've also got another lecture tour coming up in the autumn – full details of which are steadily being added to the blog I'm building. I'll be going round about 15 or more colleges all over the UK talking to students about business, marketing, creativity, portfolios, and all the other aspects of professional photography which are normally overlooked on an academic course. All this in collaboration with the nice people at Nikon and Calumet.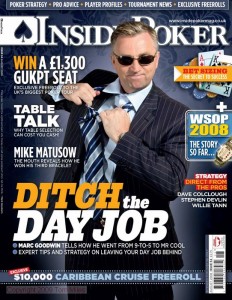 12. Tell us a little about your new work…
I'm currently focusing on more polished location stuff along the lines of sports/action stuff. It's a little vague right now, and is slightly market led as well as being personally motivated.
I'm also keen on improving my lighting and general studio work more. To the untrained eye there's not much difference between some of my recent studio stuff and what I've always shot. To me however, I know how much more focused and polished it is, and my clients are starting to notice. I'm keen to continue this trend as much as I can. None of this recent work is published yet, I should point out, so it'll be a bit hard for others to draw a comparison!
I've also got the lecture tour coming up in the autumn, and at some point I really must learn how to use photoshop better. I probably use about 2% of it, and feel like I'm missing out. Oh, and I need to learn some more about video too, but that should be obvious to any working professional photographer in the current market.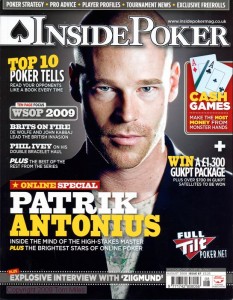 13 Oh, and what is on the music box right now at your studio?
Was listening to a "mix tape" made for me by my girlfriend this morning, but am now well and truly stuck into Test Match Special, it being the third test of the Ashes series. I realize that Cricket means nothing at all to anyone outside the Commonwealth, but that's your loss! It'll only be marred by the fact that Geoffrey Boycott's going to be on air several times, and he has a tendency to make my blood boil!
Contact Tom:
Tom Miles
Tom Miles Photography
T: 020 7564 0661
M: 07770 787 249
e-fax no: 44-7006-000-033
W: www.tmphoto.co.uk
E: tom@tmphoto.co.uk
Alt email: miles.tom@gmail.com
Blog: www.photosmudger.com
—————————————————————————
We thank Tom and hope that his blood stops boiling soon enough for him to get out and make some more images. And we appreciate him taking the time to talk with us here at Lighting Essentials.
Next up… a review of some gear to make shooting a little easier… right tool for the job, so to speak.