I just set up my Pogoplug.
I plugged it in, turned it on, set it up and went to work
Took about 2 minutes. Tops.
Wait… you may not know what a Pogoplug is.
Now this thing is cool. Think of it as a network drive / personal cloud sort of thing. With a very cool set of tools that let you actually USE the thing. Keep your photographs on there securely, and pull them up as a slideshow from your iOS or Android. Keep your music on a drive and access it to play from any device. Share files with clients and family. Automatically backup your files or photos.
Amazing.
And they have an online cloud for additional, easy storage.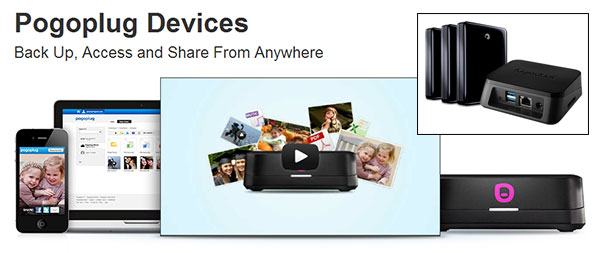 The device is very small, taking nearly no space at all. And that is a big deal for me. My router is in the living room and having too many devices taking up too much room can create wifely harrassment.
The device hooks into your router, and you hook a hard drive mechanism to the device in one of many ways. In fact, you can hook multiple devices up to the Pogoplug and have different ways to store and share files.
You can use a 2.5″ HD, a USB HD, a Flash Card, or any kind of memory that can hook into a device. I chose a 500GB USB Drive that I had for backing up my music. It has lots of room left, so I hooked it into my Pogoplug and started moving files around. I first set it to automatically copy over my iPhone/iPad files and images so I don't have to even think about it.
Cool.
I then downloaded the iPad/iPhone apps and logged in. Don't worry, they are free. The files then began downloading to my Pogoplug. I can play my music from my devices, or my laptop, or use the Pogoplug for sharing files with clients that may be too large for email.
And… it worked right out of the box, right away. Simple, easy and totally simple application. (Well done, Pogoplug guys…)
I have a couple of extra Pogoplug units for you, the readers of this blog. I haven't decided yet how we will give them away. I am sure some sort of contest will be forthcoming, so watch for it.
I am thrilled with this thing, and some of the cool things I have already identified some important business uses for it.
You can see more at their website, and they also have a cloud storage system for those who only want to use it online. The Pogoplug device is the tool for sharing, backing up, and more.

Watch for the contest coming next week. Win one of these things and have a blast with it.