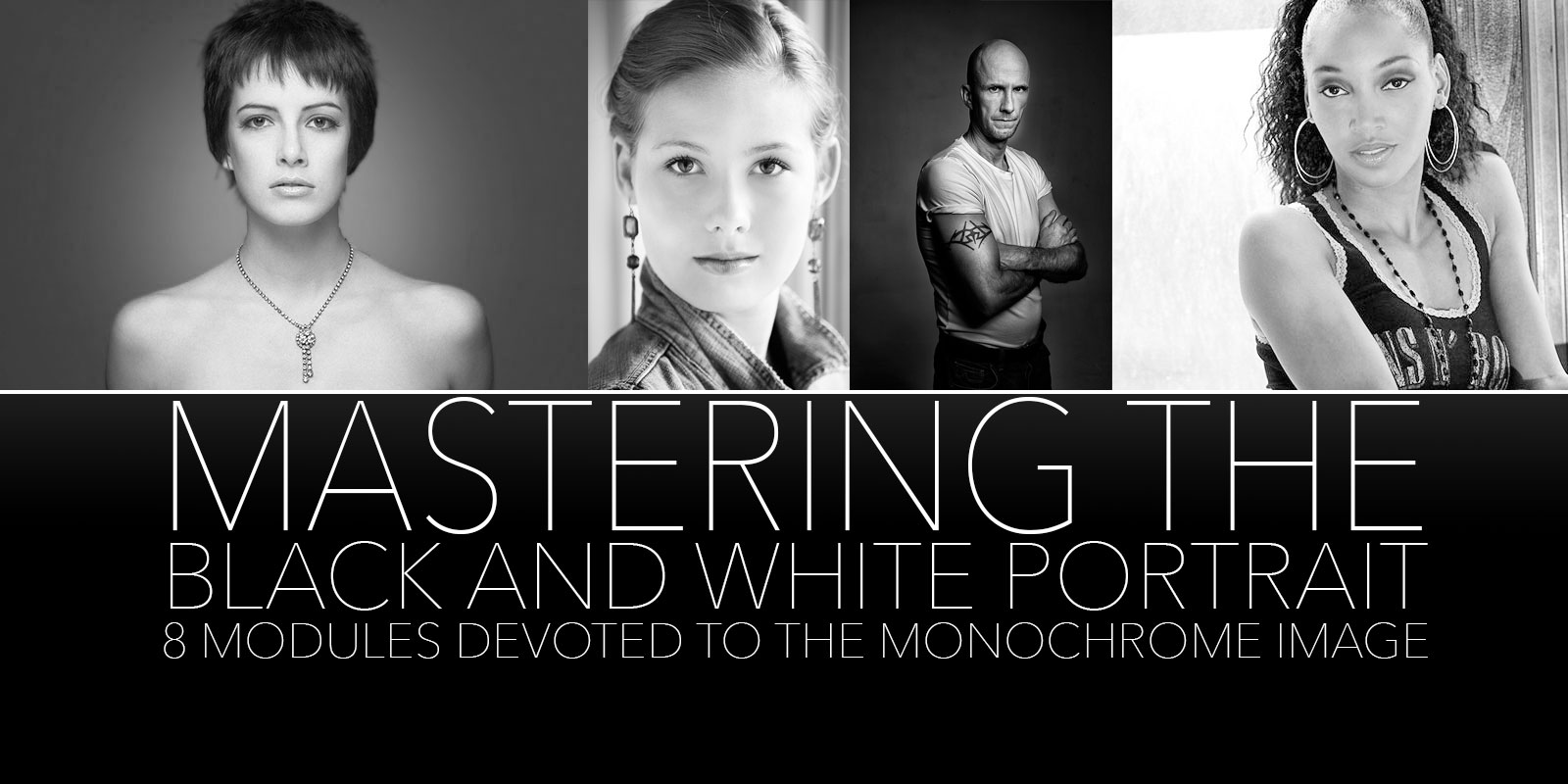 CLASS BEGINS FEBRUARY 19, 2018
CLASSES ARE ON MONDAY EVENINGS AT 5 PM PACIFIC
DO YOU LOVE BLACK AND WHITE, MONOTONE, OR "TONED" IMAGES?
I DO.
In fact, my portfolio was almost entirely monochrome (although not necessarily black and white) for nearly a decade. I would shoot black and white film, color negatives for printing black and white, and black and white instant Polaroid transparency film. I would print them on traditional black and white paper and possibly tone them with sepia, selenium, gold, blue, yellow, bronze and cross tone them as well. I would print black and white transparency on Cibachrome with color added through the filtration of the Cibachrome process.

Yeah… the hair gives it away as mid 80's… heh.
Clients loved my approach since it was different, and showed a body of work approach instead of 'one-off' images that were disconnected or jarring in the presentation. (NOTE, I had more than one portfolio. This is one of my fashion/beauty portfolios and it was aimed at editorial and designer clients. Other portfolios indeed contained color imagery.)
Black and White is not merely the absence of color, it is an approach to the image that is more symbol than reality. A choice for the photographer to make BECAUSE it may be more interesting. While color may work in many situations, there are some places and times when the black and white image is more powerful.
And whether you use digital or film, B&W is still one of the most elegant ways to produce images that move and influence the viewers.
---
THIS CLASS WILL FOCUS ON THE BLACK AND WHITE PORTRAIT
We have 8 modules for the course. Each module consists of a study video, an assignment, and a live webinar critique (we use GoToWebinar) and all webinars are recorded for you to watch anytime you wish
THIS CLASS STARTS FEBRUARY 19 AND IS LIMITED TO FIFTEEN STUDENTS. MEETING TIME IS ON MONDAYS AT 5 PM PACIFIC
MODULE ONE:
UNDERSTANDING THE BLACK AND WHITE IMAGE
We look at how B&W works differently than color, and how to look at your subject to make sure a black and white conversion will be exactly as you want it to be.
MODULE TWO:
PREPARING FOR THE SHOOT
From wardrobe to makeup, it is very important to have your mindset into the black and white presentation. Preparing mentally for shooting black and white is also powerful.
MODULE THREE:
A SIMPLE HEADSHOT
We start with a simple headshot to become familiar with the lighting and post processing. We look at lighting tools from natural light to artificial light. Diagrams included!
MODULE FOUR:
MULTIPLE POST PROCESS METHODS
We take a look at several methods for converting color images to black and white. We explore Photoshop and Lightroom, and even take a look at the popular NIK Silver Efex.
MODULE FIVE:
A FASHION/BEAUTY SHOT
One place where black and white is going very strong is fashion and beauty photography. This genre offers a lot of different styles to view. We look at four photographers who shoot a lot of black and white.
MODULE SIX:
THE POWER OF COMPOSITION IN BLACK AND WHITE
Sometimes color can be its own composition, but in black and white the elements of the image MUST work without the advantage of hues and color. We study the compositional elements of black and white portraiture.
MODULE SEVEN:
ON LOCATION PORTRAIT: USING THE ELEMENTS OF ENVIRONMENT
Many times we have to shoot on location. This adds the elements of the environment to the mix of what we need to deal with in the shooting and conversion to black and white.
MODULE EIGHT:
FINDING YOUR OWN VOICE IN BLACK AND WHITE
This is the time for you to explore the techniques and methods we have looked at, and show us what you can do with them in a portrait you make just for black and white.
IS THIS THE COURSE FOR YOU?
This is the course for you if you want to be able to shoot elegant and artfully produce black and white portraiture. Whether you are an editorial or commercial photographer, consumer shooter, or wanting to get into a more "fine art" approach to your portraiture, we will examine techniques and methods that will help you grow… fast.
We have a lot of information on each module, and once you have access, you have access for the life of the course. You can always come back to see what has been added, critiques on new students and more.
WHAT YOU NEED FOR THIS CLASS
You should have a DSLR camera and knowledge of its use. It would be best if you have lenses in the portrait range as well… FF 50mm, 85mm, 135mm. You should also be familiar with basic lighting.
ADDITIONAL COURSES INCLUDED IN THIS CLASS:
"Portraiture with Simple Gear" and "Natural Light Fashion / Beauty Photography" are both classes that will help you with your photography. They are currently free at UDEMY.
DO YOU NEED ANYTHING ELSE FOR THIS CLASS?
You must have Photoshop and Lightroom for this class. Lightroom alone will not be advisable since so much of the conversion process happens in Photoshop.
OPTIONAL FOR FILM SHOOTERS:
The assignments will have an optional film class and you may choose to shoot film if you wish. However, you must get it processed and scanned before our normal due dates. No extra time can be given to film shooters.
Class begins Monday, February 19, 2018 with the posting of the first assignment. You have two weeks to do the assignment and get it sent to me. Instructions will be provided. Each assignment will have a two-week window for shooting/processing/uploading. However, you will be getting one assignment per week, so you will always be working on two assignments.
Our meetings will be held on Mondays at 5 PM, PST.
Assignments are made weekly, with a two week lead for each.
You must be able to shoot and process one image per week.
If you have questions, please address them to me at don.giannatti@gmail.com
As you can imagine this is an intensive, hands-on training that is geared toward maximizing the learning. I would suggest that you set aside 3-5 hours per week to do the assigned work and shoot.
My name is Don Giannatti. I have been teaching commercial photography for the last 8 years. I am also a professional shooter as well as designer. I have taught on CreativeLIVE, UDEMY, and in workshops the world over. In 2012 I was recognized as one of the "Top 13 Workshop Instructors in the World" by Photo District News.
I also teach an online professional workshop called Project52Pro. This year-long project has launched dozens of professional commercial photographers, and is one of the best online classes for discovering and promoting photographic talent.
Lighting Essentials is my flagship online publication.
Thanks for your interest!