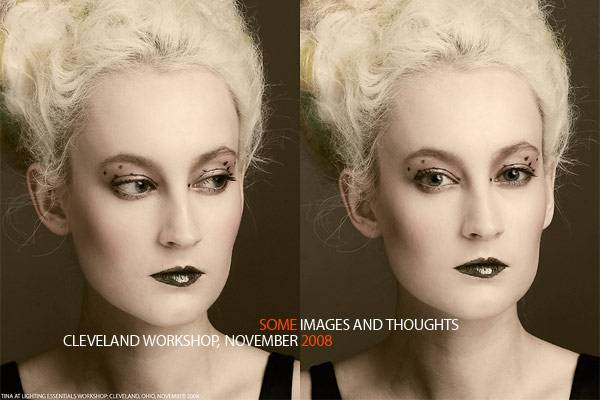 Thanks Cleveland. You guys made our last workshop of 2008 a great success. And that wasn't an easy job. Rain, thick clouds, wind, sleet, snow and temperatures that our desert bods were simply not used to didn't deter anyone from digging in and having a blast.
We had a wonderful little studio to shoot in, some great friends to help with getting the models and MU and Hair people that made it kind of a unique workshop. Good thing too… the second day saw snow the whole day and it never got much over 34 degrees.
That was when we decided to go down along the lake to shoot some images of the models in streetwear with the wind chill around 10 degrees. And it was a blast… we froze and the models froze and we go some great shots.
Before we jump in here a couple of housecleaning things. Tech sheets have their own category above so check them out and give them a try. New tech sheet coming next week. Also check out the LEMagazine site for some interesting interviews and new content coming soon. Link on right side of the screen here.
Now, let's take a look at some of the images from Cleveland:
IMPORTANT: These images are the work of students who took the workshop. They are all linked to the photographers page on Flickr. Clicking on the image will take you to their page and if you like the image, leave a comment.
The first image we encounter is the 'Bri as Goth" look.
This image used the ambient light coming in from the windows and added the side lights with speedlights dialed way down. We put a third speedlight on a boom and hand held it over the subject at about 4 feet away. Briana had never done a makeup like that so she had fun with it

We got back to the hotel Sunday night and Mike still wanted to shoot. So what the heck… off to the pool we go and Bri gets in. Now this pool is totally inside, but it is still pretty chilly outside so she had more guts than me. I would suggest you follow the link and check out Mike's Flickr page to see how he totally accomplished this. We had a speedlight in front of her and one directly behind. She is about 5 feet from the edge and Mike is laying down on the edge to get this shot with the reflection.
This shot of Tina was made with a snooted speedlight and careful use of blended ambient. You can see some light on the left side of the image. That is coming from the floor lamp there at the end of the couch. Careful use of strobes is what we are working on at this point.
Adding a reflector to all that light, even with the cloudy day, was a real eyeopener for most of the attendees.
Ray was captured by the windows with nothing but white fomecore all around her. The ambient and the window added what was needed from the back and then we nuanced in the fill.
Here is a shot of Ray that we wanted to look like an editorial shot. We used a single speedlight on her and an additional speedlight mounted to the chair right behind her. That light is what you see making the background bright and gradated.
A high key shot with an unusual crop.
Bri on the side of Lake Erie at about 30 degrees with a stiff wind. Thanks, Briana. You and Tina and Ray were marvelous to indulge the photographers in something they had never done before. Yes, it was simply amazingly cold for us.
Shoi looking hot with a single strip light in the studio.
This shot took some finesse, but we got it. We have a speedlight at a very weak power behind the ball on the ground. We have four pieces of blue gel on it. A second speedlight is used behind Shoi for a hair light and a third speedlight is brought into the front of her with a human boom. The highlight on the floor behind her is the specular from those large windows reflecting back into the lens.
Yes, we always have a girl fight at the workshops. I don't know what it is… sigh. It is fun to watch though… heh. Luckily we have a speedlight on both sides of them aiming back to add some rim light to them, and a main speedlight from camera position. We also placed a speedlight on each side of the background focused on those large green plants… just to keep them popping in the back.
Another wonderful example of blending a bare speedlight with ambient and an existing lamp light. Texture added in post.
Bri jumping for the guys in the falling snow. The guys are all inside and she is in the courtyard freezing, but keeping her spirits lifted by jumping again and again. Also helped her keep warm.
Uh… I got nothin… oh, and you wont believe what Jeff used to light this shot. Ambient and flash… but, check it out.
From simple to complex… here Asia has the ball being backlit by the ambient in the window, a zoomed out strobe on her from camera front, slightly left and a speedlight behind her adding that lovely little rim on her legs.
Another take of Bri jumping in the snowfall.
Jeff brings that rock and roll look to the final shot of the workshop, day one. Ambient light mixed with speedlights all around and one on the floor directly behind Ray aimed back at Jeff.
Here is a lovely portrait taken in the green houses. Careful blending of ambient and strobe make this shot come to life.
I really cannot explain this shot other than one of the students needed a shot for her photo class. Oh goody, she wanted me.
We had such a great time there in Cleveland. We will be back next year during the not rain/sleet/snow season.