I love this theme from Theme Forest.
Bloom could be just what you are looking for. Clean, neat, responsive and full of custom features.
This is a theme that would be a comfortable fit for a photographer, a designer or an illustrator. It would work for a small boutique creative business as well. Show off the work, get people to engage with the site, show enough whistles and bells to make it fun and do it with a smart, modern feel.
The simplicity of the site would mean that some customization should be fairly easy. Change the fonts and colors if you want, or add a background graphic. The beauty of Bloom is that it such a clean theme that it needs very little to be a stunning portfolio for you.
Some of the things I like about this theme:
It is responsive, and re-configures for a beautiful smart device presentation.
It comes with a dark and light version (black with reverse type, and white with dark type). You choose what you like.
A very cool gallery tool that is "filtered". This means that the visitor can search for the types of work that you have defined.
Just enough short codes to allow the site to have some real 'pizzaz' without going overboard.
Fixed navigation at the top is quite modern – and pretty hip.
The site is designed to look and feel like a single page site, with very fluid page scrolls from section to section.
Clean, smooth slider for home page.
Clean and modern typography.
Built in Blog.
A 'website' feel.
Here is a screen shot of the dark and light version.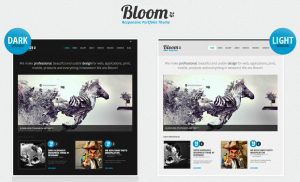 Lightbox Galleries have a sophisticated presentation with understated forward/back buttons and mini thumbnails that appear upon mouseover.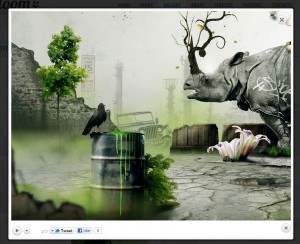 The Portfolio is "filtered" to allow the visitor to find what they are looking for. Try it out, by clicking on the managed category tabs. Photographers could use the tabs for different portfolios, projects, folios, and stories. I like this type of presentation.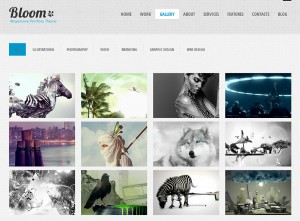 Bloom would be a good fit for a photographer with a wide ranging portfolio set, and a good number of personal projects, stories and folios. Fashion shooters, food and portrait shooters would be a good match. For designers, it is a no-brainer cool theme. Projects and design types can be shown with a clean, modern style and changing up the design wouldn't be too hard.
All in all, I think Bloom is going to be a big hit for Themeforest. It is brand new, so if you are looking for a cool theme, this may be one you should take a look at.
———————
I have been asked back to creativeLIVE to do a workshop on Table Top Product Photography. You can see more at their site. Dates are June 21, 22, 23, 24, 2012. Register for free and watch all weekend!
I was recently on creativeLIVE and have received some rave reviews of the workshop. If you are interested in taking a look at the workshop, you can find it on creativeLIVE's web site here. I think it is a tremendous value and if you are unable to attend any of my workshops, this may give you a ton of information you will want to have to push your photography to the next level.