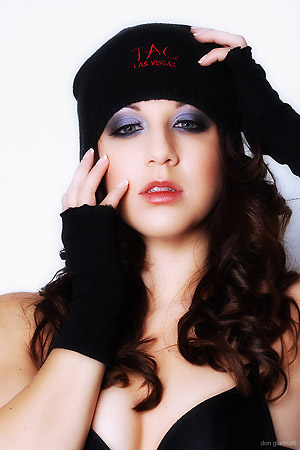 This is a series of two light shots we did using hats as the theme, and a clean, simple studio background as the setting. For this set of shots we only used one umbrella and one beauty dish. There will be instructions on how to do this with your equipment as well.
I wanted a strong feeling of light for this shoot, so I chose the bright and very 'poppy' beauty dish and a rarity for me, my Silver and White Zebra umbrella. I usually don't use the Zebra as a main, but for this set of images I wanted to try something new. (A Zebra umbrella has alternating panels… mine are silver and white and they also make gold and white.)
This particular image has a unique type of hat as it has no brim, therefor we aren't concerned with lighting up underneath it or not. I did want to have a lot of light on Briana and have that light be bright in the highlights and drop off into the shadows quickly. Shiny umbrellas and beauty dishes do just that… so away we went.

Placing the umbrella over camera gave me a very strong main, head on light. It would have worked pretty cool as it was, but I wanted to add a 'kick' to the image with the second light, a beauty dish. At first I placed it as a clamshell light… putting it straight under the umbrella. But that light seemed wrong to me and I had done it many times before. This time I wanted something different.
I moved it to the side of the umbrella and down to where it was simply to the side of the camera. This added a bright, kicker to the whole of the image and let the fall off be dramatic and fast. It is that dramatic falloff on her left side that I was seeking.
You can see the lights in her eyes in this closeup shot.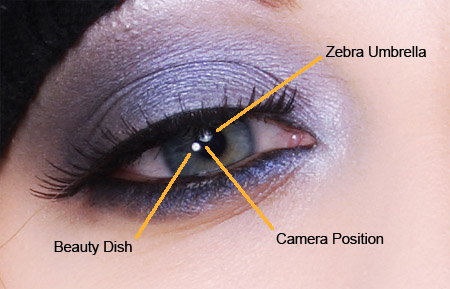 The dramatic light caused very slight and delicate shadows on the background. I kept Briana close to the background to help keep the shadows. This shot shows another take from this set. It is from a bit farther back and shows how the two lights work to create a nice look to the skin, some very nice toning to the body and the little, subtle shadow on the background. I didn't want the totally white background – floater – look to the image, and that little shadow does give it some context.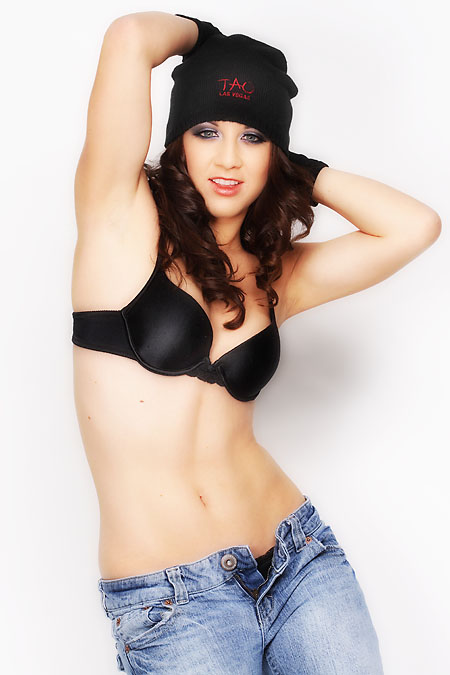 Here is setup shot number one. You can get an idea of how close they are, remembering that this is shot with a wide angle lens. The lights are actually only a little more than 6 feet from her. You can also see how close she is to the background.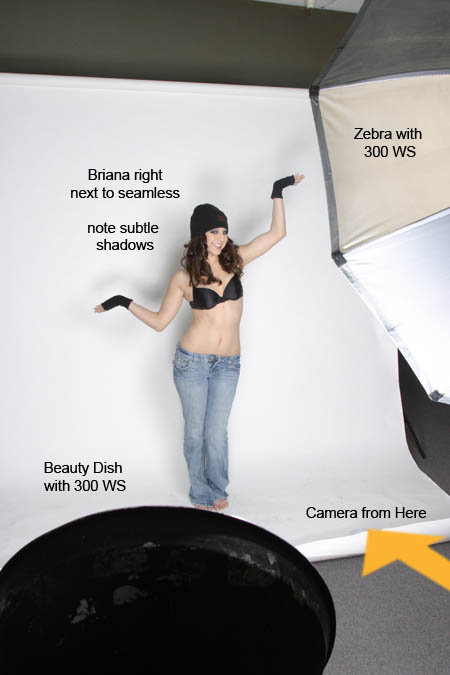 This setup shot shows the camera angle so you can see that I was sneaking under the umbrella or shooting slightly to the side of it for these shots.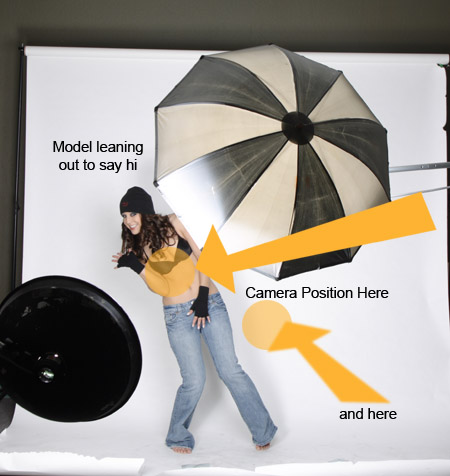 Small Strobes Setup:
To do this with speedlights, try using silver umbrellas and two matched speedlights. I think that two of them on 1/4 power would be very easy to do, and give you plenty of light. Two matched shoot-thru umbrellas could be a change up from this set as well. Remember to try it without fill cards and then add a few to see what else you can do with it.
Give this a try when you get a chance. And let us see what you come up with. It is so simple to do and requires very few pieces of equipment.
Oh, and here is one more of Briana from this shoot.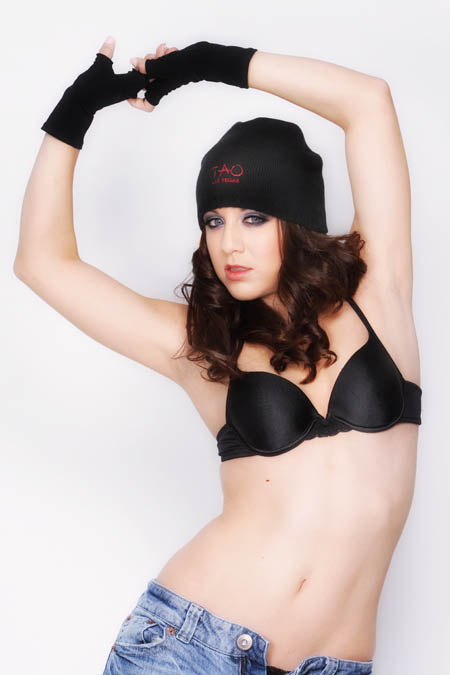 Information for today's photographer. From novice to pro, LEMagazine has
it all.
Part Two of this Workshop.
Part Three of this Workshop