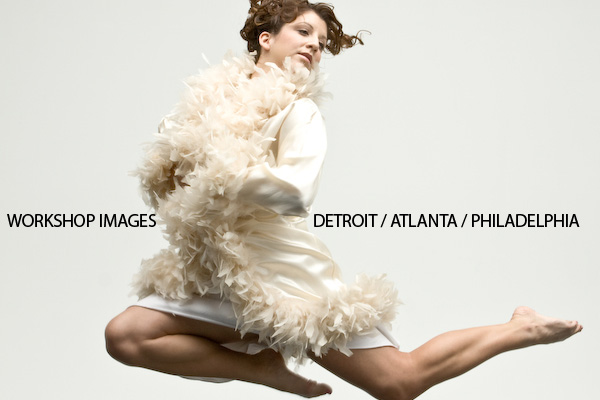 Photo by Gary.
As the workshops wind down for the year, there is a sense of excitement growing for the next season of Lighting Essentials workshops. Some changes are in order, and some tweaking of the workshop's standard fare is also coming along.
We are looking to hire a booking manager to help coordinate the workshops and we are still looking for hosts in cities where there is an interest in learning lighting. If you are being a host, drop me an email and let's discuss it.
I have been so honored to work with so many talented and excellent people. It truly is an exciting thing to see some of the images that the workshop creates. I may have missed some great shots as I go through our Flickr pool, and if so… drop me a note and I will get them linked.
BTW… we are also very pleased to announce Briana's dance calendar. "Dancin' 2009" is a fun way to feature Briana in her favorite element of dance. If you love dance, or have someone in your family who does, check out this offer from Bri.
Let's take a look at some images that caught our eye…

First up is Dan Baker's shot of Briana in Detroit.

Edwin's shot of Bri on the stair really kicks it. Heh, sorry.

ArtCPhotos turned in this shot of Stacia. In the street.

Here's Stacia again, this time by Perl Monger.

Quiet and reserved portrait of Briana in Detroit. This one by Ciskon.

Jeff Keen, our Detroit host, shot these two images of Bri.

Richard Whisner's shot of Briana in Detroit has wonderful color.

Derek added some great Photoshop things to this shot of Stacia.

Perl_Monger got this great capture of Kymmy.

Dan Baker makes an illusion in this shot:

Artoris had Kristina do some interesting things with all that hair in Atlanta.

Photographic Images got this capture late on the first day in Atlanta.

Ciskon grabbed this setup shot in Detroit:

Another shot of Kymmy from Richard.

Nice use of negative space and white background.

Steve Crowers caught a 'timeless' scenario in Philadelphia.

Here's Ed's take on the same image.

Shari caught this moment with Marleen in Philadelphia.

Bosslafs added some post-processing style to this shot from Philadelphia.

A quiet study by Giwo also in Philadelphia.

Shari caught this pose by Briana in Philadelphia. Love the post on it.

Shari saw this event happening and shot the snake handler.

Steve shot Briana outside the studio in Philly.

Steve caught a little flare, but it looks kinda cool…

Edwin captured this classic studio shot in Detroit.

I will keep this page updated for a few more days. There are still images coming in to the pool from Atlanta, Detroit and Philadelphia. To see the Lighting Essentials Pool on Flickr click here.