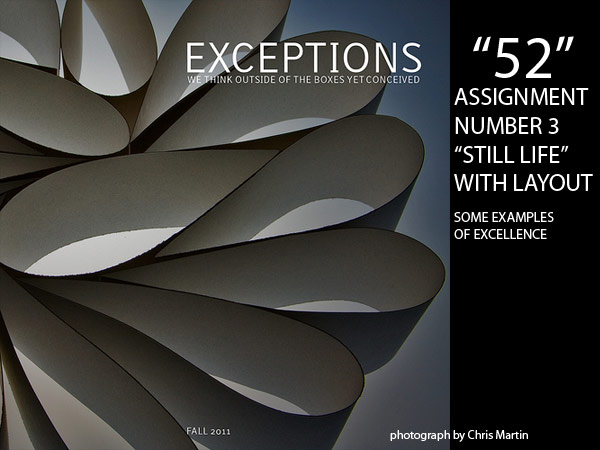 Photograph by Chis Martin.
NOTE: If you are looking for this week's assignment, please go to Project 52, assignment five. You can see it here on LE as well.
We are entering the month of February, and we are already at assignment number five… "the weather". The work shown is wonderful, and there are some amazing shooters. I cannot tell you how excited I am by this project. If you are not on board, you can jump in any time. All assignments will be available for you to work on at your own pace.
This month schedule so far:
Vokle Chats on Friday, February 4, 2011 at noon (for our European friends) and 7PM for our US followers. Saturday there will be a live shoot with question/answers from the studio working on small item photography.
We will have four live shoots with question/answers from the studio this month. They will be announced as soon as we can get them scheduled.
Workshops in the bag so far are Phoenix and San Diego. We had a blast at both. So much to learn, so many ways to go. The workbook has been finalized, and will be available for members next week. Good news is that it has been expanded to 84 pages with some additional new info. If you are a member, you know where to get it. Watch this space for more information.
In less than two weeks, Selina's wonderful 'Clarion Call 2011″ will happen. It is a 14 hour set of conference calls over two days. I speak on the second day. Find out more information here and register to get in on this. It will be amazing, and it has no precedence as far as I know. While there are many 'courses' and webinars out there trying to sell you something (and there is nothing wrong with that), this one has the mission of education. That is pretty cool. Audio interview with Selina is here. There is a link there to get to the signup page. You can't go wrong with this amazing set of speakers.
Now, let's get on with looking at some of the images that caught our eyes for the "Still Life" assignment. This kind of work is very normal in the world of commercial photography, so being conversant with small objects and light can make you a lot of money. (As with all Flickr images, clicking on the image will take you to the photographer's Flickr page where you can leave a nice note telling them how much you like their work. Yep… do that.)

Love the colors and textures in this one. A very rich color scheme holds the interest well.

Love that back-light feeling. Very natural look.

Wonderful textures and color on this one.

Very clean composition. Light is within the genre as well.

Love the shadow play here.

Eye catching.

Nicely lit with a very interesting POV.

I don't know what it is either, but it is nicely lit and presented.

That's a hot chili pepper shot!

Nice.

Interesting POV and eye catching presentation.

Something we rarely see presented in this way will pull our attention instantly.

Great attention to detail and composition.

Unexpected and fun for the eyes.

Light, shadows and speculars from mirrors. Yeah, that's the ticket.

Good concept well executed.

Delicate tones and shapes pull the eye in.

Close up and dramatic.

Beautiful composition and lighting.
There were a ton of great images submitted. Thanks to all who participated. I am glad to challenge some of you to get outside your comfort zone and make images.
Follow along on Twitter, be sure to check out the Project 52 site and if you are thinking about a workshop this year, look into the Learn to Light website.