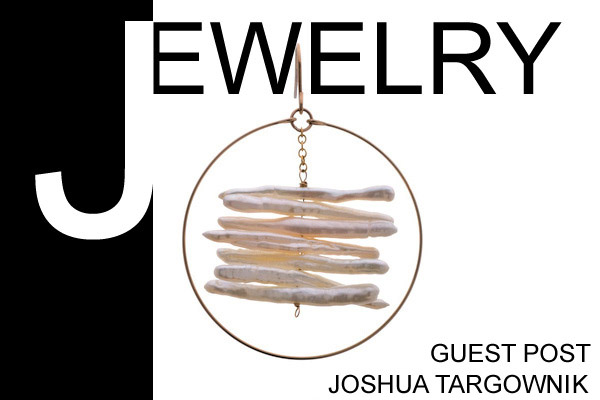 On a recent popular forum post, Los Angeles photographer Joshua Targownik posed a challenge. Faced with the following job he wanted to figure the best and fastest way to get the job done. He also wanted to get some killer lighting on the product to make it really pop.
Client expectations:
1. Shoot 30 earrings (silver, gold, translucent and opaque stones).
2. Earring images must be on a pure white background.
3. Full earring must be visible, including ear hook/stud/etc.
4. Some earrings dangle, and must appear to be hanging.
5. No cast shadows on the background.
6. Avoid Photoshop (Lightroom is OK)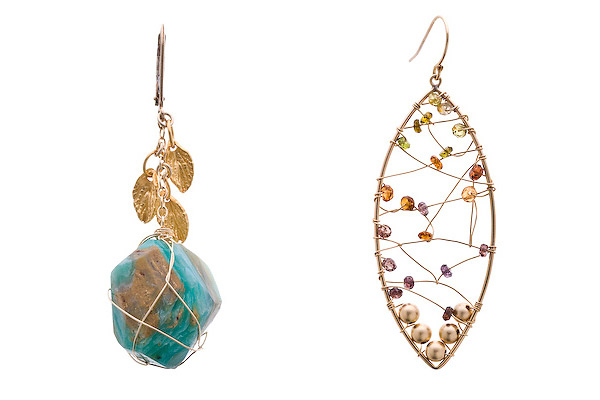 From Josh:
"I had a table and softbox arranged to give me a well lit place to shoot the jewelry. The softbox offered a very soft, and smooth main light source. Under the softbox, sitting on the table was a white, translucent plastic bin (the open end facing the camera). Across the open end of the bin, I stretched plastic wrap. I stuck the earrings through the plastic wrap, and even though there were a lot of stretch marks, holes, and rips, none of them showed up in the photo. No post processing needed. Then I draped a white sheet over the whole thing to make a light tent, and shot all 30 pieces the same way.
As you can see, the whole piece is visible and they look like they are hanging The pure white background is clean and without shadow. Laying them on a surface would have resulted in tiny shadows and mounting them from behind with rod or stick would have been a painstaking long approach. And with some of these items being so tiny, it would have been almost impossible to hide a stick in the shots. Additionally, by using plastic wrap instead of a fishing line, the pieces were held steady, with no swinging, so there were no problems with blur from motion or focus errors."
At Lighting Essentials we love it when a clever approach comes up and is well executed. Thanks Josh. You can visit Josh at his web site: Joshua Targownik | www.targophoto.com
Here's another look at how well this worked for Josh… and his client. I like the clean look of the jewels as well as the subtle highlights that give the earrings shape and context. These will look great printed large or small on the web.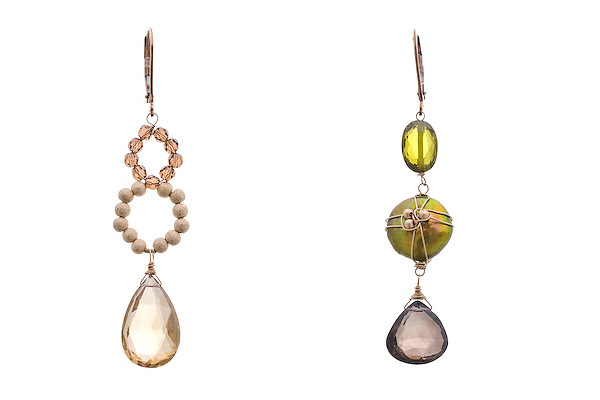 Below Josh shares his lighting scheme with you. He is using an IKEA tray to hold the plastic wrap and provide the white background. The larger box gives a nice clean backlight and he is using a speedlight below the box to add just a little kick of light from the opposite direction to make sure the white stays clean. Take a shot at it the next time you need to do some earrings, rings, jewels or other kinds of still life. I can think of lots of uses for this kind of setup. You can see all the shots Josh did for his client here.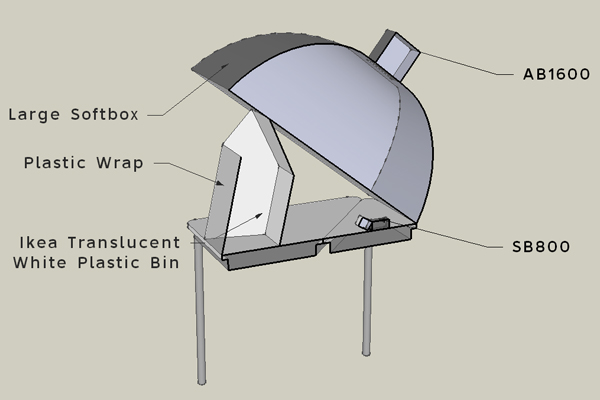 NOTE: It is important to note that Josh covered the entire set with a white cloth (sheet or other white material) that is not shown on the diagram. That material was critical in making sure there was light on the front of the jewelry as well. It draped down in front of the jewelry and in front of the camera. Do not forget this critical piece of the setup when you create it for your setups.
| | | |
| --- | --- | --- |
| Information for today's photographer. From novice to pro, LE Magazine has it all. | | |