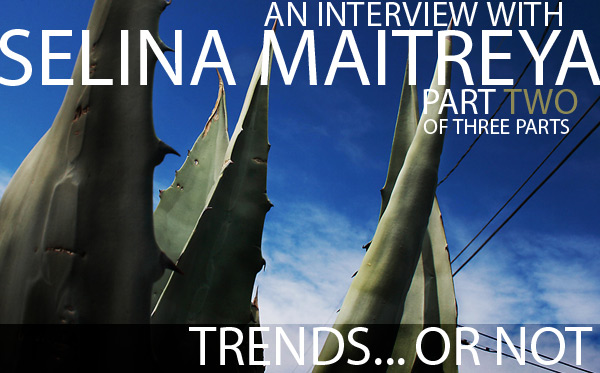 We present the second of a three part look at the current business of commercial and editorial photography through the 'lens' of Selina Maitreya, photographers coach and consultant.
First things first: Selina's website is 1PortAuthority.com, and it is there you can read about what she does for photographers. You can also download a free chapter of her amazing audio series "The View From Here" and purchase her newest book "How To Succeed In Commercial Photography: Insights From A Leading Consultant." If you do purchase the audio series, be sure to enter the code FOSLE to get $100 off (50%) the purchase price.
I asked Selina about what was trending now:
"Well… (laugh) I don't really look at trends. Great work is the best trend.
But there are some great things going on with Post Pro color pallets that help photographers create a consistent color 'look' for ones work. This creates a cohesive look to the body of work, and seems to be a growing trend for a lot of photographers."

Yes. That seems to be something a lot of shooters are looking into. I know that when I look at a photographer's port, it can really be noticeable when the images are taken as a whole.
"Another thing I am noticing is how many photographers are returning to film. A lot of film is being shot out there. Not as a change from digital, but in addition. That is really interesting. Some are older film shooters who remember and love film and some are younger shooters for whom film is a new medium.
Film gives a photographer a hands on feel. And it can be quite challenging."
I think I have shot more film since last summer than in the past few years for sure. Just purchased a new film camera and looking forward to shooting some large format this week. Any other 'trending' things that are out there.
"More photographers are once again adding one on one visits into their sales programs. Print books have always been important to buyers. It was photographers who felt that clients no longer saw shooters. They were convinced that their websites alone were enough. Big Mistake. I kept hammering this home and finally the message is getting heard. No more and more prose are realizing how important it is for them to see clients and they need to show their work via a print book – not on a computer. The print book NEVER left the mix.
The website creates a place for people to see your work and decide if they want to see more from you, or initiate a meeting. The book is your front end sell and is what your clients will reference when looking at assigning work in the final pitch stage. Having one that is ready to go and represents your vision is still very important. Maybe more important now than ever."
I think the 'book' forces a photographer to really define and refine their work to a small group of images. Just going through the process is so enlightening.
"And that is so true. When you start to look at your work as a group, you can start to see where the holes are, and where the vision is working."
Where should the photographer be marketing now?
"It is so important that photographers know and understand their audience. Who are you shooting for and what is their interest in the work? It isn't enough to just make pictures, you have to get them in front of the right people… and you have to show the right images for them. That is why having your own vision… and "bringing it" every time you shoot is so important.
If you are a lifestyle photographer does the "feel, the visual approach" you take to your topic appeal to mainstream clients or hip cutting edge products and services? Once you know what you are shooting and what the "feel" of your imagery is, research potential target markets. Choose 3-5 markets to service.
Maybe you will be aiming to service advertising, design firms, editorial and corporate direct with your visual product. There's 4 markets right there. Funnel down and search the contacts in each area that hire photography. Determine your geographic parameters, there's your database right there!
Show up. Show up with the talent and the passion and the drive. Show up with your work and be ready. Make the calls, introduce yourself. Show up when it comes to the business of photography. That is something I tell every photographer… show up. Understand what that means and do it at every level, Every time.
Social networking is important but so is face time.
The internet can become an echo chamber. We are all talking to each other (Twitter) and that is fine, but photographers have to find a way to get out of that echo chamber of photographer to photographer and find the ways to reach the buyers.
You know, it is competitive out there, but being a photographer is still an amazing business to be in. I love being around photographers, they really are some of the most interesting people I know."
Who do you follow on Social Media?
"I love Heather Morton's blog. And I follow Chase Jarvis and Rob at APhotoEditor, with whom I did an interview recently. I did an interview with SESHU (@PicSeshu) and with Craig Ferguson in Taiwan, I love @Photojack @zarias, Rodney Washington,and YOU! (We also have an audio interview here at Lighting Essentials as well.)
So many people have asked me to create a Blog. But Creating a Blog is not in my immediate future, though I am trying to think of a new way to approach that. Right now however TVFH is really taking off. I've received emails from photographers from 7 different countries around the world who have purchased the program, love it and took the time to write with ideas on future topics and requests to build a community around TVFH.
Currently I am working on creating a forum for people who have purchased the audio program that will let them talk to me and among themselves.Its all very exciting!"
Thanks, Selina.
BTW… I carry Selina's Audio Book with me all the time. It is the only thing I have on a little iPod shuffle (pretty much takes the whole thing to load it) and whenever I have the time I just clip the little shuffle and hit play. The parts are easy to listen to without necessarily being in order.
I just wish I had heard this about 30 years ago. Heh.
Tomorrow: 4 Important "To-Do" Items for Photographers.
Portals for portfolios:
CarbonMade
Photoshelter
FormatPixel
Photoserve
That's a short list.
Here is a good article on portals by ASMP.
Part One of this Interview is here.
Part Three of the Interview is here
See you tomorrow.
Follow me on Twitter, and visit my workshop site at Learn to Light.