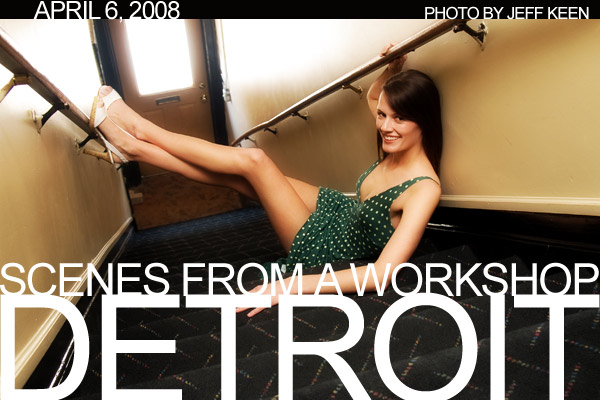 The Detroit workshop was a smashing success. The students all had a great time, we had wonderful models who worked really hard to make the images special, even braving cold wind to do it. Lynne's studio is a really smart little place in downtown Pontiac, and she provided lots of tips and laughs.
I thought it may be fun to feature some of the shots and student work from these workshops. It will be an ongoing feature and as I see some images from the students, I will post with some lighting info.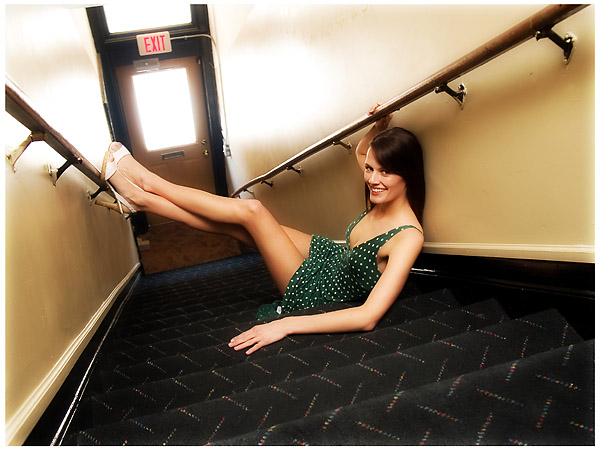 Jeff Keen (Bliss Portraits) shot this image of Stacia in the stairwell of Lynne's studio. There was a lot of light spilling into the stairwell from the front of the building, but it got quite dark toward the top of the stairs. Jeff used a speedlight and bounced it into the hall in front of Stacia, high and to camera left. It was on 1/16th power and only offered a very small amount of flash. Jeff chose to shoot at the correct exposure of the flash and let the ambient light flood into the space and warm the shot.


Next up is Roel's shot of Stacia in the road in front of Lynne's studio. Part of the challenge is to make a shot when there is no shot to be had. The road was mundane, but we used a wide angle lens to create drama and then "Beat the Sun" by two stops and lit Stacia with speedlights. This effectively underexposed the ambient and gave it almost a 'night' look to the image. Creating the lighting on Stacia, we made her stand out as the subject and 'hero'.


Roel used two matching speedlights and they were on the voice-activated boom stands (Jeff and I). We kept the lights focused on her face and close enough to provide the f22 we needed at 1/200. We had the speedlights dialed down to 1/8 power on each.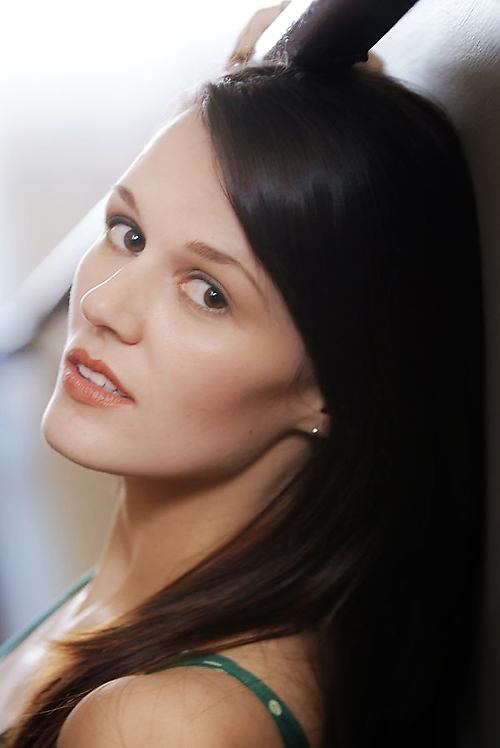 Here you can see the lighting that Jeff had used for the stairwell shot above as it applied to Roel's headshot. Roel (Roel Photo) was using the same light, as Jeff, but zoomed in with a tight take on Stacia's face. You can see how nice the ambient adds some sculpting and nice highlights along the edges of her face.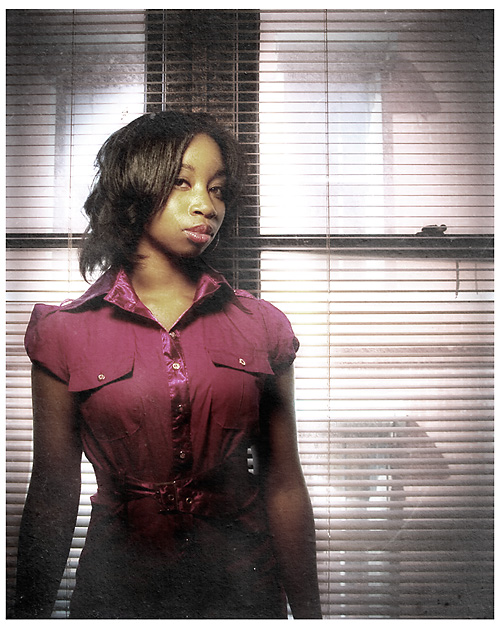 | | | |
| --- | --- | --- |
| Information for today's photographer. From novice to pro, LE Magazine has it all. | | |
Jeff (Bliss Portraits) is up again with this shot of Nikki taken in a small dressing room. We used a single hot light (Home Depot, $11) and lit her against the blinds and the lit wall behind her. This shot features a slight spotlight look because the light is so close to her. Jeff simply dialed it in with his LCD, and had it nailed in a just a few shots. Photoshop was used to add a little bit of illustrative look to the image.
Will Brenner shot Stacia in the street as well, but we pulled the camera right flash to a different angle, only grazing her left side. This gives the image a side lit look. He added to the look with some Photoshop magic, giving it a more illustrative look. While similar to Roel's, it has its very own look.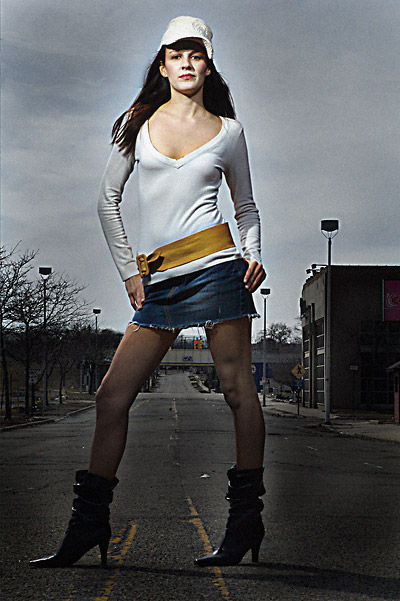 Roel (www.roelphoto.com) just sent an image of Jenny that looks simple, but there is a lot of stuff going on here. Jenny is sitting in Lynnes office with a lot of windows facing south. The light was beautiful and plentiful, but also very directed from the window side. We added a strobe bouncing into a large reflector over and slightly in front of Jenny to open the shadows while letting the ambient light dominate. Roel chose to drag the shutter to bring in the makeup lights behind Jenny.