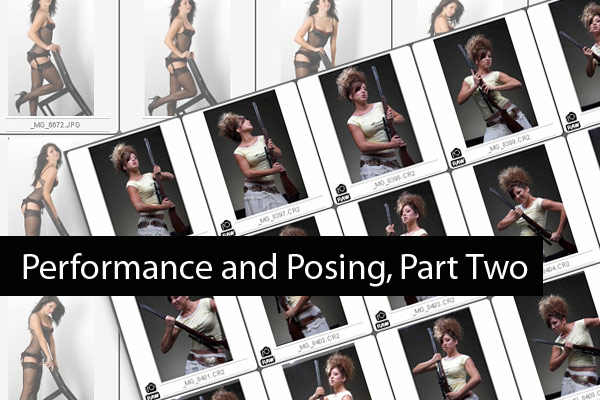 Briana is back with Part Two of the Posing and Performance Column. Be sure to read her first columns and be looking for more as she helps photographers and models work together to create exciting imagery. Also be sure to check out the Lighting Essentials Magazine for interviews, articles and more. Just click the LE Magazine banner on the right side and enjoy. Be sure to read the interview with Keith Taylor, a shooter in Atlanta.
Don't forget to check out Briana's Flickr forum and leave a comment or two. There is a huge Flickr set here if you want more Briana. Now, on to the article.
Performance – A How to Guide:
The first part discussed the basic theory of performance, but this part provides an easy step by step checklist to get the most out of a model's art and provide the photog with as much material as possible. Obviously, they're not the only aspects of how one performs when modeling; just a quick survey of a few important keys. But again, for me, I just do it. It's second nature. Now it's time for you too to realize that it's also your second nature. Perform and see. Honest.
1) Environment: Are you in a studio? A city? A beach? Each offers a valuable opportunity to test your range. Is it night? Day? Or "magic hour" (that time of day when natural light creates this incredible glow just before the sun sets)? Again, each will reflect on what you have to show the world. For instance, a beach during a cloudy day is not what we hope for when we go to the beach. No, we want sun. But… a cloudy day offers opportunities. Spread your arms, affect a pensive pose, and now… a photog can make it seem as if you command the vary elements themselves (Thanks Laurie! And Don… I remember your mystic shot too.)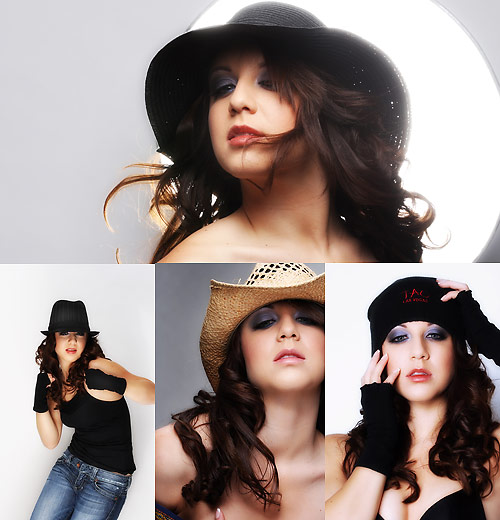 2) Props: I did a shoot with hats. It was fun. (Look for an all-Briana dance calendar soon!) I've also done a shoot with a box and with a chair. I was supposed to sit on the box. I was supposed to sit on the chair. I wasn't supposed to talk. I wasn't supposed to care. I sat on that box and I sat on that chair, but in the end, I wasn't there. Okay, enough Dr. Seuss. Basically, I chose to do more than sit meekly allowing myself to be led. It was boring. I picked up the chair and put it on my head (aarggh! I'm stuck in rhyme!) I lay on the box and talked. I told Don what I wanted to do… and he happily shot me… through and through? (We are from the cowboy state, Arizona, so the pun works for me.)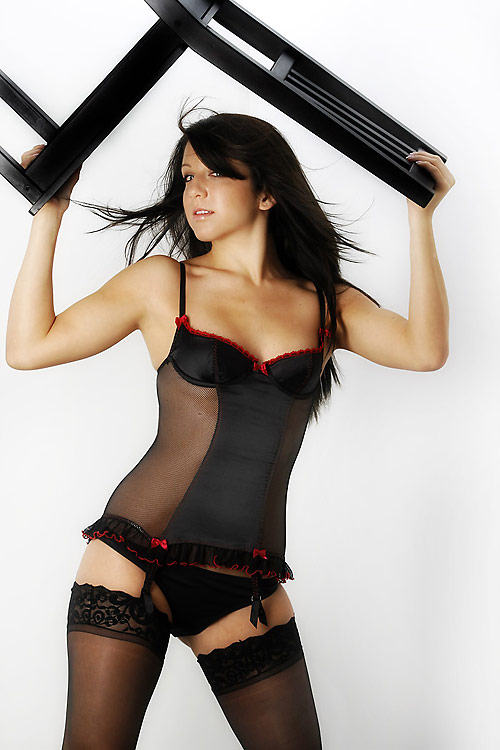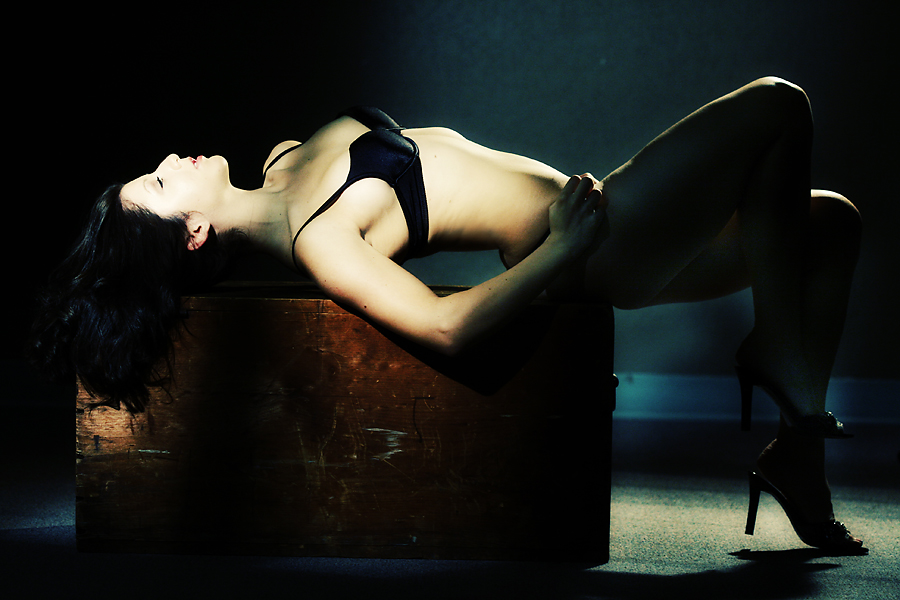 3) The Space: Okay, you're in a studio or on a mountain top. What do you do? How do you appear large on a mountain or small in a studio? Well, the photog can manipulate the shot using angles and light, but a model can help too. Appear meek in the studio and the photog can make you smaller. Cross your arms and jut out your chin and you're larger than life on that mountain top. Or… do cartwheels. Yes, move. Cameras today are made to take pics quick. So move. Trust your photog, he'll get the shot. It's why they bring so many memory cards. Me? I like to jump. It's fun.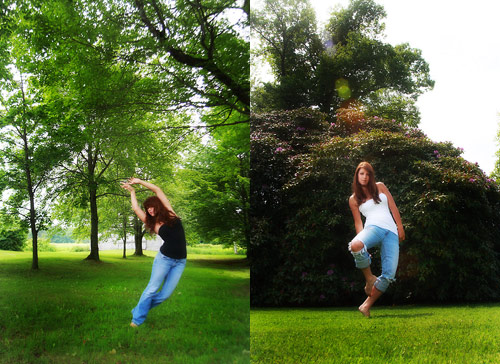 4) Your Mood: Sometimes I'm sad. Yup, it's true. Most of the time I'm happy, like now, but not to worry, no matter what I'll smile for you. Regardless, we're supposed to be professional and separate our feelings from work. Why? 'Cause the photog wants a particular feel? Don't worry about that, they're professionals too. They'll adapt. Sure, you can do some shots like they want, but let your mood dictate your performance. In the end, the outcome may be better than originally expected. When has life ever measured up to our expectations? Isn't art supposed to mirror life's experience? Exactly… be you. Trust the photog.
5) Your Background: Now I'm a dancer; a modern jazz dancer, not a stripper. Not that there's anything wrong with stripping. In fact, the talents learned there can translate to modeling just as well. What matters here is that we all have histories. We have abilities too. Use them! Whether you played baseball, did martial arts, gymnastics, or cheerleading, you got "mad skills"… so explore the possibilities those skills add to your shoot. You'll be amazed. And at worst… the shots end up in the recycle bin.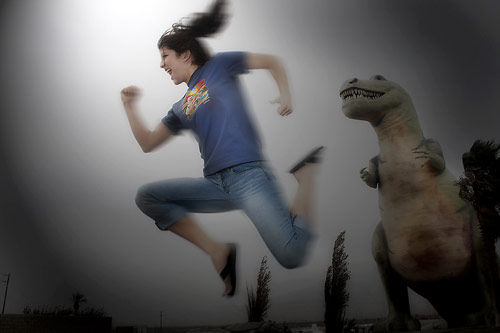 6) Play Make Believe: Einstein argues we must continuously break the rules to affect change. And one way, he argues, is to be a child. So be a kid! Enjoy yourself! Remember what it was like to be a fairy princess or to be Lara Croft? Well… you still do it. You know you do; in your dreams or at Halloween. You know you pose in front of your mirror or pretend you're someone else. Admit it. So do it at your shoot too. It'll be worth it.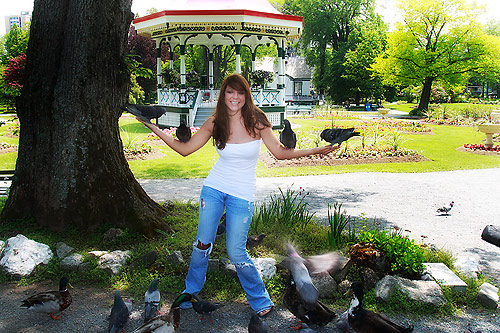 Conclusion:
Essentially, performance is second nature to all of us. It's a part of our history. We performed as kids and we adopt personas when in different situations (such as work and play.) So let it out. Sure, posing is fine. But it's limited. Perform and pause. Pause and perform. That stop in your performance is where the original poses came from. But if you perform and pause… you'll invent new ones and stretch your range as a model. Use what's there and what you feel. Everything is like food for performance; let it feed what you show your photog and thus the world. Become "moving" art. Move.
Next in Model Behavior: Modeling the Light: A Model's Role in Lighting