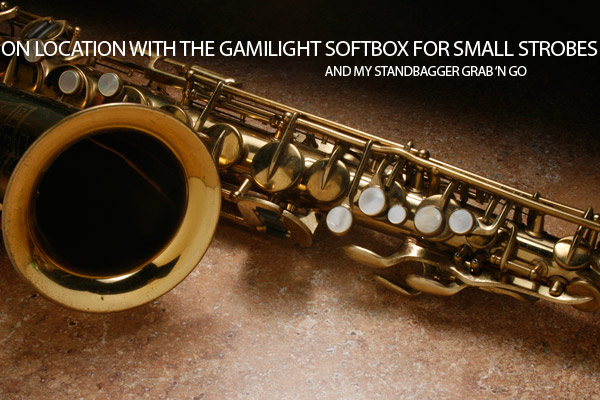 I use a mix of lighting as anyone who reads these posts know. I do not favor convenience over ability at all. I will pack a ton of gear – and be fine if we don't use a quarter of it. It is there if I need it, and when I do, I really do need it.
There have been some wonderful additions to the small strobe gear lately. I love having a lot of modifiers when I go on the road and only have the small lights with me. I have written before about some of them, but this time I am letting you know about an upcoming launch of a great piece of gear: The GamiLight softbox for speed lights.
I was sent an advance item to work with and it has been hit and miss on getting the opportunity to work with it. This past week I got to use it on a location gig, and it worked really well.
The saxophone shot at the top is one I did with the GamiLight for a show this past Saturday. We examined a simple one light still-life / product shot on LE LIVE.
I simply boomed the GamiLight over the set (my kitchen island) and lit the sax with the softbox and several small cards. I use a Lumopro Mini Boom and it works great. Just the right size for working with a table top shoot in small places with small strobes. No, I am not gonna hang one of my Profoto 600's on it, but it handles the small stuff just fine.
NOTE: The GamiLight is now available at Midwest Photo Exchange.
Having the ability to modify the small strobe or speed light is paramount to me. I am fine with the use of bare strobe and use it a lot for effect, but I also love having umbrellas and softboxes… and they are not ideal for speed lights. The light coming out of the small box unit doesn't have the initial 'spread' that a bare strobe has. Using small coverings like a "Stofen" can help, but they also cut additional light.
This GamiLight seems to have figured some things out. The surface on the inside is very reflective and it seems to catch the light and spread it throughout the unit. There is a small bright spot in the middle, but not enough to make a real "hot-spot".
I did put a small stofen like top on the flash and got a wonderful soft light from the GamiLight. It killed about 3 stops though. Of course that can easily be made up with ISO these days, but using it in conjunction with direct sunlight means the unit must be very very close to the subject.
The strobe I am using for this little example is a Quantum PZ1 I got on Ebay for about $20. It is in the same range power-wise as a 430EX or an SB600. This is to give you an idea on power. I chose this small powered strobe so it would be the smallest power scenario. Those of you with the 580 / SB600/900 can easily add 2/3 – 1 stop on the unit at equal power.
Here is the GamiLight as it is ready for carrying. Flat and small and easily fitting in the lid of my suitcase.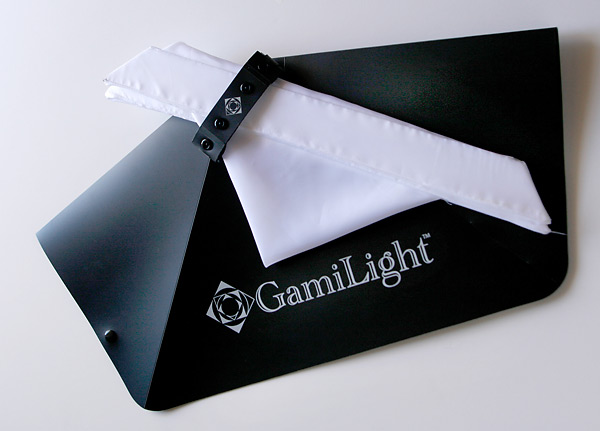 You put the box together by unsnapping the carrying snaps and opening the unit up. The form-fitted front diffuser then fits over the unit and keeps it square. This can be a little tricky at first, but once you get the hang of it – no problem.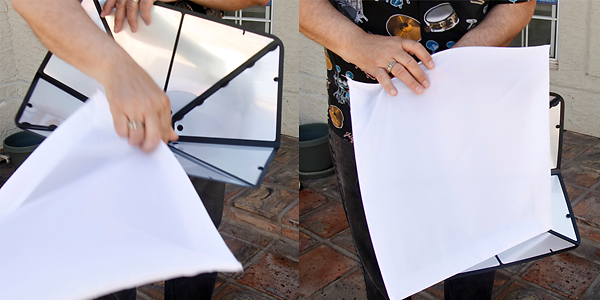 The completed GamiLight box ready to be attached to the strobe fitting. It is much bigger than many in its category, and the unique inside reflectance gives the unit a lot of punch.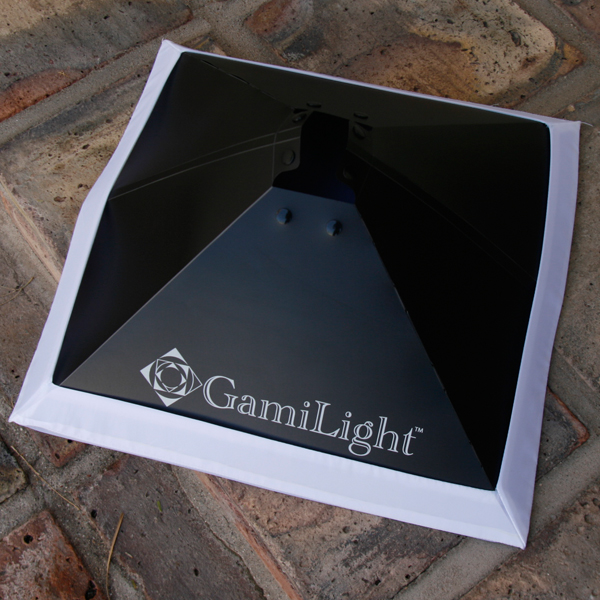 The GamiLight comes with the coolest speed light attachment I have seen. It is a well crafted, tightly fitting universal loop with snaps on it. It takes some doing to get it over your strobe head, but it should be tight. The fit is nice and the thing is not coming off with simple use like many others do. This baby is on there.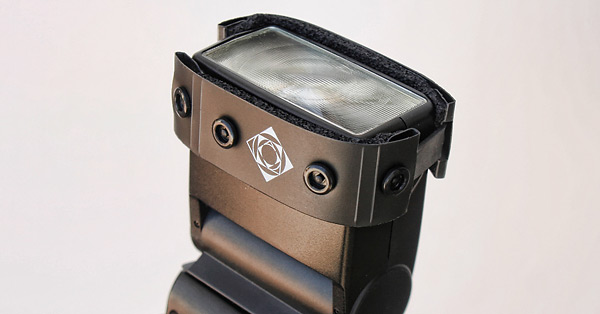 Snapping the GamiLight box to the holding ring is really simple.
Here is a side by side shot in bright sun. On the left is a bare strobe and on the right is the same shot with the GamiLight. The softer, larger specular and more diffused light is readily seen. The power differential was 1.5 stops. I made up one stop with power and the other stop with distance… moving the box in a few inches.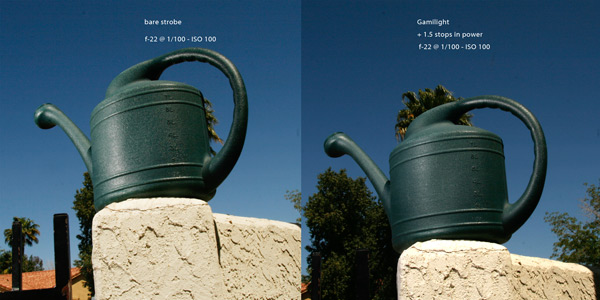 Shot of the GamiLight in use for the water bucket shot: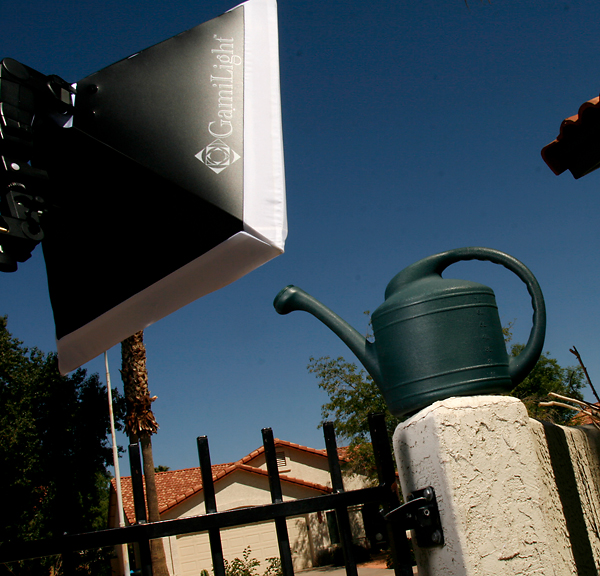 Here is the GamiLight being used in a portrait of my daughter. You can see that I have a comfortable working space. That is direct sun over her shoulder and I have the power in the GamiLight at 1/4.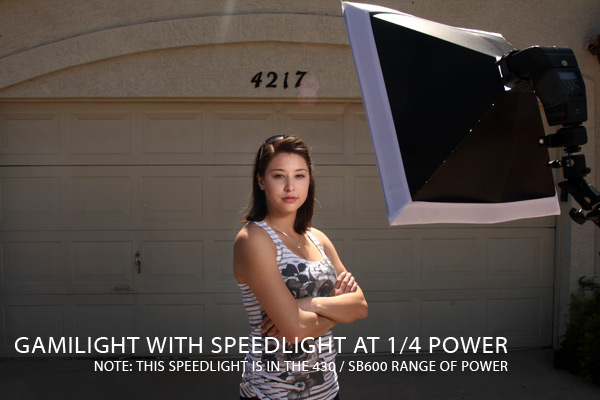 And the resulting portrait: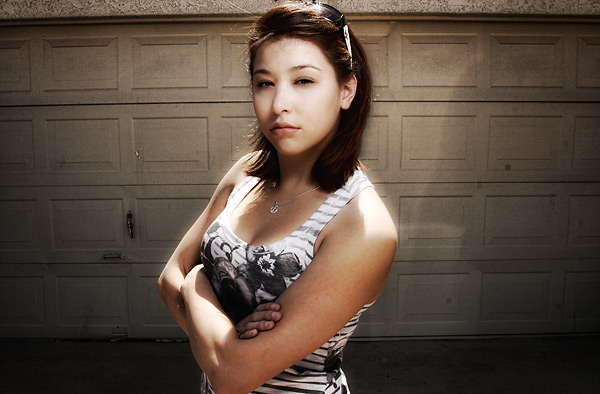 Here are a few other shots of the GamiLight in use.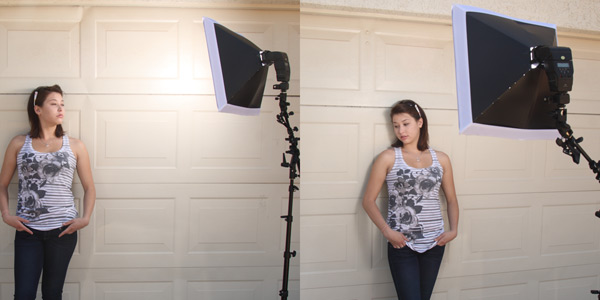 I have no idea on price or availability, but I do have some links for you.
GamiLight Facebook Page
You can email Sam here.
They are planning some new product roll-outs starting this week and through May. Next on the product line-up will be BOX 21 (small softbox), SPOT 3 (snoot), EVENT PRO & EVENT FUN (bounce light). All will be rolling out from this week till May 2011. All units fold flat and are easy to setup.
I cannot end this review without mentioning again how much I love my Standbagger carrying cases. Going on location is so much easier now. Every stand and umbrella has a slot in a standbagger. I use the Grab 'n Go and the large rollups. The Grab 'n Go are great for small strobe shooting and hold everything I usually need. The bigger units are for the larger stands and myriad umbrellas that I take everywhere.

My units have gone everywhere with me for nearly a year… and they still look new. One of my older, large Standbagger units has been on at least 50 flights and gone through the gentle touch of baggage handlers… still looks new.
Here is what is in the Standbagger Grab 'n Go I keep at the house: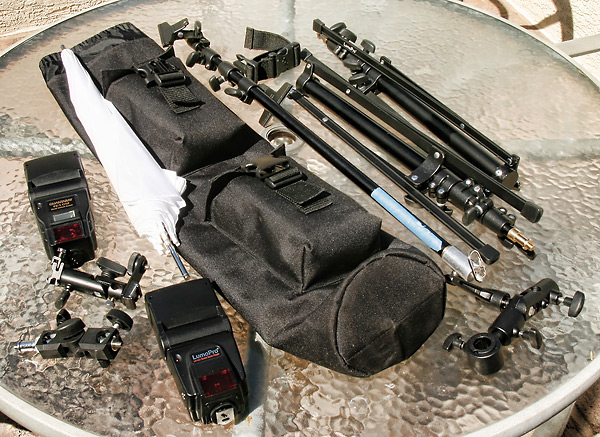 Inside is two stands (LumoPro), one small LumoPro boom, umbrella mounts for both stands and one for the boom, two shoot thru umbrellas, two strobes, 5 small clamps and triggers (not shown). Out the door in an instant and ready to make portraits.
So that is a little tool I like as well as some links to places where you can check out the tools and stuff that I use. Thanks for coming along. If you are interested in stalking following me on twitter, that'd be great. I don't flood twitter with spam, but I do like sharing stuff about photography, design and business. You can find all the social media links for me that you want at About.Me.