Photographs by Rasheid Scarlett, our first big contest winner.
Norfolk was the little workshop that grew slowly into a wonderful weekend. I put it up and got one sign up… a guy from Poland was going to fly over and take the workshop. No signups followed for quite a while, but Lee Rosenberg took up the mantle and started spreading the word in the area. Attendees sort of trickled in… till it filled. I was not even aware that we had that many signups – they had come in so slowly.
What a treat to find that it had nearly filled. I really wanted to go to that area of Virginia for a while. Being a history buff, you can imagine the draw that area had for me. Thanks, Lee.
(BTW… we have a couple of openings at the Houston Workshop. If you know anyone in that area of Texas that wants to kick their photography up a notch or two in one intense weekend, send them here.)
I took an extra day to drive around the area and had a blast seeing the country side and many of the historical areas around Gloucester. Love the architecture, the way it fits into the landscape and the quiet little towns. It is also fascinating because of all the water and how the infrastructure always has to figure in the water and how to traverse it. In the desert it isn't that big of a deal – unless it rains. Heh.
Lee got the clubhouse of his association to let us use the meeting room and it was an excellent shooting space. It was also right on the beach, and we had access to dunes, water, beaches and more.
The workshops have morphed a bit, and I wanted to take this post to explain how, as well as how I teach photography, lighting and professionalism. I think it applies well to many other aspects of learning as well.
When I started the workshops here in Phoenix, they were local only. Small, one day workshops that were held at my little studio. We spent the morning doing studio lighting and then went outside for an afternoon of location work. To say it was intense is an understatement. One day… whew, that was a ton of information to get into someone's noggin.
I moved it to a 2 day workshop last year and it has been much better. We have a bit more time to get some things done, but it is still so intense that the students and instructor are darn tired at the end. And that is a good thing.
Lighting Essentials articles you may enjoy:
Is NOW the Time? And 22 Images from the LE Flickr Pool
Just a Rant that Started Elsewhere and Ended Up Here
What We Mean When We Say "It's Not About The Gear"
How Do You Hit a Home Run If You Never Swing At The Ball?
Ten Myths of Professional Commercial Photography
Teaching photography is a delicate balance of technique and art. A very delicate balance.
I do not think that 'art' can be taught, but I do think that some of the blocks that people have toward the creation of art can be identified – and that can lead to getting rid of them. Showing someone how to think about creating the shot may not result in a fantastic photo, but it will open their mind to a process that may lead to making better images. Nothing happens overnight. The process grows and the old habits fight hard to remain dominant.
I hope that the processes taught begin to grow in the photographer and lead them to be more confident and aware of their choices. Choices lead to consistency. Consistency leads to style.
My goal artistically is to have the photographer define and refine what they want to do. It is most definitely not the goal to have people shoot photographs like me. Not at all. Ever. The goal is to help them shoot their pictures their way and find or refine their style. To do that, we weave introspection and the process of 'visualizing' the image before setting up the lights into the techniques we teach.
Teaching technique is a bit different. Techniques have values that are defined. "Light does the same thing every time" is a mantra I go over many times during the workshop. I want to drive that home with the students. Light is not an unknown or magical quality, it is a repeatable and easily defined resource.
I believe that if you want to teach someone how to do something you tell them, show them, and make them do it. Over and over again, this method has been tried and tested and found to be the best and fastest way. In music school (my formal education) we listened to lecture, watched the notes and heard the music. We took up our instruments and played the music.
I don't think that is any different with photography. Not at all. People learn differently. Some learn by listening. Some learn by watching and some learn by doing. I think everyone learns by doing all three.
I think we can lecture about photography and some people will get it. I think we can do lecture demonstrations and others can learn. I think we can put a camera in their hands and others will learn. Doing all three is the way everyone learns, and that is my way of doing the workshops. I simply have no interest in lecturing for 8 hours. I don't want to do lecture demonstrations all day where I shoot and others watch. Nor will I be involved in 'model shoots' where a couple of dozen photographers go freestyle shooting over shoulders and behind the models and such. Ick…
I want to tell / show / and have them do. And then measure that success with real world challenges.
It is also why I limit the workshop to only 12 or so attendees. We become friends and we work together as a unit.
Next year Lighting Essentials Workshops will change a bit more. I have spent some time looking at what I do, and what works the best. It is time to refine the process a bit more, and I will spend most of December on refining the workshop for next year.
Here are some images from the Norfolk workshop: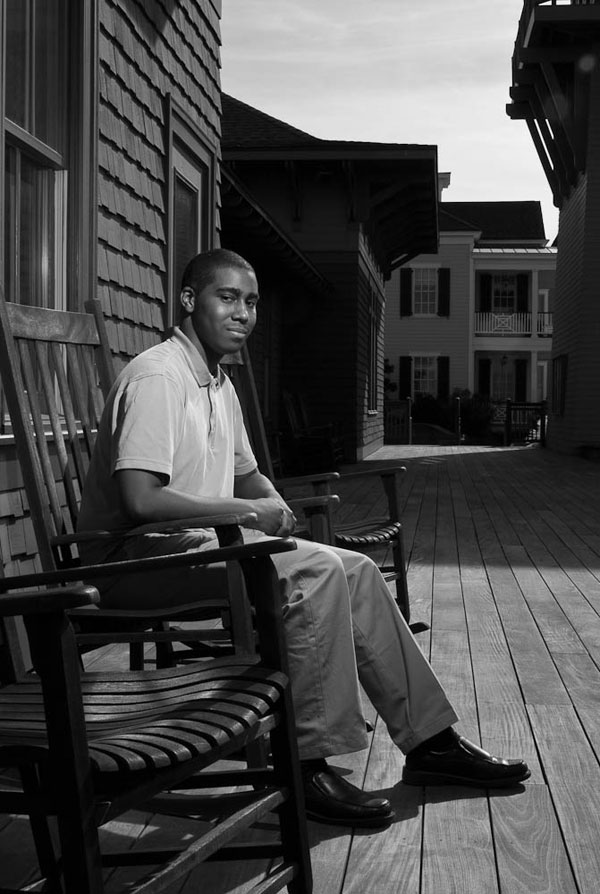 We used position, light and contrast to make this shot. Blending strobe to the sunlight was the challenge. Photo by Genevieve Neal.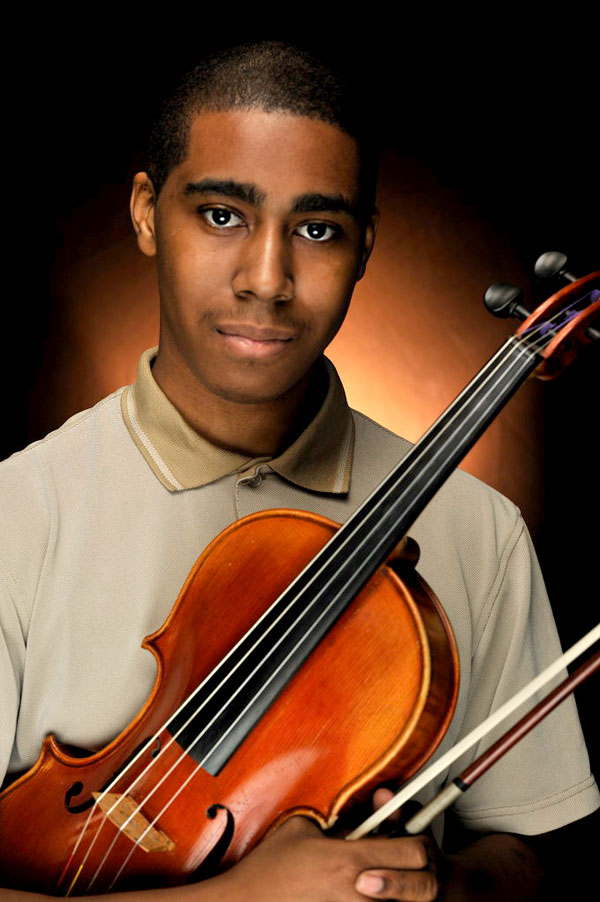 This is a studio shot with a simple setup. This kind of lighting can be repeated quickly, and understanding how to keep the light repeatable goes a long way toward the development of style. Photo by Genevieve Neal.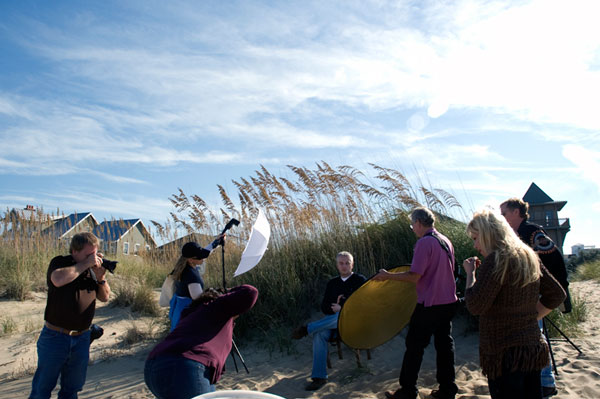 One of the things we do is to make sure that only one photographer is shooting at a time. The teams rotate from assisting to shooting. We have ample time to document the setup when the shot is taking place. This is a great learning tool when we can pull up those setup shots and then see the final result. Photograph by Shelley Deneau.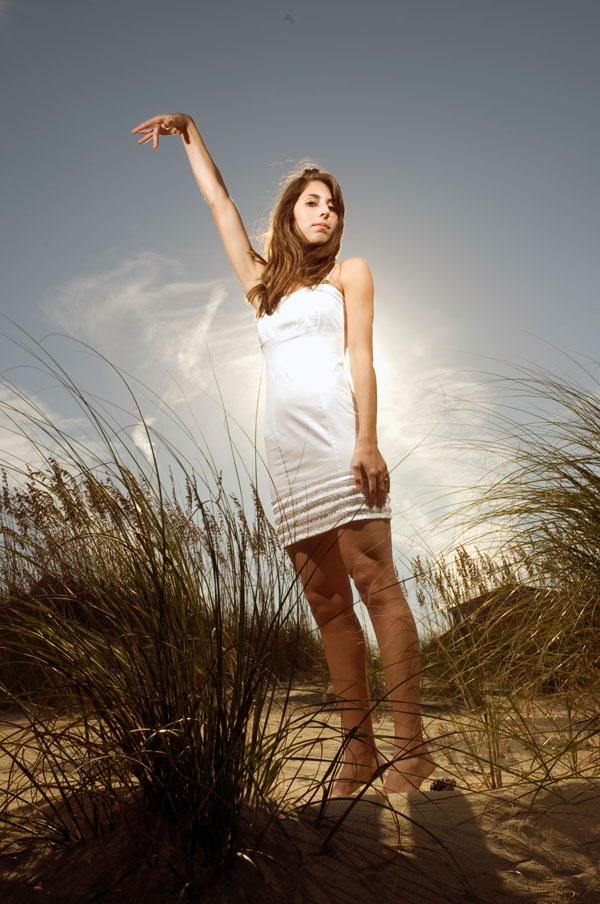 We always try to challenge the students to make shots that push the technique. Shooting a white dress against the sun takes careful control of exposure and lighting position. This shot was done with two speedlights and a hot sun in the sky. Photograph by Shelley Deneau.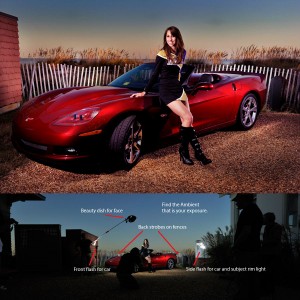 At the end of the workshop we turn the students loose to create a large set shot. We took Katelyn in her cheerleader outfit and some outrageous boots and photographed her against the quickly fading ambient light. There are five speedlights in the shot, and they got it setup pretty darn quick. In the end, this shot took less than 20 or so minutes to get together. There are a few additional things we could have done, but for a quick shoot, the image is pretty cool. Photographs by Mark Breen.
Dana Chapman sent this group of images from the workshop: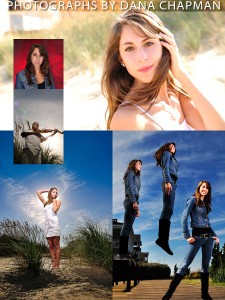 We did some shots of the photographers who needed "About Me" and Avatar images. This is one Carlos did of Nancy.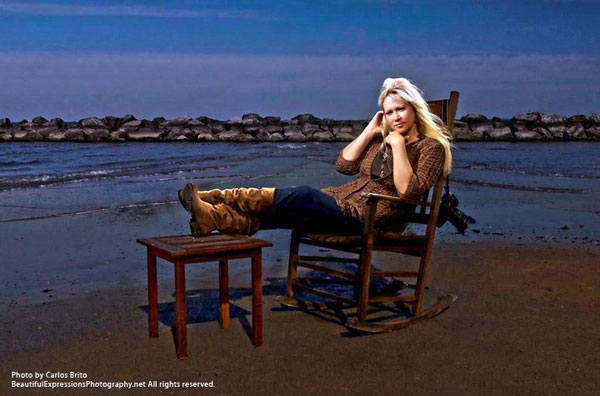 Lee Rosenberg took these images: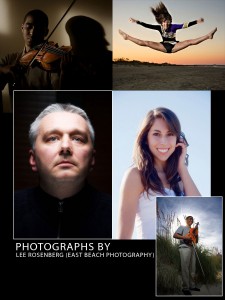 This group of images are by Jerry Hughes.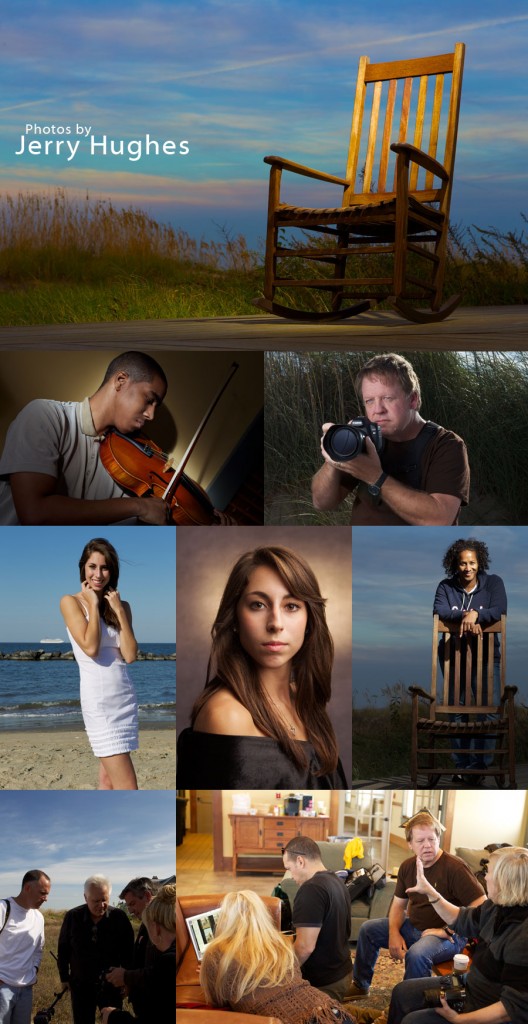 Genevieve Neal sends these images from the workshop.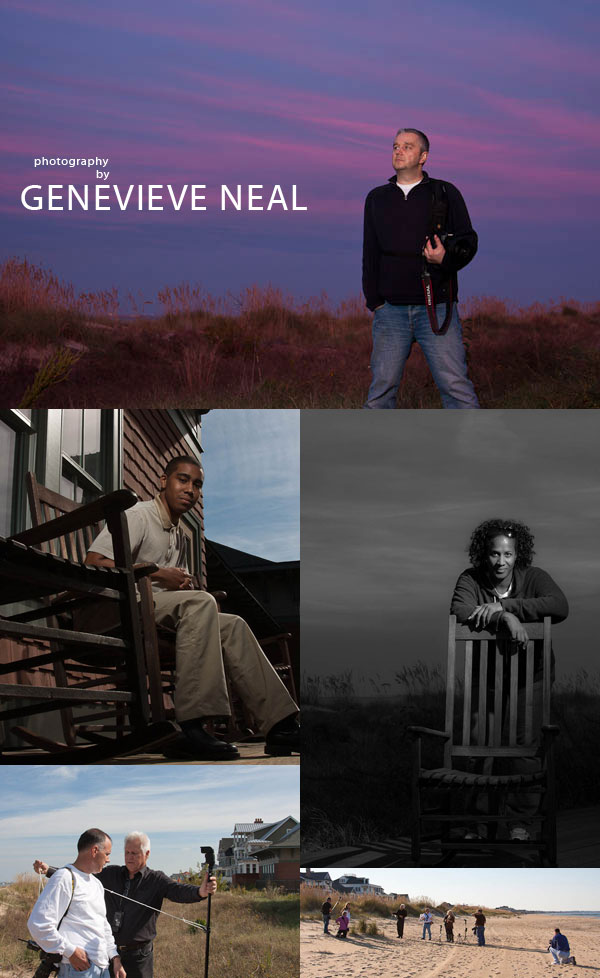 I really enjoy going to places that are a bit off the beaten path. Sure, I love going to New York and Chicago and Atlanta. But I also have a great time in places like Greenville, Akron, Omaha and Norfolk. If you are interested in bringing Lighting Essentials to your town, let me know and we can see how it could be done.
Follow me on Twitter, Facebook and Learn to Light.
See you next time.