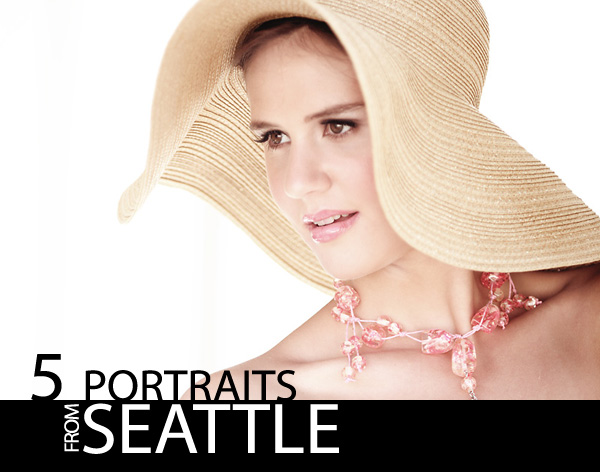 The Seattle workshop was amazing. We had a great time and made some amazing images. Using the facilities of SPA, we were able to do several setups. And the models, stylists and hair artists were off the chart. Incredible styling, hair that was spectacular and a dozen models a day for the attendees to work with. Seattle simply rocks.
I rarely get a chance to shoot at the workshops as I like to keep all attention on the attendees. And while Seattle was no exception, on Sunday there were moments when the models were waiting for the photographers to get their gear or find a location. I grabbed these 5 talented people and made natural light portraits for fun. I made only a few exposures and didn't make a lot of variations. I wanted portraits and I wanted them to be accessible… not too overly 'stylzed'.
If you are thinking about a workshop for this Fall, please take a look at the Learn to Light site and consider a Lighting Essentials workshop. We have added a Friday evening "Business Essentials" for all attendees who want it. In Seattle we ran about 3 hours and it was a hell of a discussion.
September
Minneapolis, Minnesota, September 12, 13
Phoenix, AZ, September 19, 20
Saint Louis, MO, September 26, 27
October 2009
Mexico (Puerto Penasco)
2, 3, 4, 5 – Special Three Day Workshop
Detroit, Michigan 10, 11
Boston, MA, 17, 18
Boise, ID 24, 25
Thursday, August 20, will find me speaking at the local ASMP chapter. Penny Dolin (ASU) and I are discussing social media, new media and how it can be leveraged into a commercial photographer's business.
A few from the Archives you may like:
Natural Light for Natural, Subtle Beauty
Using the Sun for A Hairlight: Some Variations
Natural Light Headshots: Keeping it Simple
Serendipitous Light
Deconstructing a Portrait on Location
Now let's take a look at the 5 portraits from the Seattle workshop… all natural light.
Here is our first portrait.
Kim in the Floppy Hat
Kim was wearing this cool hat for one of the shots and I loved how it formed around her face. Finding an edge of the gazebo we were all sharing, I was able to find some backlight from the sun and some front light from a large, single story building behind me at 18 feet away. The side of that building was white siding and it was totally in the sun. This became my source, with the sun as my background. Kim is at the edge of the gazebo, with the mid afternoon sun coming over her shoulders. I use the bright sunny sky as a backdrop. Because of my shade exposure, the sky blew out and created a flare situation that I kinda liked.
Here is part of the contact sheet from this hat shot of Kim: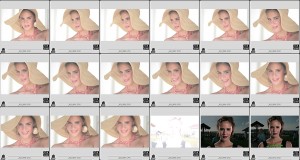 You can see how I work with models when you see my contact sheets. The top row shows Kim working with an off camera look. I then begin to pull her back to my camera slowly bringing in smiles and lowering the chin to create a very accessible look. The last image seemed to be the one I love the most. I wanted a shot that looked natural, and drew the viewer into Kim's youthful beauty.
I then moved the shot into Photoshop and cleaned up the skin. This is the layer pallet I had for the image.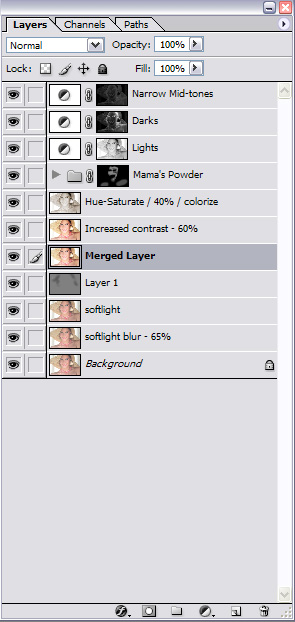 I cloned the image and blended it at softlight, blurred at 7% and then backed it off to 65%. Cloning the bottom layer again, I moved above the blur layer and again blended it to softlight. This layer can be tweaked any way you want. I then used a layer of 50% gray at softlight to slightly burn and dodge for creating more contrast.
I merged those three layers in to a flattened layer called Merge Layer, cloned it and added 10% contrast and backed that layer off to 60%. Another clone and we applied Hue and Saturation, colorized to a slight sepia and then that layer is lowered to 40% opacity. Mama Shan's Powder action added for some matting of the skin and then Tony Kuyper's Luminosity Masks were applied to draw out a bit more local contrast.
The final shot.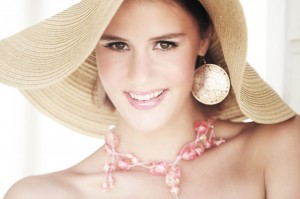 Sam in the Shade.
Sam was a lot of fun to shoot. He brought a quiet maturity to the shots and I liked his sense of humor. By shooting down on him, I created a situation where he could look intense, and change the angle from the normal straight on to a more dramatic, theatrical look. I had a lot of flare coming back on Sam from the very light concrete that is int he sun behind him. Using the same spot as Kim, the same building behind me was the light source. No other lighting modifications were used.
The contact sheet: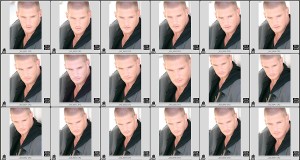 I worked with Sam with his focus down and behind me, and I like a few of those shots. I had him look up at me just as we were completing the shoot and snagged the shot at the end. His penetrating stare was a dramatic look and I like it a lot. Cropping in this tight prevents the viewer's eyes from escaping the image and drives them right back to the subjects gaze.
Photoshop: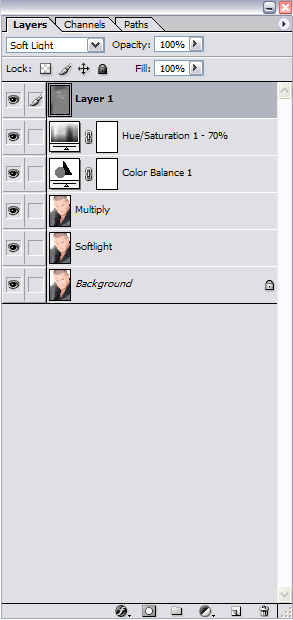 You can see how simple this was. Similar to the first image of Kim, I used two layers above the original. One at softlight blend, and one at multiply blend, backed off to 40% opacity. A color balance layer and Hue/Saturation layer were used to correct and subdue the color. A final layer of 60% Gray at Softlight blend mode was used to dodge and burn a little to create a more local contrast on the image.
The Shot: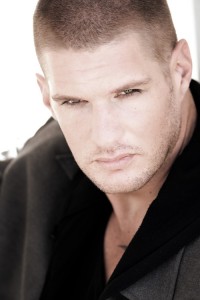 Icee is up next:
Beautiful Icee was wearing this amazing gold and bold necklace. Placing her a little closer to the edge allowed a bit more spill of daylight to add some directional light. It is subtle, but you can see how it wraps the face with a soft light. In the top row you can see that I was getting way too much sidelight on her face. I moved her forward just a bit, then took another shot to see whether the light was working out right. It was.
Contact sheet:

This shot required no Photoshop other than simple skin editing.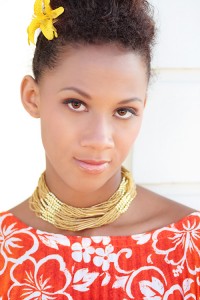 Kayla is in the sun in this simple, but evocative portrait. Full sun to her back, I had a pretty nice look going, but the green grass she is standing on was creating too much darkness under her chin. Spencer held a medium 5-in-one feflector down and to the side of her for a nice fill. Kayla is standing on the edge of shadow, but the hair and shoulders are in the sun. I kept the reflector in the shade otherwise the fill would have nearly blinded her.
She is kneeling and that let me keep my camera a little high and down on her, and that let me showcase her elegant chin line and eyes. That also let me keep the grass behind her and match the green cloth draped by one of the stylists.
Photoshop.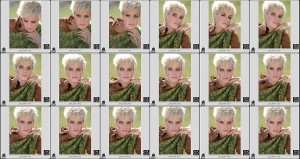 You can see how I kept to one pose and gentle, subtle changes in posing. I want my models to be fluid and smooth, not all wild throwing themselves around like crazy. Kayla worked this pose to great effect, providing me with some subtle and fun changes. You can see how subtle changes can make big differences. Working those little differences can help deliver the shot. Models who are too scattered can come close, but maybe not close enough before the pose gets changed. I love to let the models come up with things, then when I see something I love, I begin to develop it slowly. Till I get what I want.
Photoshop.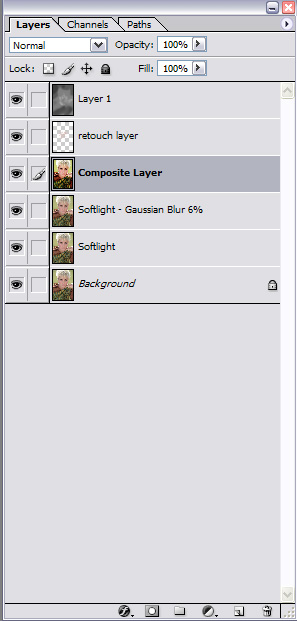 Another simple layer blend mode group. After I got the image to where I wanted it with the two blend layers, I made a composite layer and then retouched the skin a little and added some highlights with a 50% gray layer set to softlight and very soft brushes at 8%.
Kayla.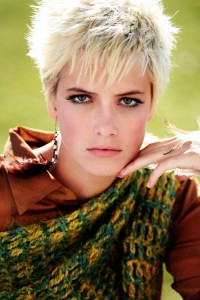 Bri was leaning up against a column with a little sun sliding around her to provide some nice flare and edge light. A breeze was kicking up and blowing her hair around every once in a while. I love that. It keeps the shot natural and when it frames the face, it is a huge plus. I kept her in a tight area and worked the face through a lot of different angles to explore the pose. You can see how Bri and I worked that angle to finally get to the shot I liked.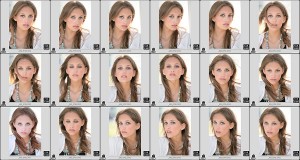 The light was playing beautifully off of her face. And the subtle movement still kept her in the soft light of the reflected building in the shade. I liked how the catchlights really spark the shot.
Bri.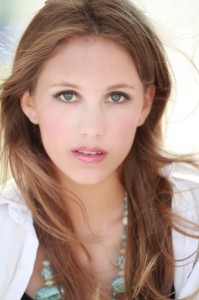 I do love natural light, and how it looked on these folks. It also was very fast. Most of these shots took less than a few minutes to shoot as they were waiting for photographers. If you would like to share some natural light shots with us, let us see them on the Lighting Essentials Flickr Forum.
If you liked this post, please let other know. We have made it simple for you, just go up to the top right of the page and add it to any social networking sites you belong to or just Twitter it by clicking the twitter icon below.
Thanks and see you next time.