The Making of "Chocolate Indulgence"
Creative Director, Photographer, Retoucher: Sam Breach
http://www.sambreach.com
Hair and Make Up: Hayley Fenech
http://www.hayleynoelartistry.com/
Model: Lissette Marravilla
My name is Sam Breach, I am a photographer and image maker based in Oakland, California. In this post I will share details how I created this shot for one of Don's P52 Assignments: The brief was a square format image that screams Chocolate. First up – let's look at the final image:
Conceptual Sketch and Collecting Props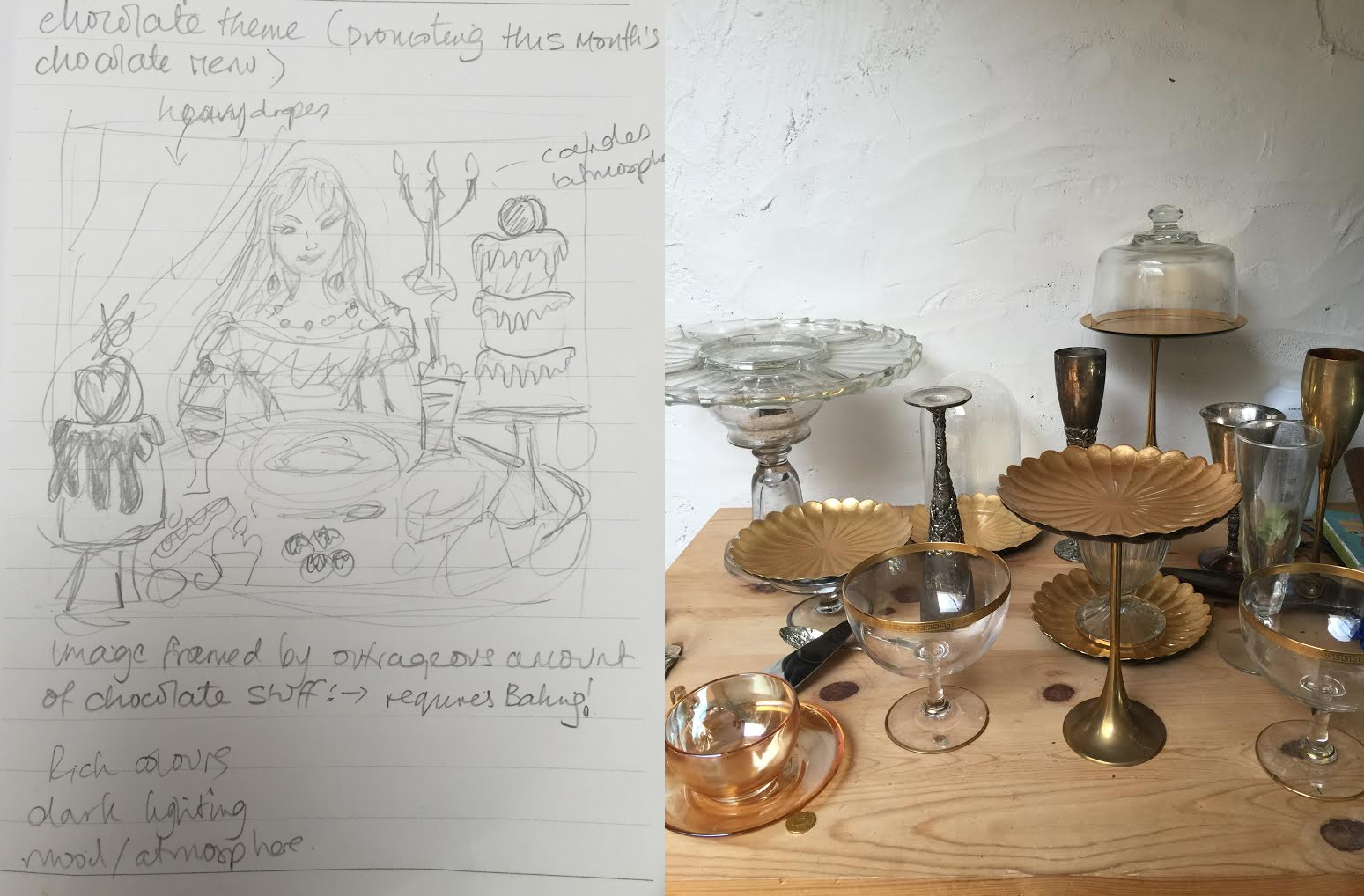 I often start out by brainstorming and sketching ideas out on paper. Sometimes the vision in my head is so strong I can simply sketch out the final composition as I see it in my mind's eye, which is what happened with this shot. Once I had my idea together, I ventured to the local monthly Antique Market to look for props that would help make my vision a reality. I managed to find a bunch of goblets and glassware and little gold plates at very reasonable prices that I was able to mix and match these to create a scene that was close to what I had in my mind.
Details aside, I knew there were certain things I was looking for in the image as a whole. I wanted to create the look of a woman in a restaurant lost in her own little world of chocolate/indulgence. I wanted it to feel rich and golden. I strongly felt that in order to meet the brief I needed to include a wide selection of chocolate desserts. I wanted this image to appeal women so I didn't want it to look sexy/alluring/provocative in a way that targets males. Instead, I wanted to make it look like a woman happily lost in chocolate bliss and fantasy.
Call Sheet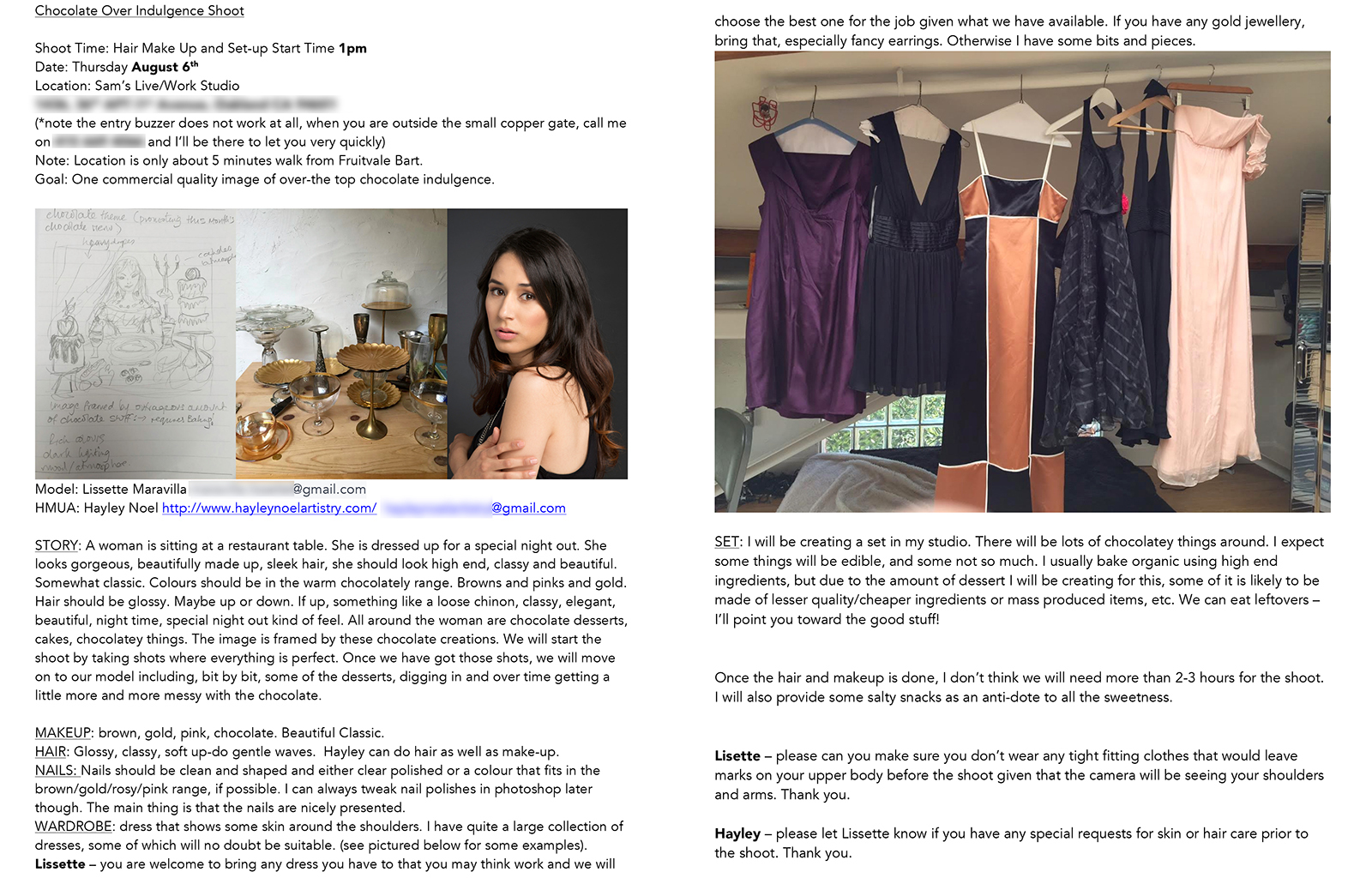 When I am working on a portfolio test shoot where none of the collaborators are being paid for their time, I still like to treat it in a professional manner so that expectations are clear and the team are engaged and excited. The next image shows the PDF call sheet I sent to the team a few days before the shoot. Every Call Sheet I create is different, but they usually cover everything I can think of at the time, including story, images, schedule, location directions, contacts and practical requirements. I am always open to adapting to change as we go along too. For example, on the day of the shoot we ended up going with a different dress from the ones of the ones I had shared in the Call Sheet. I realized I wanted bare shoulders so we could get messy.
The day before the Shoot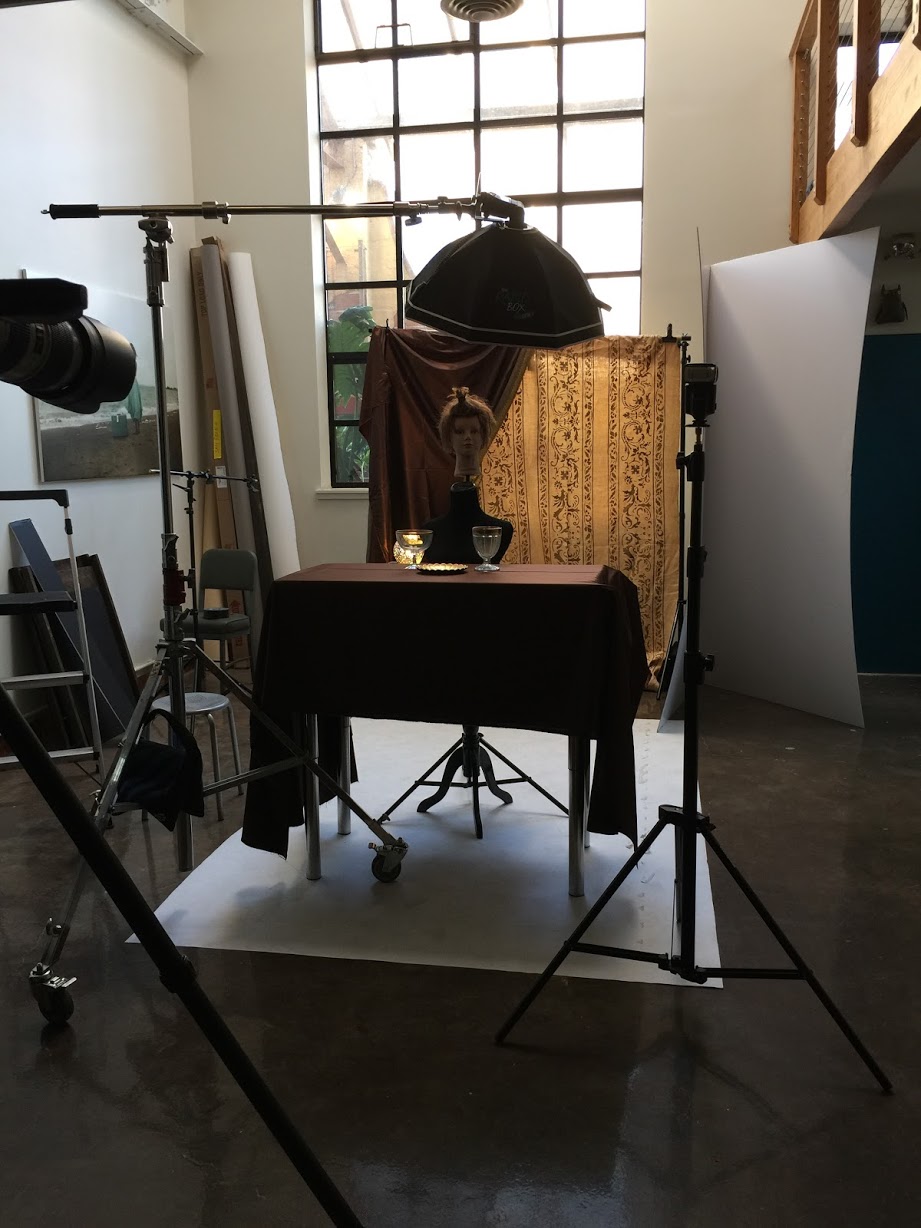 The day before the shoot I practiced lighting set up and composition so that I wouldn't have to waste any time during the schedule on testing lighting. My set up was two speed lights, one overhead of the model in a Westcott Rapidbox Octa. Plus one on low power on the floor just in front of the back curtains, pointing upwards and employed just to give the drapes a little definition in the background.
Behind the Scenes: Cheater's Cake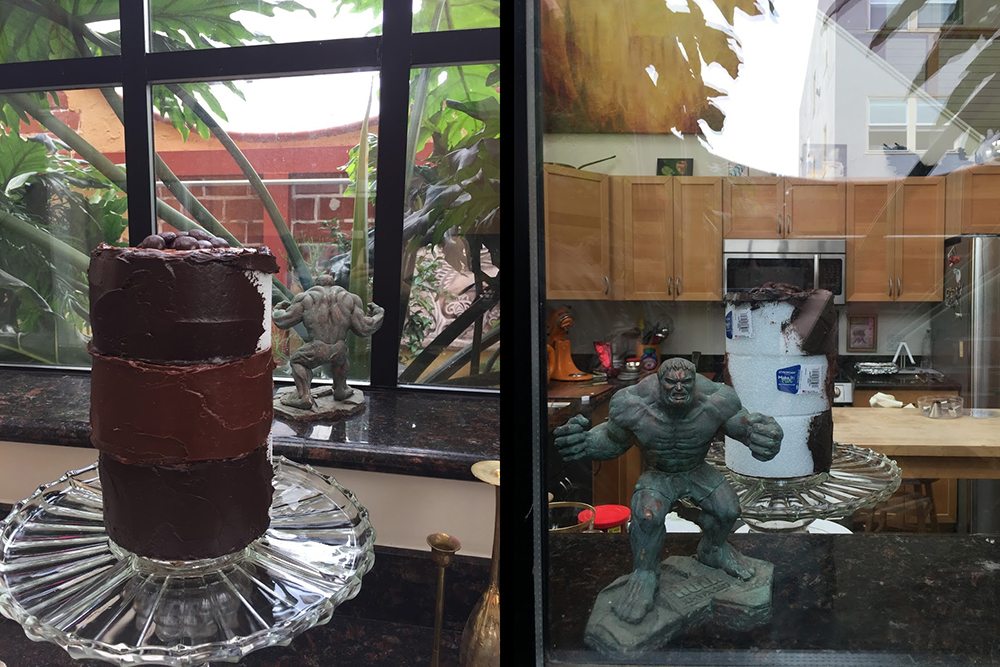 For some of the desserts I was using styrofoam cake practice forms coated with unpalatable, inedible cheap frosting of the sort I personally never feed family or guests. As you can see, I didn't need to deal with the back of the cake since I already knew the camera would never see it!
Behind the Scenes: The strawberries, however, were real.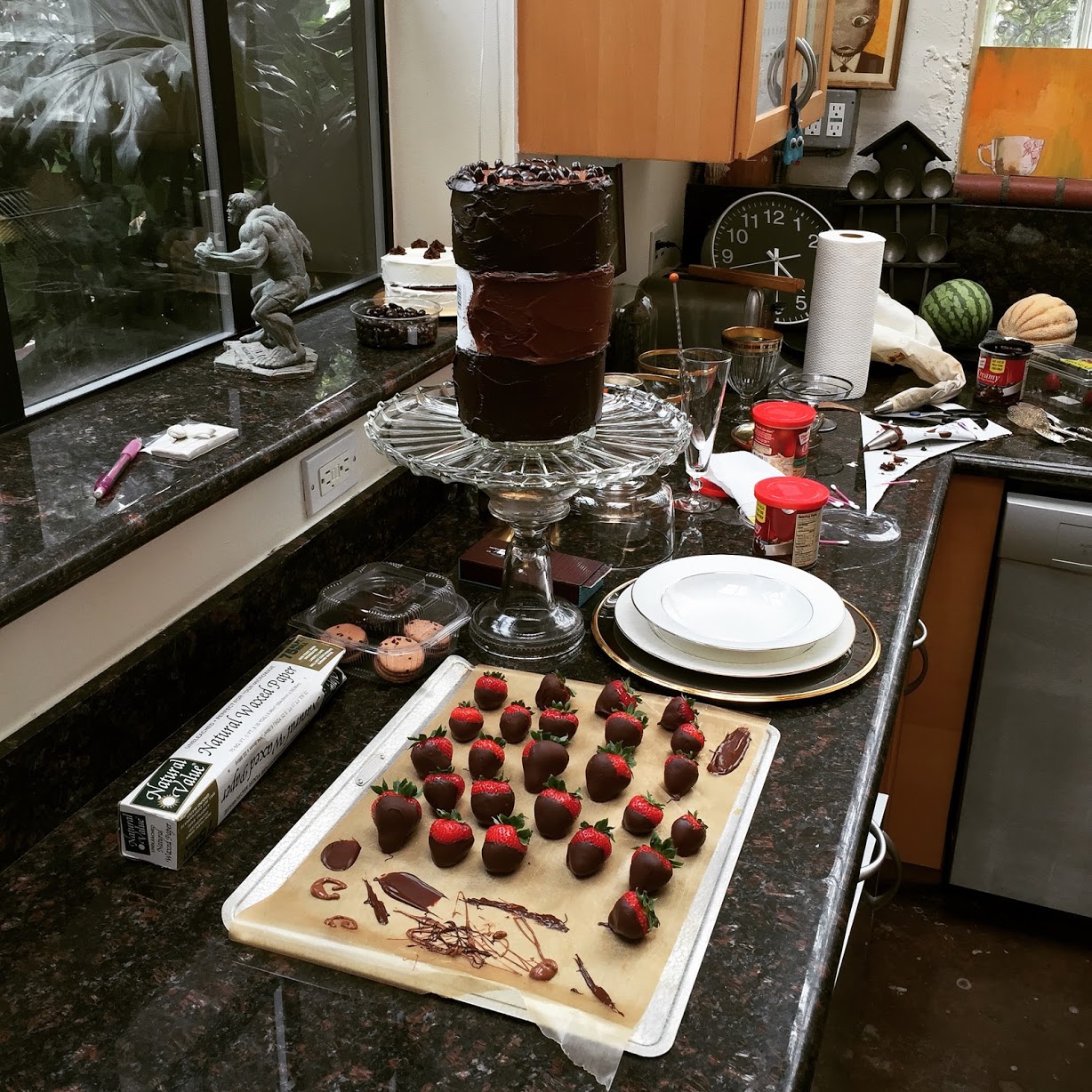 …and chaos ensued in the kitchen.
Behind the Scenes: Touch Up Time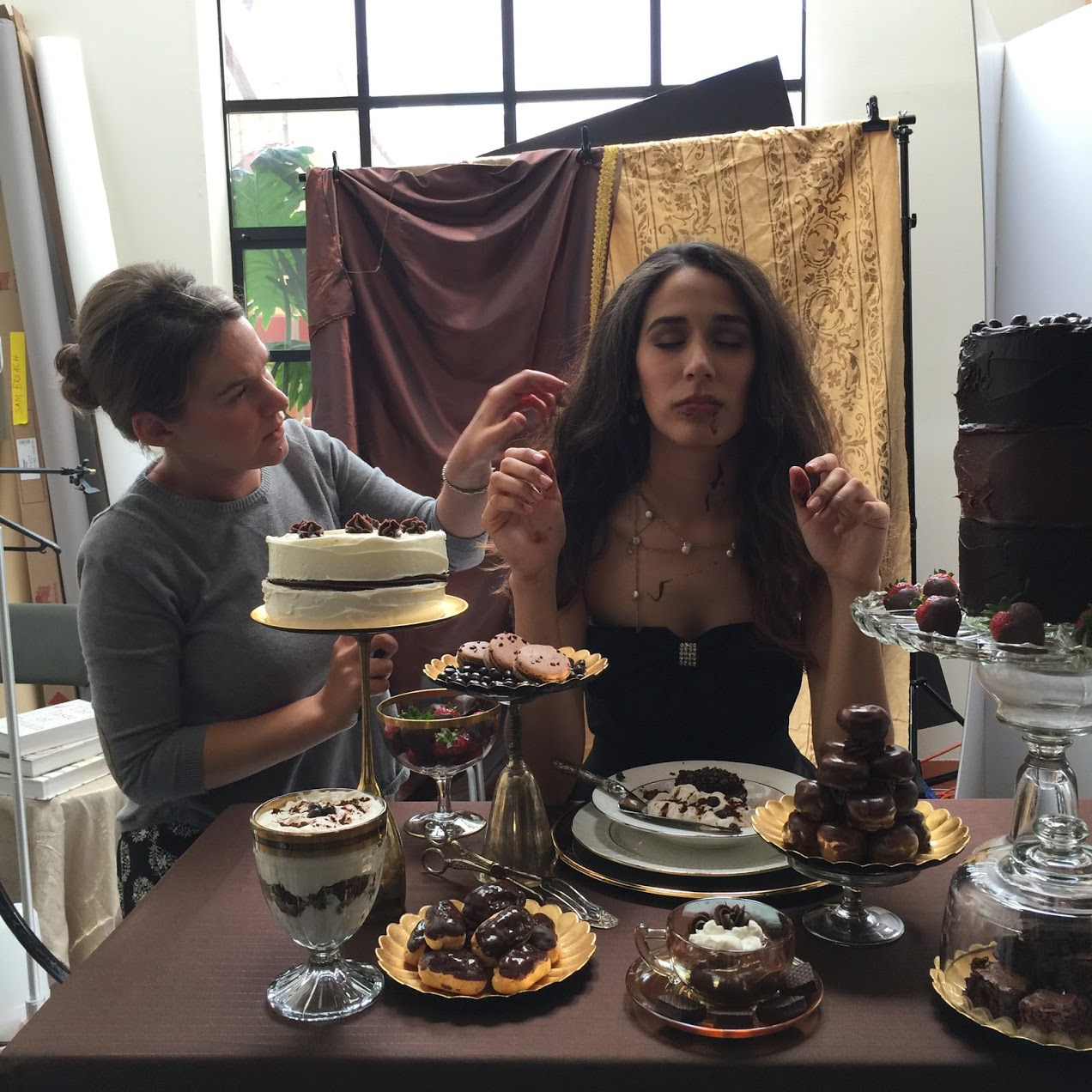 Hair and Makeup Artist Hayley Fenech makes adjustments to model Lissette Marravilla during the shoot.
The Shortlist

As I always do, I whittled down all the great images we shot, down to just a few before mulling over them a while and finally deciding which would be my hero shot. In the end I plumped for the middle one, but with a different (better) arm composited in, to replace the screen right arm, which I thought was too dark and hidden.
SOOC versus Edited Final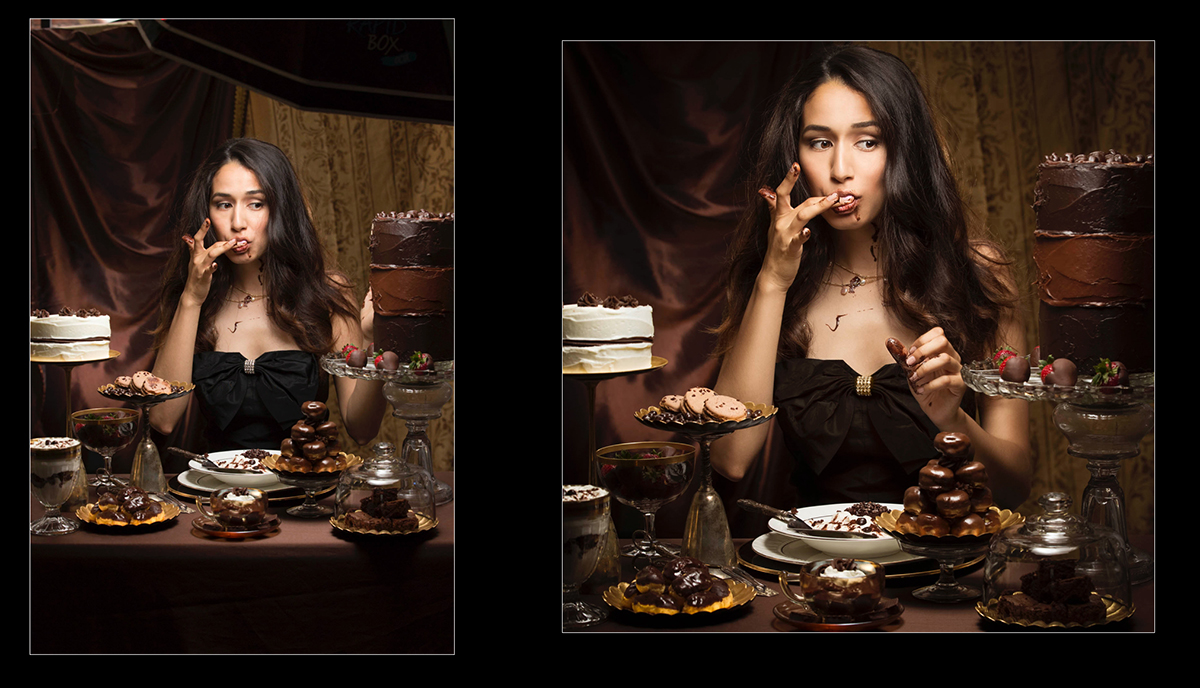 In the post processing stage, you can see, by comparing the straight out of camera version to the final version, that I retouched the skin, removed some stray hairs, emphasized the smirk and replaced the screen right arm.
Post project note:
This shoot was unsurprisingly the end of my no-sugar health-kick. After 40 sugar-free days my inability to resist sweet temptation got the better of me. Thanks Don!  😉
(Ed; err…. sorry kiddo… heh.)
To see more of Sam's work, visit her website.