Today's discussion is with Lindsay Adler, a fashion photographer working in Manhattan. The audio is not the best… sorry, it just has a clipped thing happening. Chatting with some different input devices can be a bit maddening. But the content is what is important.
I caught up with Lindsay on an afternoon between shoots. We talked about starting out in fashion photography, what it takes to get going, how the work progresses. It is a nice listen for those of you who are thinking about making the big jump.
There is a lot of information and insight in this 30 minute interview, and we all appreciate Lindsay making time to share her experience and insight.
Lindsay's Website.
Lindsay's Blog.
Audio Interview: Click here to listen or download.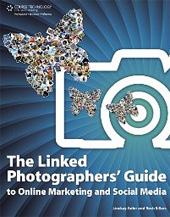 "The Linked Photographers' Guide to Online Marketing and Social Media".
Get the book at Amazon
. I think it is one of the best, easiest and most well thought out books on the subject I have read. I absolutely recommend it for photographers and small business owners.
Lindsay Adler
and
Rosh Sillars
deliver a book full of real information – a roadmap for anyone who wants to understand the new stuff that is changing everything.
Some of Lindsay's Fashion work.
Thanks for coming along on this interview and chat with Lindsay Adler.
Follow me on Twitter, and check my Learn to Light site for Workshop information.