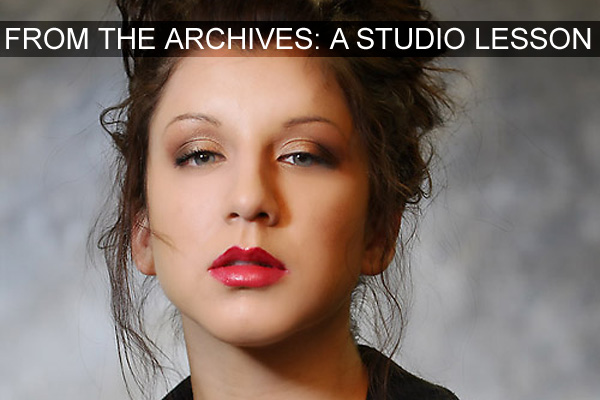 Today's update is one from the archives, but it is still a great post you will enjoy. Even includes a 16 minute video… bad audio, but you will get the ideas from the shoot. We are doing better audio for our next releases, but this is what it is.
I would like to take a few lines here to discuss the upcoming workshop schedule for next year. We are heading to new places and been invited back to some great places we visited this year. We are always looking for new cities and hosts to help us bring the workshops in. The workshops are very different for next year… and the workbook will be fantastic. Those of you who have taken the workshop will be able to download it from the member's page as soon as it is finished… before the first of the year.
I also want to say that it has been a memorable year meeting all kinds of new people and making friends in cities far away. I wish I had more time to stay in touch with each and every one of you, but alas… However, if you have questions or want to share your work with us, please hit the Flickr group for Lighting Essentials. This group is for people who have taken the workshop or have the DVD.
Our next couple of Tech Sheets are ready and I think they may surprise you. The one for this Friday is a product shoot with lots of reflective surfaces. We accomplish a lot of finesse with only one light. And you can follow along with your own item and learn a lot about doing small item product photography.
If you haven't checked out the Magazine in a while, we have big plans for it and it will be getting its own URL very soon. Let me know if you like the interviews and insights, I do like working on it.
Be sure to see the previous post on shooting with two strobes on the beach… Not your typical two strobe setup.
So let's jump back in time about a year (and 30 pounds for me) ago and take a look at three studio shoots with simple tools.
Here's the movie: pardon on the ad that pops up – that's not from me. When we went with Megavideo, they didn't have this crap… you will have to close the window that pops with the free movies. I am very sorry about this new item they have introduced. I will be moving the movie to a new host very soon… but for now you will be annoyed. Sheesh
This video tutorial starts with a simple one umbrella and fill card headshot. I consider it a classic glamour look with flat light and dramatic fall off on the sides. We use a shiny fill card to open the shadows under the chin, lip, nose and eye sockets. It also lights up the eyes very well to present them in stunning color. Our model is Briana.
Gallery from first setup: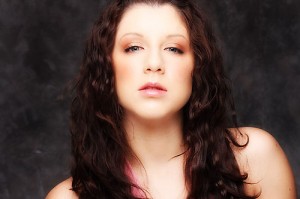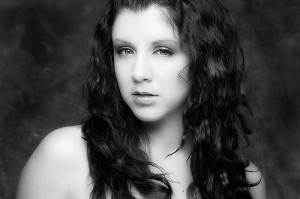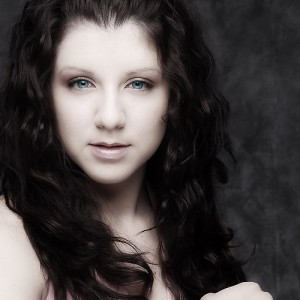 And a sample of the Contact Sheet: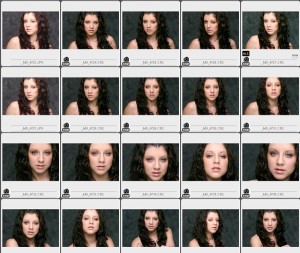 Our second shot finds us using a piece of equipment for the first time. This is essentially one way I test out new equipment this same way: bring in a model and try the light by itself, then add fill and modifiers to see how the light reacts with it. In this case it is Megan's DIY beauty dish. Amazing… an IKEA light reflector and a speedlight with a little ingenuity and super glue. Total price for this cool tool… > $10. We add fill cards and shiny cards, and I climb up on a small box for a somewhat different view. Below are some images from this setup.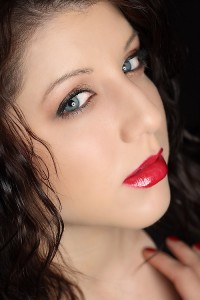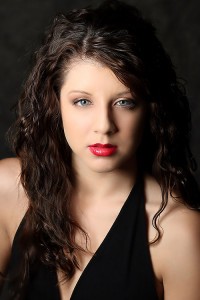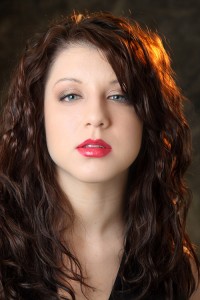 And a Contact Sheet View: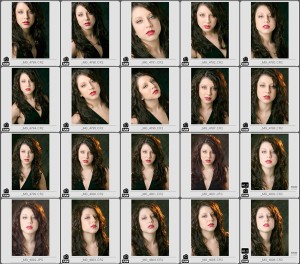 The last shot uses two speedlights: one is the main and in a circular parabolic with tissue paper over it, the second with the home made beauty dish aimed at the background very close to it. This gives a very nice, gradual fall off for a back light. I really liked the look of this and will be doing another shoot with it soon. I have since used this on several shots and loved the look. Very precise modeling of features is its strong point.
Images from the setup above: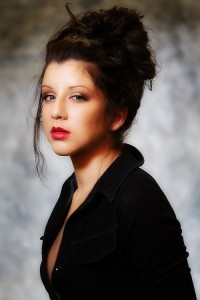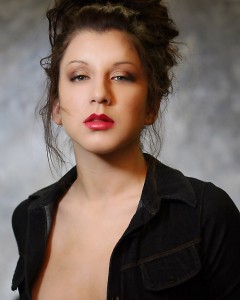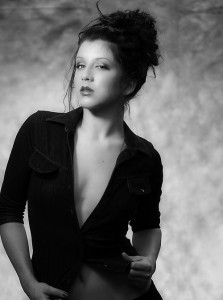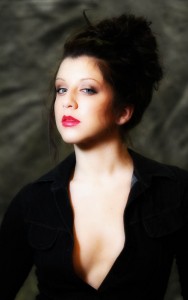 And a final Contact Sheet view: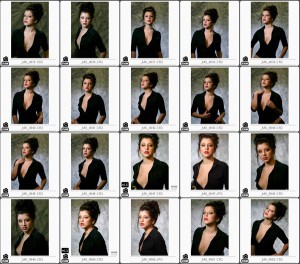 Some PP notes:
I have a pretty standard way of working with pure photography, no special effects and such. For this image I processed it out of Canon software at a solid neutral exposure. I did not color correct it even though the tissue paper did leave a bit of a warm cast on the skin.
1. used healing brush to clear skin. I do this on a layer above the face most of the time.
2. used clone tool – lighten – @25% to further clear skin and problems. On the same layer as above.
3. created a new layer from the image and used the blend mode "soft light" at 25% opacity
4. I added a layer mask to this layer to paint back in some shadow density.
5. added a layer of 50% gray at softlight blend mode and then painted white at 4% for highlights (soft brush). This is a very gradual process and at 4% you can simply tweak it in with increments… not a slash and burn attack… heh.
6. Saved and created a new document from the combined layers. The first document is then saved as an archived base image for further exploration later if I choose.
The new document now has a clean face with perfect exposure. I added a little color correction with the photo filters 80A at 40% to clean some of the warmth up and then added my luminosity layers. These take a while to learn, but after you play with them for a while you will simply never be satisfied without them ever again. Tony Kuyper has them for you here: Please make a donation for all his time and pick them up. You will simply fall in love with them. Or you could do them yourself. Should only take a couple of months… heh.
Here is a screenshot of the Photoshop document with the luminosity masks: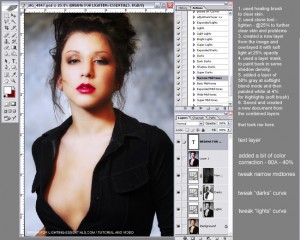 The image has very little Photoshop trickery to it, but it does have some solid photographic background for the correction of blemishes and added contrast.
Hope you enjoyed and see you next time.