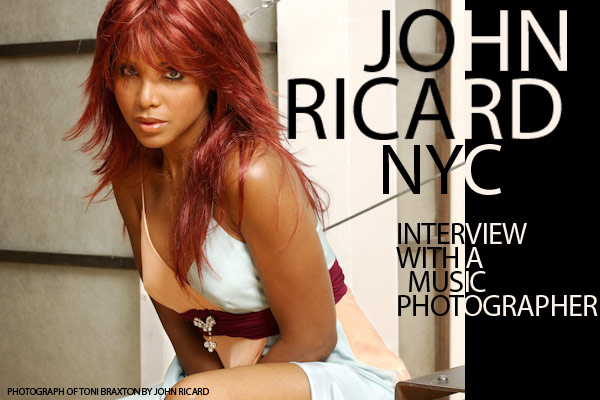 The interview with John Ricard comes after the jump. Click on the "more" link below.
Our next Lighting Essentials LIVE Broadcast, Sunday, Aug 22, 2010. Expanded edition (90 minutes). Here is the pre-show material you may want to read before the show.
Up first is a discussion on blogs for photographers: What is your strategy? Does it make sense for you? To ask questions, you must be logged in. Twitter tags #askwizwow, but they will be out of cue.
My feeling is that a lot of photographers are deeply invested in blogs that may not be the right direction for their business. Deciding a strategy and following through with content that makes the blog relevant to clients is the most important decision any blogger can make. In other words, what is the point of your blog? Get more clients? Teach photography? Write about pictures and cameras? Personal introspection.
We will be discussing this and other challenges of blogging on Sunday evening, 6PM to 6:30PM, Pacific (9 Eastern). Please visit this page Sunday morning for more information. Also, we will announce the winner of our first big Contest here at Lighting Essentials. We will announce right at 6:30PM and will tweet/blog the winner's name.
After the discussion, we will do some chatting with John Ricard, a music photographer in New York City. Johns work as a professional music photographer takes him from stage-side to big studio shoots. See the interview here, then join us Sunday evening right here for Lighting Essentials LIVE and ask John questions about his photography, and how the NY music scene is for photographers.
I do hope that you visit my LearntoLight page if you are considering a workshop this year. I really do try make the workshops the best you have attended (see the testimonials there), and keep the information relevant to the work you do. We learn by doing at the workshops, so be ready for an intensely exciting weekend with heavy emphasis on making sure you can do this stuff AFTER I leave.
Now – on to the interview with John Ricard.



How long have you been in business? Was it a slow transition or did you just open shop?
I have been shooting full time since 2000. Prior to that I taught high school English while I photographed concerts and music artists part time. I first started getting published in small magazines around 1990. 1n 1999 I changed from being an English teacher to being a Dean -(a kind of school disciplinarian). I really loved being a Dean but the job became so draining that I felt my photography hobby was slipping away. I was getting no photography work at that time. I did it the opposite of the way you're "supposed" to do it. I quit my day job when my when my photography hobby was at its worst point.
I started off shooting concerts without permission. It was mostly heavy metal concerts at L'amour in Brooklyn in the mid 80's. I hooked up with underground music publications that needed photos of these bands. Eventually I made contacts that enabled me to get paid jobs shooting music artists. The only sort of mentoring I had was Popular Photography magazine. I subscribed to it for over 10 years and it taught me a lot.
Describe an average week at your studio.
An average week at my studio can be pretty dead sometimes so its better if I describe a good week 😉 A good week would have a record label bring an artist to me for a "fanzine" shoot. This means the label isn't paying me for the shoot but they aren't getting any of the images either. I'm shooting the artist for the purposes of "servicing" them to media outlets. I retain all ownership of the images. It's one of my favorite ways to shoot. In the same good week I might have a shoot for a hair magazine like Hype Hair. This is assignment work where I have a specific set of shots I need to create. Its great because its paid work and it gets published. It often makes my portfolio as well. I'm also fond of testing with new models. The trick is to actually shoot with a purpose though. Sometimes you're having so much fun on a model shoot that you're just taking good images, but you aren't breaking new ground. Sometimes I do these shoots with a full crew of hair, makeup and styling. It takes all day and that can be a drag. For that reason, sometimes its just me and the model and I often find that more enjoyable.
I also shoot a lot of You Tube videos. When I have downtime in the studio I'll bring in a model and do a video about something like how to use a Beauty Dish or how to use a Ring Flash. It doesn't lead to any money in my pocket but I get a lot of views on the videos and I love the comments people make. Sometimes its an intelligent debate and other times its insulting. If the insults are well written or humorous I tend to leave them up.
Why New York? Have you considered anywhere else?
I love NYC and its a great place to be for artist photography. I think I could make a living in LA though. It's much like NY, but with better weather.
What motivates you, or gets you going? What do you use for inspiration?
I've never had a problem being motivated to shoot. I've always liked playing with gadgets and to this day there's always new gear that I want and that keeps me motivated. I love shooting with my iPhone. I love shooting at extreme high ISO on my D3s. I'm taking images today that I couldn't shoot 2 years ago and that is incredibly inspiring. A lot of photographers say the gear doesn't matter, but to me it matters greatly.
What is it you like the most about being a photographer? Do you do anything else for a hobby or avocation?
My second favorite hobby is martial arts. I studied Karate for 12 years, attaining the rank of Black Belt 3rd degree. I quit when my daughter was born because I was training in both Karate and Brazilian Jiu Jitsu. I knew I couldn't do both and have time for her, so I chose to leave the art I was good at (karate) and stay in the one I wasn't good at. I'm still training in Brazilian Jiu Jitsu and my current instructor is Marcelo Garcia who is literally the best in the world in his weight class. I've shot a ton of images of him at the academy although most of them haven't seen the light of day yet.
Are there any downsides to being a commercial photographer that you would like to change? How would you change them?
There are many downsides to being a music photographer. Foremost is that more and more gigs are going to companies like Wireimage and Getty rather than to individual photographers. Companies like VH1 will hire Getty rather than a specific photographer to cover events today. The guys shooting aren't making a ton of money covering the events and some of them don't retain ownership of what they shoot. They are getting to shoot really cool stuff like the VMAs, but it would be better if they were getting those gigs on their own rather than through a company. The companies who hire photographers are learning the lesson that photographers are interchangeable.
The proliferation of amateurs giving away images to websites is another drag. Often the photos suck, but since so many websites don't want to pay, they end up with the crappy amateur photos. It's hard to get some of these websites to care about quality. I see a lot of websites doing stuff on their own and that can be a beautiful thing…I do like the idea of some guy running a website and creating content on a Flip camera, but if he's not going to take the time to just learn the basics of shooting video, then he should hire a professional to ensure that his website is high quality.
What was your most memorable assignment?
Memorable assignments including shooting Toni Braxton. I kept thinking, what I am going to bring to the table here? She has taken so many great shots, what can I add to that? She put me at ease the moment I met her and we had a great shoot. We shot for about 90 minutes and I ended up selling one image to the record label for inside album packaging (Libra album). Just last month I went to California and I shot Eddie Bravo, who is my favorite jiu jitsu practitioner. I took one of his classes and introduced myself. We hit it off right away and I shot a bunch of stuff for him in the next couple of weeks.
Shooting Ashanti with her song "Baby" playing in my studio was surreal. That is one of my go-to songs for shooting a model. I've played it a million times in the studio and shooting the artist herself to that very record was the coolest thing ever. When I put it on I told her, "You have no idea how many times this song has been played in this room."
Any 'war' stories you would like to share? You know, the ones that always start with "There was this one job where…."
I hate war stories… I call them "Helicopter Stories". There's nothing worse than going to a seminar and the presenter is going, "…and at that point I turn to my assistant and I say, at midnight we need to be directly above that volcano. So 2 hours later I'm hanging off a helicopter with one hand and holding on to a Nikon 70-200mm 2.8 AF-S second generation stabilized lens in the other…" Ugh…
I'll say this instead, I find photography as much fun today as I did when I first started. I love shooting established artists that I am a fan of. I love shooting brand new artists who have no idea what they are doing in front of the camera. It's still exciting when someone says, "I've got this new model you just have to shoot." And I remember drooling of the Minolta Maxxum 9000 camera almost 20 years ago. I used to look at the brochure and dream of owning one. Today I do the same thing with the Leica M9.
What would be your ideal assignment?
My favorite assignments are the ones where I get to travel. I've been flown to Jamaica to shoot calendars on several occasions. It's a blast. I also shoot a piece for Smooth Magazine called, "Can I Live" where I follow an artist around in his hometown for a day or two. I love stepping off the plane with the attitude, "OK, I'm here. I guess nobody in this entire state could shoot this job so they had to fly me in to do it ;)"
I've been practicing doing music videos. I've shot 2 so far. It's hard for me to judge if they are any good. My ideal assignment would be getting paid to create a music video for an artist and have the video be really good when it was finished.
Future plans for John Ricard and his photography?
Future plans are to just stay in business. It's a hard field and it gets harder all the time. I made a goal to work harder than I have been lately. I believe it will pay off.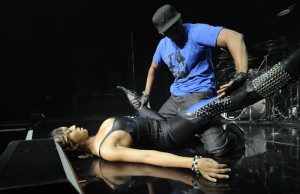 Oh, and what is on the music box right now at your studio?
For many years I prided myself on having the worlds greatest iPod. I would have music appropriate for when I'm shooting a 16 year old female R&B singer and I don't want curses, and I would have music suited for shooting someone like Plies whose lyrics are obscene. Recently I switched over to using Rhapsody. I pay $10 a month and pretty much any song I want is instantly accessible. It saves me a ton of time since I don't have to figure out what music to put on my iPod. Now its all there all the time.
My favorite shooting music for model shoots includes, Lil Kim "Crush on Your", Pussycat Dolls "Sway" or pretty much anything from the first album, Ashanti "Baby" and Toni Braxton's "The Heat" album. It's impossible to take a bad photo with any of that playing. For artists I love shooting to 2Pac, but since I love it so much I play it very sparingly. I'm afraid it will be like KISS is for me today. I've played there records so many times over the years that I can't listen to them today even though I know the songs are great.
Visit John at his website and his blog.
Visit me here, at my site and the Learn to Light site (which is being redone as we speak). Oh, you can find me at Twitter dropping photo information and other fun 144 characters long nuggets.