Jaimie at the Window: Fredericksburg, Virginia.
I really loved the feeling of light coming in the window but the shot was very blah without the addition of a light source inside.
Using a speedlight with a modifier of cards around it to give direction, I lit Jaimie from camera left. The cards were being held by a VAL (Michele) and they were a little tricky to keep in place. We were running and gunning at this point, so setting up a stand would have lost some time with the light and I just wanted a quick shot.
The cards were being used to keep the light off the wall closest to them, and for the first couple of shots they did, but when I asked Michele to move a little away from the wall, the cards started letting light hit the wall and that was a problem when I looked at them later on the screen.
Exposure: I let the light in the window totally blow out, and based my exposure on that setting. Adding the strobe was easy as it was distance and power. I got my setting from the ambient light shot I did to blow out the window, so the exposure was set. I knew how far away the strobe had to be and at what power to match my settings on the camera.
The final shot that I chose had some issues, but we did some work in Photoshop to bring the wall into compliance, and open up the shadows in the darker part of the image.
Simple Photoshop moves, but ones you may like. I am a fan of the NIK software, so I used the new Analog Pro to finish off the image.
Image before Photoshop. Note the terrible rendering of the wall here. I knew I needed to smooth that out, and adding some vignette would help give it some dimension.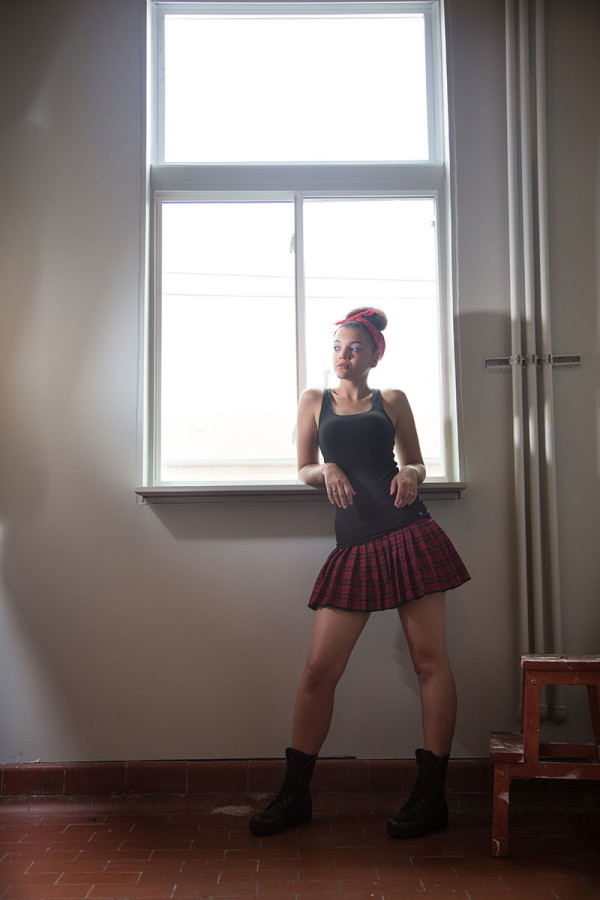 Here is the Photoshop work.
Here is the completed image.