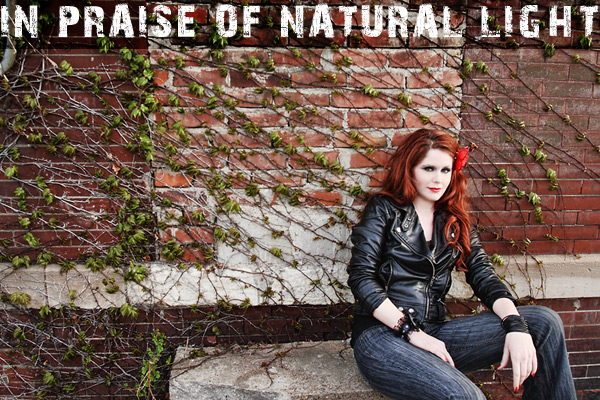 I guess I missed International Available Light Portrait Day, but then I am wondering when I get to color eggs and hide them in our miserably small back yard. My bud in Texas, Kirk Tuck, did a nice little post on Available Light, and got me thinking about how much I love it as well. I thought I would post a little "Natural Light" post myself.
The shot above is totally natural light from a wide open sky in back of me and a setting sun to camera right giving the shot a little tweak of light. I am loving the way it just adds that wonderful highlight to the jeans and her hair. Taken at the Omaha workshop while waiting for another photographer to get their lens changed.
I would love to discuss some natural light shots with you, but first some housekeeping:
Workshop News:
I have scheduled a few advanced classes and we have had some really great classes. The workshop we did in Baltimore last weekend was a blast for the students. They learned how intricate the lighting used to shoot jewelry can be, and how to prepare a pour shot for liquids. We added some models to the afternoons and they loved the switching of gears from things to people.
Atlanta is my next workshop and it is an advanced. If you are looking for a way to expand your understanding of studio work – still life, product, food and jewelry – take a look at what we are offering. It is designed for the serious photographer, and is still a great workshop for the advanced amateur.
Also coming up is the Greenville and Columbus workshops. Greenville will be a great time. I love going to the smaller towns that many other workshops don't schedule. I will be doing some work in the area as well, so the month of June is totally full. Columbus is being sponsored by MPEX and will simply rock! Watch for some exciting news about that workshop!
Selina, Jack and I are gearing up bigtime for the Going Pro NOW tour this fall. We kept the pricing low and the value high. We believe in photography and we believe that we can make a difference in the challenges of the emerging photographers out there. Things seem to be picking up out there in ad land, so be ready.
I will be doing some one-on-one consultancies in July. Utilizing the studio I have in Phoenix, there will be some openings for photographers wanting to take some serious lighting instruction. We can arrange for all kinds of amenities for those of you who may want to take a more personal workshop. It will be available for 2 attendees per. If interested, drop me an email. I have only a few open days in July.
Heading for Denver in July and we are trying a workshop in the Flagstaff Area. That workshop will feature working along Old Route 66, Downtown Flagstaff, mountain meadows, pines, deserts and more. A special workshop in a special place. This will be my first Denver area workshop, and I am excited about that.
Recent posts you may have missed:
My workshop and week in NY produced New York, May 2010: Fun in the Big City
You Know That Guy… I Hate That Guy. Am I Somehow More Successful Now? was a post on the tendency to think negatively instead of with inspiration.
Sure You Gotta Logo, But What Is Your Personal Brand? discusses going beyond the surface of brand and gets into your personal branding project.
"The Heart of Portraiture" E-Book: 20 Portraits Discussed. My first freely distributed E-book featuring 20 portraits and discussions on what the thought process was to achieve them. Free to download and enjoy.
Now on to a little post on natural light, and thanks Kirk for getting my brain going on this.



I have heard it called available light, natural light, real light and so many other similar terms that it can all be so confusing. I may not have the definitive, nor the best accepted explanation of what it is, but to me 'natural light' only means I did not bring any artificial light sources into play. Using what is there, and modifying the bejeezus out of it is fine. (Let's not go into whether the use of reflectors is indeed a light source or any kind of semantical issues, OK… I mean I didn't bring a strobe, hot light, flashlight, or studio flash along for the shot. Shiny boards, scrims, and reflectors are fine in my definition. Feel free to define it your way.)
I like the softness of natural light. I like it's ability to sculpt and define. I like the simple way the light moves across my subjects creating complex behavior that I can exploit. I think it is accessible light – a welcoming light. Natural light seems familiar and emotional to me.
When I started out, I used a Nikon with three lenses and a reflector. I didn't own any lighting equipment at all. I shot model composites, local fashion and editorial, portraits for business, even still life all with the light in the alley behind my studio and the light that would come through the two story windows. I ended up with a cadre of fill cards… silver, white, gold, bronze. And there was a stash of odd shapes for odd fills, and cookies for shaping the window light.
I love working on location and the challenges it brings. Environments create lighting situations that can be astounding to work with. Even when I am carrying strobes, the natural environment is totally a part of the creative process. Below are a few shots from the early portfolio. All were taken in the 1980's, most in the early 80's.

My first lighting kit was a set of Ascor Strobes with four heads. Wow. They were used like crazy for a week and then set for quite a while as I kept working in the style I was accustomed to working in. Over a couple of years the strobes became another tool in my arsenal of lights, and the work started to include them more and more.
But I never lost my love for the simple natural light. And the intimacy it can create.

Lately I have been doing all kinds of lighting (at the workshops we go from natural light to 4 and 5 strobes… it is a blast to be able to control and manipulate so many sources), and find my natural light work to be even more interesting to me. I like to move fast, capture a moment and leave it all on the set. It can be a much shorter process for me these days, and the accessible, intimate, natural light creates a definitive change from the manipulated and illustrative strobe work.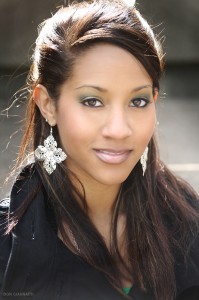 This is a totally natural light shot. What I mean is not even a reflector was used. I wanted the softness of the sky and the natural play of light on her face. Behind me, the sky was cloudy, but bright. The sun had burst under a cloud behind her for a moment and it gave me some great backlight. I work with the talent to keep the sunlight off the cheeks and nose, and then let them be themselves. This shot was taken with a 80-200MM lens at 125MM and f-2.8. I like the way the hair is lit and the catch lights in the eyes seem to be so natural.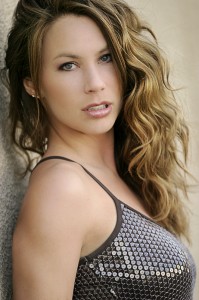 I particularly liked this location near my old studio. It was simply the wall facing east – and to the east was a two story white and light tan building that caught the afternoon light and became a great, soft light source. In the afternoon I could place a model in the shade and still get a wonderful highlight on the hair from the open sky. This is also a totally natural light shot. With the huge light source of the building and the open sky above us, I can work her face any way and still have wide, broad, soft light. A 200MM lens at f-2.8 gave me a very shallow DOF and isolates her face against the wall.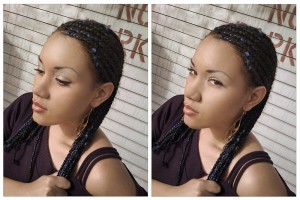 These shots were taken on an iPhone on the south side of my studio in soft, overcast light in the late afternoon. I like the way her face is softly sculpted by the light. The DOF is of course not controlled on the wide angle iPhone lens.
The natural softness and the slightly hard shadow from the slightly diffused sun produced a nice look to my eye. The model kept her face toward the light so I could keep the ratio closer than the side light would have created.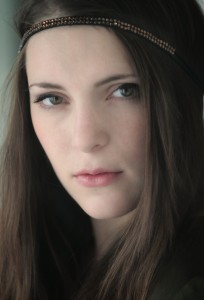 I pushed the ISO up to 200 on this one. The light was quite overcast and I wanted a bit faster shutter speed. The 80-200MM L is at f-2.8 and the focal length is about 150mm or so. I brought a white card in close to the shadow side of her face to provide a nice fill, and had her turn her face toward the light until the shadow on her nose was mitigated to a lighter shade. Side light can be very nice sometimes, and other times, I work to get a softer 'fall' of light.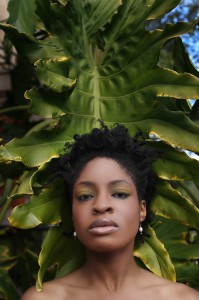 This portrait was taken in Balboa Park at the San Diego workshop. We had wrapped a shoot and were heading to meet the other group when I noticed the way the slightly overcast sky was reflecting on the large leaf. I loved the feeling of it, and the shape of that large leaf just seemed like a perfect background for a portrait. Yes, I really did.
I placed her in the soft light of the shade of the building and turned her face up to catch the same soft, broad light that the leaf was enjoying. I really like the way the light formed on her face. And the softness of the light kept her face free of pesky shadows. I do like shadows, it's just them pesky shadows that bother me. The lens was a 20-35MM L at f-4 and zoomed to about 30MM. There are no fill cards or additional modifiers at all on this shot.
I hope you took something from this little exercise in pure natural light portraiture.
Here are some resources you may enjoy:
Lifehacker had this little post.
Here is a very detailed post on shooting food with natural light.
7 Tips To Use Natural Light In Your Photography from the folks at Virtual Photography Studio
While I really don't care much for that "Secrets" thing, this excerpt from "Professional Secrets of Natural Light Photography" has some nice information.
A few photographers who use a lot of natural light in their work:
Nick Onken
Kate Orne (NSFW if you open "women" first and work with neanderthals.)
Jay Maisel
Anthony Georgis
Richard Rinaldi
Denny Zalpalac
Thanks for coming along on this little post. If you are thinking about a workshop this year, take a look at Learn to Light for more information. Follow along on Twitter if you want to keep up with a lot of what I find interesting in photography.