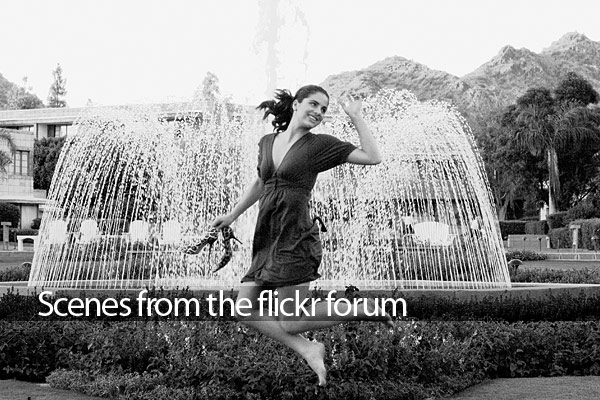 I love to go through the Lighting Essentials Group on Flickr and just being knocked out by the high level of imagery there. Most of the members there have either purchased the DVD or attended the workshop, so I take a little pride there. I am going to post a few of them here and call out some of the great shots we have.
BTW, workshops are really getting exciting now that we have moved it to a two day workshop with more demonstration and technical explanations of why and how to make the lighting choices. There is still plenty of time for shooting, but with the workpad and key lighting charting, there is a bit more structure and control.
I am also offering a one hour "Going Pro" discussion after the end of each day. These are optional and photographers who don't wish to be a part of that can spend the time shooting as long as possible. We have posted the Agenda on the workshop page so take a look at it. We want this workshop to be the best workshop you have ever taken. We are working hard toward that end.
But let's get on to the image post.
First up is Evan Romine with a beauty shot in the studio.

Just Fab catches Briana in a feisty mood.

Meio Quilo took this captivating image of Kita in Bermuda.

Fox Pony delivers a glamour shot beating the sun handily.

CaptaiXO finds the sun behind the hair and then adds his own strobe for a dramatic look.

Ermeister captures a lot of expression in this fashion shot from San Francisco.

CaptainXO catches some tourists with a nice application of light and Photoshop.

generationexe provides this lovely shot from the San Francisco workshop.

Fishbein provides this interesting image also from the San Francisco workshop.

Lisa Stone shot this portrait in San Francisco.

Sasha by ermeister. Great use of natural light.

Nicole by lightstalker.

Beautiful shot by bermy.

She really does fly: Air Briana by 'when i grow up'

Hubcam delivers this image from the Boston workshop.

Number 95 delivers this fun shot.

We'll end this with a really nice shot by lymond.

I love doing these. Make sure you take a look at the photographers work for more information on what they were doing and their lighting ideas.