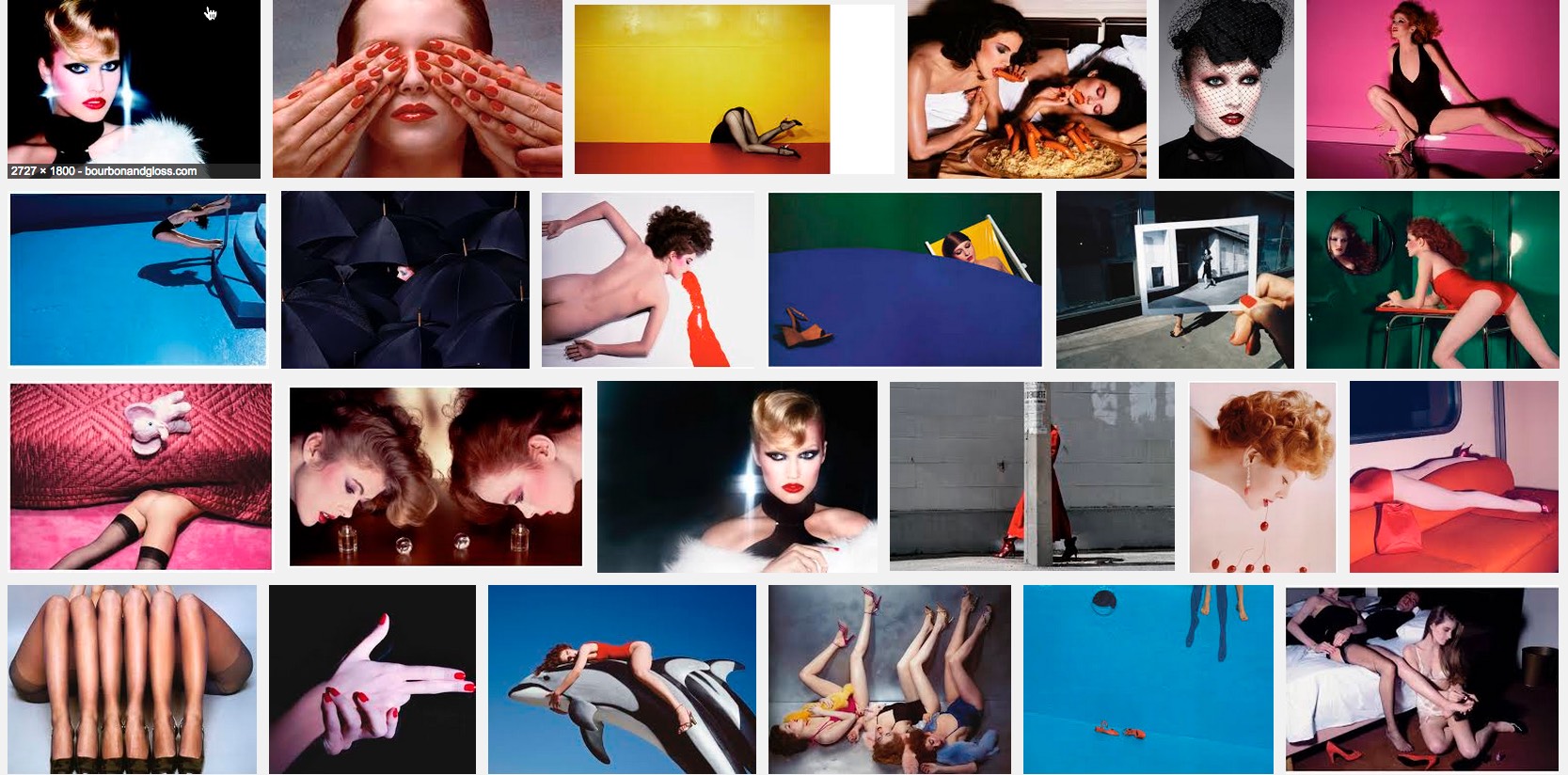 Guy Bourdin was an early influence of mine. His approach to making images that resembled no one else made his work easily noticed. He was meticulous in his shooting, with sets that were overflowing with creativity. But always with him in charge. His whimsical approach to shooting made me want to try all kinds of things.
From Wikipedia:

"Guy Bourdin was born 2 December 1928 in Paris, France. He grew up in an age of war and experienced challenges represented by the philosophies of surrealism. During his military service in Dakar (1948–49), Bourdin received his first photography training as a cadet in the French Air Force. He was fascinated and assimilated Surrealism in its broader senses. From the mid-1950s, Bourdin experimented and refined his distinct vision, produced fashion images, photographed and filmed his observations of the world.

In 1950 he returned to Paris, where he met Man Ray, and became his protégé. Bourdin made his first exhibition of drawings and paintings at Galerie, Rue de la Bourgogne, Paris. His first photographic exhibition was in 1953. He exhibited under the pseudonym Edwin Hallan in his early career. His first fashion shots were published in the February 1955 issue of Vogue Paris. A contemporary of Helmut Newton, they both worked extensively for Vogue and greatly influenced in different ways what would become contemporary photography.[2] "Between him and me the magazine became pretty irresistable in many ways and we complemented each other. If he had been alone or I had been alone it wouldn't have worked." He continued to work for the magazine until 1987.

An editor of Vogue magazine introduced Bourdin to shoe designer Charles Jourdan, who became his patron, and Bourdin shot Jourdan's ad campaigns between 1967 and 1981. His quirky anthropomorphic compositions, intricate mise en scene ads were greatly recognised and always greatly anticipated by the media."
Guy Bourdin Website (Memorium)
"Guy Bourdin: Film, Paintings, Polaroids"
Michael Hoppen Gallery (Guy Bourdin)
"The Burden of Being Bourdin" : Interview Magazine
Guardian Article on "When The Sky Fell Down" – a film about Guy Bourdin
That time a hack pop artist tried to rip off his images and was forced to pay in federal court…
Vogue article.
Some video… (perhaps a bit NSFW)
Here are a few Guy Bourdin photographs:
Books for your collection: