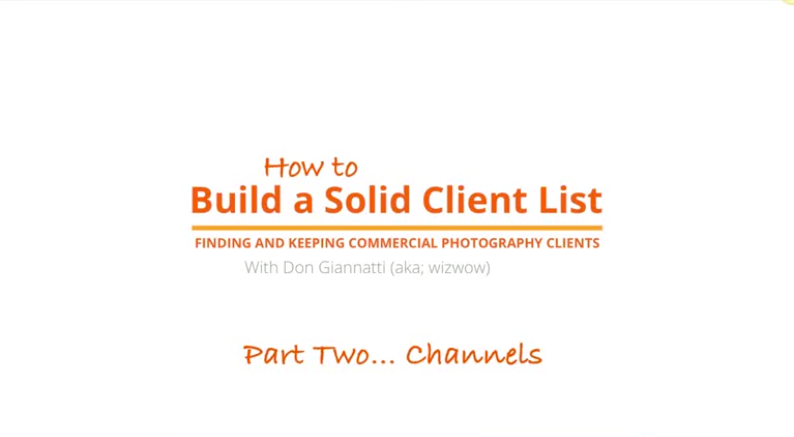 "How do I find clients?"
One of the most asked questions I get when chatting with photographers is where can they find clients.
It is one of the questions I ask when reviewing a portfolio; "OK, these are nice shots. Who do you know who will pay you for this kind of work?"
Too often I get a sort of lost expression and some mumbling. Occasionally someone will answer with a couple of ideas – but usually what I call the "Low Hanging Fruit" of possible clients; magazines.
Well, there is much more to commercial photography than working for "magazines" and we need to identify those areas who will purchase our work so we can move toward getting them to do just that.
In this video, I discuss the discovery of "Channels" – vertical markets that help you identify the types of businesses that would be able to use the kind of work that you do.
"Discovering Channels" is part two of our "Finding and Keeping Commercial Photography Clients" program. Part One is on the blog and open to all. The entire series is free and open for subscribers to "In The Frame".
This step by step program will help you build a solid client list, and help you keep them while you build your business. Many of my Project 52 members have been successful working this program.
Subscribers to "In The Frame" have gotten this information already. Please subscribe to get access to this video, and the next three. They are full of information you can use right now to help build a strong client list. "In The Frame" comes out each Sunday, and we never spam you. We focus on the business and art of commercial photography. And please et me know if this series is helpful to you.
This video is over 45 minutes long and includes a case study to help you build a strong channel list.