My workshop on creativeLIVE was very well received, and was a true blast to do.
We showed a lot of setups, taught my view of "Subject Centric Light" and generally worked to show folks a different way to think about lighting, and photography.
I created several Keynotes to present at the workshop and we bundled them with the program, as well as a 54 page workbook for you to go through as you work your way through the program.
I recommend that you take your time going through this presentation. Watch a setup, listen to the explanation and then try doing it a few times. You will want to add your own spin to it to make it work for you. Taking your time going through this (and all of the creativeLIVE workshops) makes much more sense than simply watching them. Be involved – USE the workshop to enhance your experience.
Here are two videos that were made during my workshop. I hope you enjoy these.
The first is on the Importance of Lighting:

And this one on a Life in Photography:

I think that what creativeLIVE is doing is so very important. It is disruptive and powerful and a harbinger of the types of education that will become more and more popular. I wrote an article about it here, if you are interested in my thoughts. When you think about it, $149 for 18 hours of instruction is less than $10 per hour and you have it over and over again.
Thanks to all who liked the workshop, and for those folks who left comments, sent emails, tweeted, and Facebooked their thoughts, a big special thanks!
Design by Virginia Smith.
———————
I was recently on creativeLIVE and have received some rave reviews of the workshop. If you are interested in taking a look at the workshop, you can find it on creativeLIVE's web site here. I think it is a tremendous value and if you are unable to attend any of my workshops, this may give you a ton of information you will want to have to push your photography to the next level.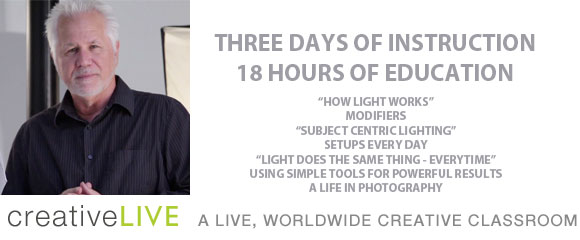 I taught a second workshop at CreativeLIVE for still life and product photographers: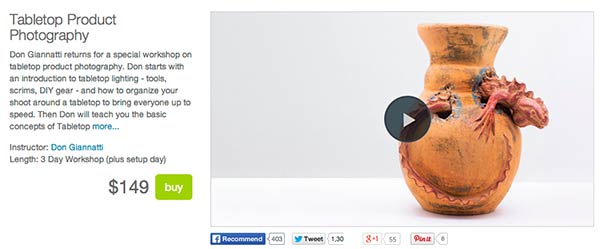 It was a deeper look into what I call "Subject Centric Lighting" and how photographers understand the subject before lighting it.
As with the first workshop, it received overwhelming good reviews.