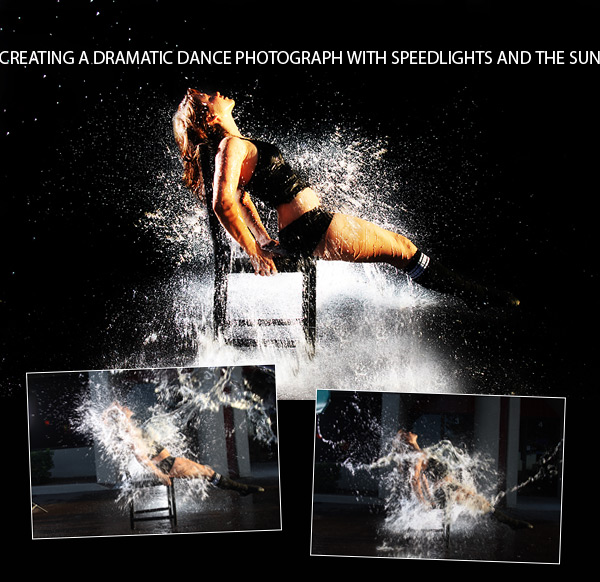 I thought I would break down another shot I did that involved pre-visualization, overcoming a challenge and using small lights for a big light look.
The shot was for a dance Calendar for Briana. In the calendar images she presents 12 different types and styles of dance. for the last shot I wanted to harken back to the film "Flashdance" for a water/splash fun shot.
Before we get going, I would like to remind everyone that the workshops in Omaha, NE and Missoula, MT are still open, but down to only one shooter each. We are so pleased to be able to bring the workshop to some of these smaller markets. If you are thinking about attending a workshop this summer, take a look at the Omaha, Nebraska, Chicago, El Paso, Memphis and Minnesota dates. More to come, so stay tuned.
Here are a few other posts you may enjoy:
Shooting on the Beach with Two Speedlights and the Sun
Deconstruction: Briana on the Pier (Speedlights and the Sun)
Tech Sheet: Beating the Sun with Speedlights
Tech Sheet: Creating an Ambient Look with Speedlights on Location
Also to remind you all that to check out the Essentials page. We have added full-featured websites to our offering as well as some very cool WordPress themes expressly designed for photographers.
So let's go on and take a look at the steps we took to do the fun "Flashdance" shot for Briana's Calendar.
Well, it seemed like a perfect day to set up the seamless outside so we could do the water shot. As soon as we set the paper up, a small breeze started rustling the trees – and totally destroying the seamless. We tried to get it right for a few minutes, but the falling sun meant we had to change gears really quick.
I wanted a dark background, and the seamless seemed to be the best way. I knew there would be some Photoshop work needed, but I wanted to minimalize it as far as the background.
But the wind had other ideas. I turned around and realized that with shutterspeed and some blending in Photoshop, I could get this right, and knew I had only a few minutes to go until the sun got too low to make the shot. We had no time left to do this again (schedules for three busy people) so we wanted to at least say we gave it a heck of a try.
GEAR: we had three speedlights with fresh batteries, Cybersyncs tested and ready, camera – cleaned and with fresh flash card, three stands, a boom and all the clamps and bungees and stuff we could need. We had it with us… at the ready. We got to work on the shot and the challenge at hand.
Lorri had Briana in makeup and we decided to use the shadow side of the building for the background. I figured if I couldn't save that black background in Photoshop, I would have to find another shot to use for the last month. "Let's just give it a shot" was the group response.
Setting the chair up in the sun, we added a speedlight on a stand behind her and dialed it in to match the sunlight. I had an exposure of f-5.6 at 1/125 at ISO 100. That was perfect for what I wanted. I knew the edges of the water would have some motion blur from the ambient, and would also be frozen due to the strobe. But it would also not last too long.
"Briana… we have some good news and some bad news. Good news: We have a water source. Bad news: It isn't heated."
Briana: "Grrrrrrrrr…. brrrrrrrrrr"
Filling the buckets as fast as we could we knew that we could only get about 10-15 shots before the light went too far down and killed the light on her face.
I took a few shots of her in position to make sure I really thought I could do this… Looked pretty good.
You can see how we added a second light to the back of the shot. Aimed straight at the camera, the light would backlight the water and create a bright background, almost specular, as the water splashed around her.
We tried the shot many times. Briana was a trooper and Lorri and James Alan would fill the buckets as fast as possible and we would count 1-2-3 and "splash". I was not shooting tethered on this shot due to the amazing amount of water everywhere, so I would be checking out the image with a loupe as the gang was loading the buckets and Briana was shivering.
As you can see… we had to do it several times to get the angle, amount and thrust of the water just right.
We definitely wore her out, so as soon as I got one that I knew would work, Lorri wrapped her in a warm towel and we took her inside to warm up.
I now had a shot I could work with.
Moving it into Photoshop, I first added a black background to the layers and started to blend back with a mask. Then adding the layer again with the blend mode to "Multiply" I could then blend back the dancer against the dark, black background. It took some careful masking and blending, but it was doable.
Highlight painting is also used here to add some contrast to those areas that seemed a little flat. Increased contrast was added with Tony Kuyper's Luminance masks and the entire image was warmed a bit for a more natural feel.
I then added a little spray from one area to another area to make the splash seem like it was coming from behind her. Carefully cutting and blending, I cloned the spray from the front of her legs to the place behind her back. You can see the added areas here:
And that was it. Planning the shot was so important, and being able to switch gears when the weather turned windy allowed us to switch course and still get the shot. I was able to get that shot with the quickly lowering light by not focusing on what was going wrong, but focusing instead on how to get it right.
Here is the final image as it appeared in the Calendar… which you can still buy, by the way. Visit Briana's site for a link to the purchase page.
Special thanks to Briana, Lorri and James for their help in this image.