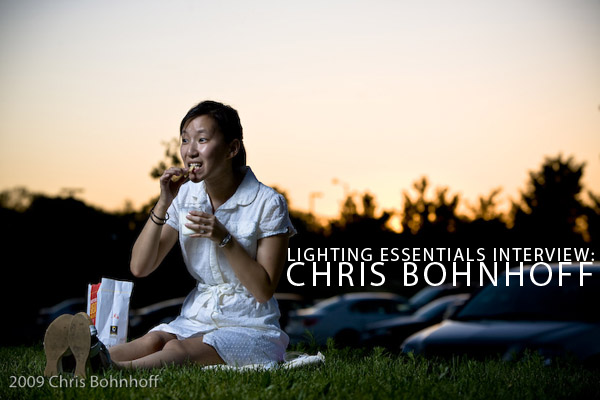 Welcome to Lighting Essentials interview with Minneapolis Photographer Chris Bohnhoff. I was cruising from a site I can't remember, and found Chris's photos. I really like the style and the interesting way he photographs food and people. I hope you enjoy his work and the interview. Drop him a note if you liked it, that's always great when you do.
I am in San Diego as I write this. We spent 5 hours this morning in a Jeep looking at locations for two shots I will be doing tomorrow. Everything was going very smoothly until the casting was held. Wow… talk about a disconnect. The talent weren't even close to the brief and the casting director seemed genuinely shocked.
I am not sure what happened at this point, but it was obvious that there was a huge misunderstanding. Both sides were quite professional in how they handled it, and man I was glad I wasn't in charge of the casting. Agency wanted to handle the whole thing.
We have another casting at 8 in the morning and will be on set about 11 for the first shot, and 5 for the second shot. I am pretty confident it will work out. San Diego has some first rate talent.
Next weekend finds me in Seattle for a workshop. We will be shooting until sunset both days, and When has found us some incredible models. Working with the Seattle team is both fun and inspiring. The talent there is amazing.
Please let me know if there are any special things you would like me to cover on Lighting Essentials. We have some gear reviews coming up as well as a total concept to finish shoot for a magazine.
I hope if you are considering a workshop this fall, that you consider Lighting Essentials. I was reminded recently of the proverb that states:
Tell someone and they forget.
Show someone and they remember.
Have someone DO what they were told and shown, and they KNOW.
That is my goal at the workshops. Not to make little clones of myself, but to give some of the principles of lighting to talented photographers, show them how and why, and then work with them doing it so they have all three senses covered. It is a really fun way to learn, and the images are just a bonus. Hope to see you at one soon.
Let's take a look at some amazing work now.

I recently saw Chris's work and thought it was really great. I hope you enjoy this interview of the famous Lighting Essentials dozen…er, or so.
1. How long have you been in business? Was it a slow transition or did you just open shop?
I've done photo-related things professionally for five years now. The initial transition was more of a jolt; I'd been working in office jobs that just weren't doing it for me for about ten years, preparing mentally and financially for a career switch for the last couple of them. I finally made a new year's resolution in 2003 that I would make some kind of move towards professional photography that year, and that resolution led to enrolling at the Rocky Mountain School of Photography in Missoula, MT. When I came out of their Summer and Digital Intensive programs I came home and started assisting, with an eye toward shooting.
Ever since then I feel like I've been in a constant state of slow transition; things haven't stopped evolving in terms of my business. It's just been a slow, inconsistent building of momentum and focus.
2. How did you get started? Any mentors or great stories here?
When I graduated from college I had this small, super artsy, contrasty black & white body of images that I brought to a pro shooter in Minneapolis who was a friend of my uncle's. He flipped through it in about eight seconds and told me flatly that there was nothing there that would get me hired in the commercial world. It basically took me ten years to process that feedback, envision exactly how I wanted to be as a photographer, and give it another, much more considered and conscious try.
The punchline is that this same photographer was the first one to give me an assisting gig. He didn't ever let on that he remembered our first meeting, which I think is good of him.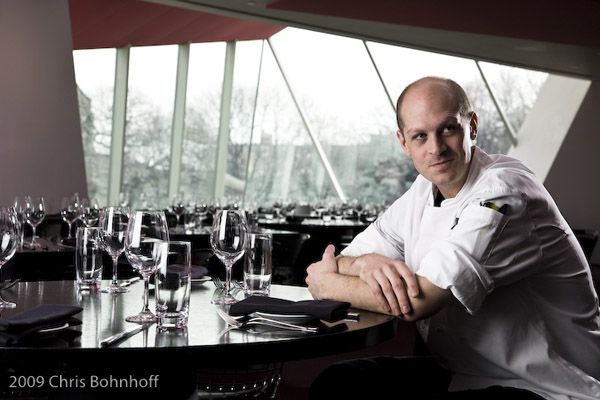 3. Describe an average week at your studio.
On average I shoot a couple days a week. The rest of my time is split between post production and working hard to get myself out in to the world forging partnerships that will lead to the next assignment (or next portfolio shoot). This year I've been making a concerted effort to strengthen my SEO, so a good chunk of my marketing efforts have been directed toward social media.
4. Why Minneapolis? Have you considered anywhere else?
As luck would have it I grew up here, so it's the center of my network. It also happens to be a pretty phenomenal place for photographers: there's a big active community of us, and a great array of corporate HQs, publications, and ad agencies to market to locally.
My wife and I definitely have our moments of dreaming of a life in the mountains, but for the time being, Minneapolis is great and it makes sense for us to be here.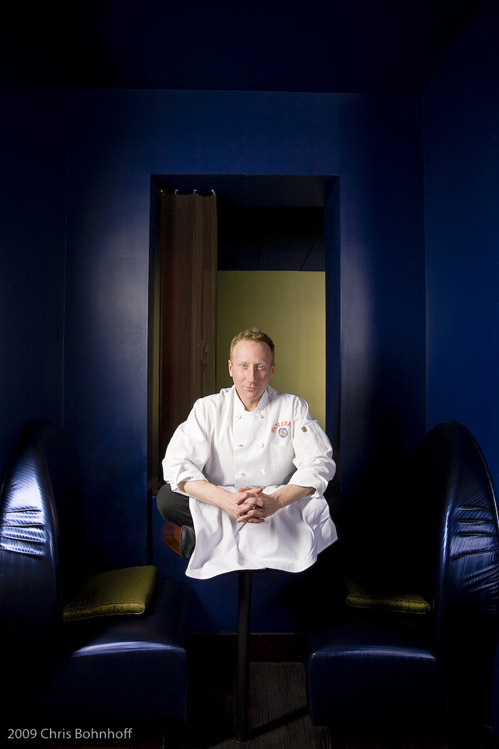 5. What motivates you, or gets you going? What do you use for inspiration?
What gets me going is the chance to interact with really cool photo subjects. Photography is my creative outlet for sure, but what I've really come to value about life as a photographer is that a photo shoot is a great excuse to interact in a meaningful way with people that I probably wouldn't have met otherwise. Hanging with chefs in their kitchens and watching them create, talking to college professors about their teaching experiences, even being with a family on a wedding day – the interactions with subjects are what make my career so fulfilling and rewarding. And seeing my images used to tell their stories is just a huge honor.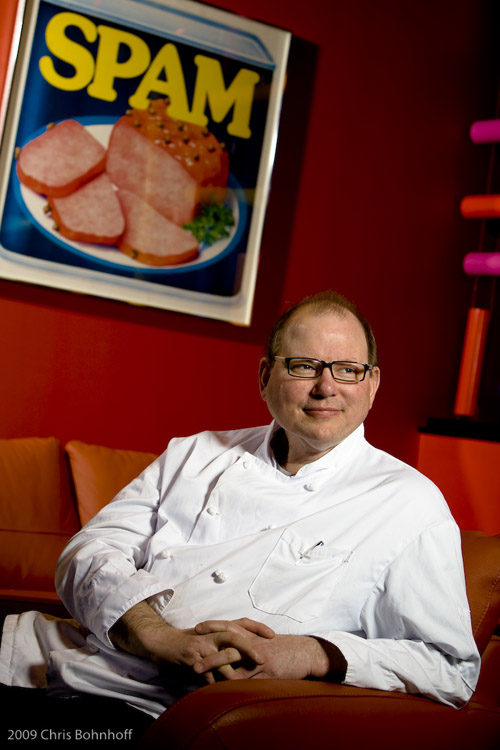 6. What is it you like the most about being a photographer? Do you do anything else for a hobby or avocation?
I would say that my hobby is eating, so I thank my genetic stars that I'm almost 40 and my metabolism hasn't slowed down yet. Lunch is my favorite time of the day. When I travel, it's the restaurants and markets that are most interesting to me. I love cooking and eating with friends. And in the past year I've started brewing beer.
7. Are there any downsides to being a commercial photographer that you would like to change? How would you change them?
I'm a one-person shop, and it can feel pretty isolating when you're in the middle of a big edit, or you're hustling your book and trying to make business happen. Lately the limitations of doing everything myself have really hit home, so I'm in the process of building a team around me to help things grow. The process is just starting, but it already feels super empowering. I'm more excited about the future now than I've been for a while.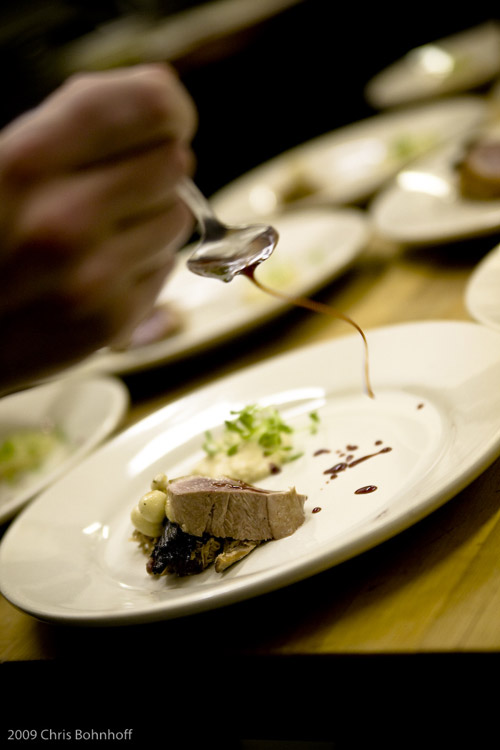 8. What was your most memorable assignment?
It has to be my work with a nonprofit group based here in Minneapolis called the Sierra Leone Plymouth Partnership (www.slpp.org). I traveled with them to document the work they do in a clump of three small villages in eastern Sierra Leone, and it was a life-changing experience seeing the need, and participating in the process of empowering a group of people whose lives were completely torn apart by civil war in the 1990s. I've shown a body of portraits from the trip in a number of venues, and my favorite comments have been from Sierra Leoneans who look at the images and tell me, That's it: that's what it's like there. Americans need to know what it's like outside our borders, and any small part I can play in that process, I'm down.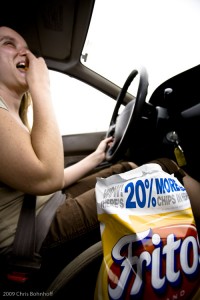 9. Any 'war' stories you would like to share? You know, the ones that always start with "There was this one job where…."
Not really. . . stuff happens on every shoot. You move on. We're the luckiest people to be able to hang out with people, be creative, and get paid for it.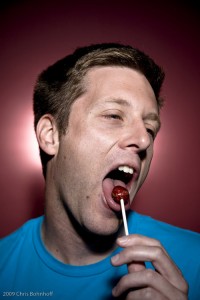 10. What would be your ideal assignment?
Man, just one?! I've been blogging about this lately, actually, and I still have a hard time narrowing it down. At this moment, what comes to mind is an editorial feature. I've read lately about these places in Italy – they're working farms where you can stay, tour the operations, learn about farming, and eat perfectly fresh, local stuff as it's pulled out of the ground. My ideal assignment would be to tour a bunch of those and come back with portraits of the farm owners and staff, filling out the story with shots from farm life.
But ask me again in a couple hours. I'm sure it'll be something else.
11. Future plans for Chris and his photography?
To keep honing a style that feels like a true reflection of me, and to keep connecting with clients who appreciate that style.
12. Tell us a little about your new work…
This summer I've been working on a series of portraits of people with their favorite snacks. My initial idea was only to do something lighter and less serious than a lot of the stuff I had been working on, and to create a space where I could be a little experimental with lighting. It's been great for that, but it's also been interesting to talk to people about their guilty food pleasures, or how food has a nostalgic quality to some people. It's a series that I think has a lot of possibilities that I'm just starting to realize; we'll see where it takes me in the next couple months.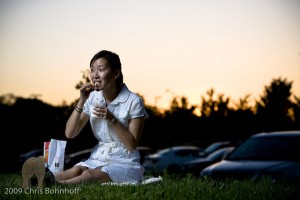 13 Oh, and what is on the music box right now at your studio?
(yes, it was supposed to be 12, but what the heck…)
Kruder & Dorfmeister: The K & D Sessions, Disc 1. I'm babysitting my brother's music collection while he teaches English in Japan, and this is from his ambient electronica case.
Contact Chris Here:
Portfolio – http://www.chrisbohnhoff.com
Weddings – http://www.chrisbohnhoffweddings.com
Blog – http://www.chrisbohnhoff.com/blog
Twitter – http://www.twitter.com/chrisbohnhoff
Thanks Chris, and thank you too readers. I hope you enjoyed what Chris had to say and his photos.