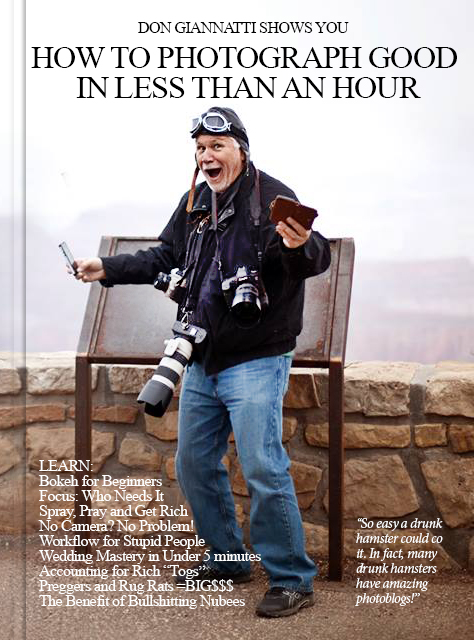 I have decided it was time for me to put it all out there… no holding back, no withholding of the secrets that I am privvy to. All of the stuff that other photographers wont tell you… I will. I am like a man on fire.
Without the burning pants and sickly smell of charred skin of course.
But otherwise… burning up, baby.
So here is a brain dump of EVERYTHING YOU NEED TO KNOW TO BE ABLE TO SHOOT GOOD.
Some of the topics I cover show you exactly WHY I am considered one of the foremost photography people south of Chandler Blvd and West of the Walmart.
Yeah… McNally ain't gonna spill his guts like this.
Arias ain't gonna spill his guts like this.
In fact, when bringing up guts and the spilling of them no one does it better than me. Once in college I drank an entire gallon of Boone's Farm Strawberry something… GUTS SPILLED.
Epically.
I have no idea why I told you that, but then I have no idea why you are still reading this.
Chapters I will use to expose the ugly underbelly of photography and those secrets that only the 'pros' use to make gooder pictures than you do.
A sample of the kind of hard-hitting information that will spell success into the 6 figures and beyond.
1. Which ISO is best for Bokeh so creamy you can stand a fork in it.
2. Portfolio secrets I don't even know, and I know a lot.
3. Things to say to Art Directors that make them feel all jelly and want to give you more money for the most stupid mundane shit you will ever shoot.
4. Sure, you gotta great camera… the joke is on you. Most pros shoot iPhones and Holgas.
5. You've heard of the "rule of thirds"? Bullshit… the "Rule of Pi Squared Rounded to the Closest Tenth" is what all the big guys use. Especially the Europeans who are all working here and doing killer work for big ad agencies without their green cards.
6. The 6 Secrets to finding a good Off Shore Bank for all the money you will be making after reading this book.
7. Ethical questions all photographers must face. (Gotcha… LOL, no photographers have ethics… that is just so stupid.)
There are like a lot more… and all of them are life changing, awesome and will give you that extra heads-up for getting the drop on your competition.
In fact if you have a lot of competition in your market, you will especially enjoy the section on "Staging an Accident" with ten tips even the biggest city Coroner will miss every time.
So send me money. Lots of money.
If you send me enough money I will send you the book.
If you don't send me enough money, I wont send you the book – and don't ask or whine about it, WUSS.
No returns / No refunds.
Get the heck outta here.