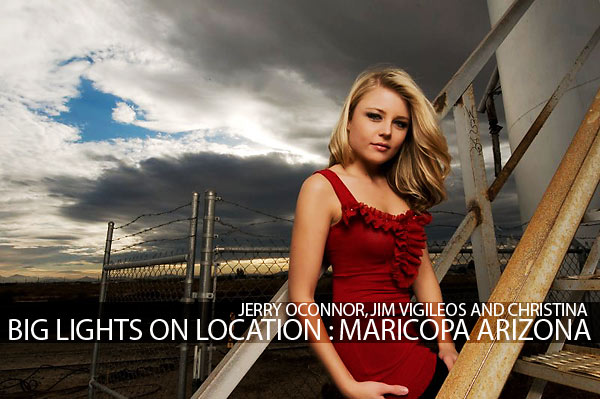 Photographers in Phoenix like dramatic skies. We get so many days in a row of bright, blue that when it gets dark and moody up there some of us grab cameras. My friends Jim Vigileos and Jerry OConnor did that recently and along the way they grabbed Christina to add to the mix.
Both shooters use small strobes a lot for their work. Moving fast with speedlights, they shoot everything from classic pinups to glamour to portraits both on location and in the studio. Today was big light day… Jim with his AB's and Jerry with his Elinchrome Ranger and beauty dish.
The day started with me having a ton of work to do and sitting in front of the computer getting ready to do it. A text comes in from Jerry saying he and Jim were working with Christina, did I want to come down and hang and have lunch with them. Pile of work versus hanging with a couple of fun guys and Christina… no brainer. It takes me about 25 minutes to get to Maricopa, a tiny, but growing, town south of Phoenix.
The day had started with lots of bluster and the skies were threatening rain. Perfect. We had lunch and headed over to a site Jim had scouted earlier… an old grain elevator on the tracks there in Maricopa. I was happy to go along to photograph them making pictures.
Before we continue, be sure to check the 2009 Workshop Schedule. I have been working on the new workshop daily, with workbook and shooting with Briana for it… It will be a truly amazing two days and the amount of lighting we will cover will be staggering. The workbook and supersecret DVD for only the workshop attendees will make the experience even more valuable.
Let's see these guys in action.