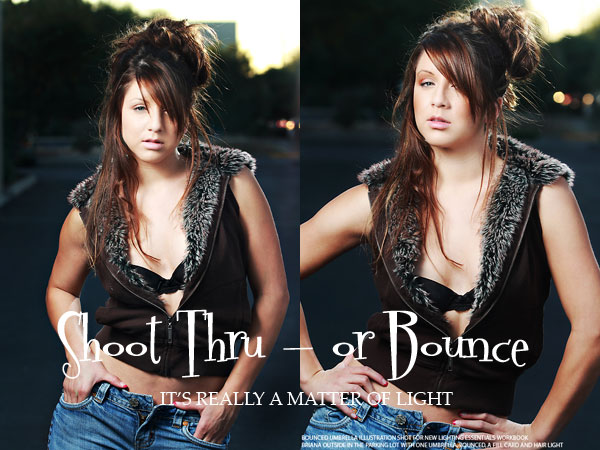 There is so much talk on some forums about the 'softness' of shoot-thru umbrellas and how much it works to provide a soft light. And there is certainly some truth to that statement… especially with umbrellas at a distance.
But finessed lighting that is done close to the subject finds that the shoot-thru umbrella has no 'wrap' to it, instead it scatters the light from the source instead of focusing the light. And those of you who know me, know that I don't usually run in a 'right' or 'wrong' mode on lighting. I only want the lighting to be what you want it to be… and learning lighting from someone who tells you to always do 'a' to get 'b' will do you no good.
You must get out and work with the tools, see the results, tweak and repeat. And repeat. Learn what the light does, then reconstruct it to provide the light you want.
We are going to examine a couple of shots we did with both in the same light. I also shot the setup so you can see how simple it is, and what I am referring to with the light.
NOW: Workshop News.
We are so excited about the workshops coming up. Please let me know if there are places you want to see Lighting Essentials Workshops. I am looking to book July and August now. And, of course we have all the workshop signups working so you can get signed up and ready for the workshops in your area… from San Diego to Montana to Washington DC… even Nashville!
I hope you are aware of our new Lighting Diagram tool. It is awesome and really can help with sharing the diagrams with friends. Treat the grid as 1 foot square and be precise about placement.
Now, let's go look at some shots with shoot-thru and bounce umbrellas.
Related Posts: