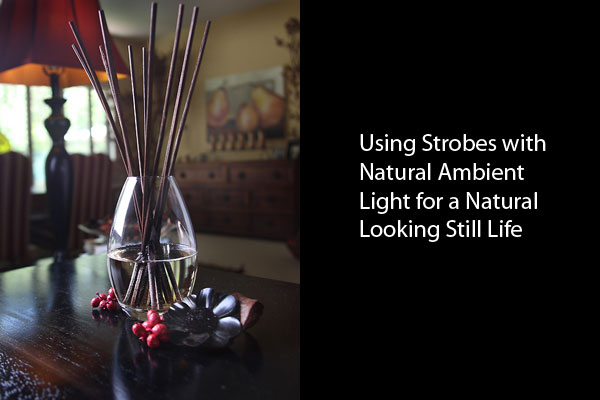 This is a cover shot that we did for the fragrance company. We wanted a larger space and a more natural looking scene for the cover so we sought out a warm environment. Our AD found a beautiful home that fit the bill.
I knew the item that I would be shooting was small, and knowing that the idea was for a natural looking space, I didn't need the big guns, I took a small, traveling kit we had at the studio and was off.
The space was a very pretty, large living room with 18′ of north light coming through floor to ceiling louvered windows. The room was simply awash in gorgeous, ambient light.
Before I get started, apologies for slow posting… I have been crazywickedbusy… and working on a book for final publication (although private) is taking every spare minute. I would like to thank SmugMug Professional for coming on as a sponsor. Every workshop attendee for the rest of the year will receive a free one year Pro Account at SmugMug. We also welcome Midwest Photo Exchange to the LE family. A big shout out to BorrowLenses.com and MightyImaging.com for their continued support.
Upcoming workshops are Atlanta and Mexico. I have openings for a few at both. The lineup for the summer is looking great. All attendees receive the workbook, a new DVD for the workshop attendees only, a copy of my book on PDF, the SmugMugPro account and more. We are currently doing weekly webcasts on New Media Marketing. As soon as we have the bugs worked out, that free weekly workshop will be available to all workshop attendees.
Well, let's go on and take a look at how simple tools can be used to make a natural looking still life.