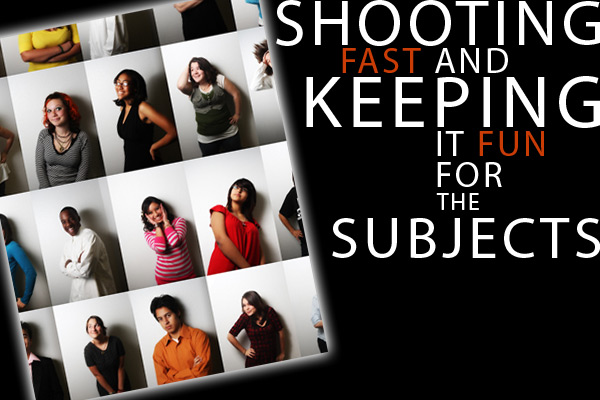 Well this was a fun gig. Once per year my friend Troy asks me to photograph his choir kids for a year of marketing for them. We spend about 4 hours and shoot a gazillion images. Neat part… he lets me do what I want. I can be as 'creative' as I want – as long as we get it done in 4-5 hours.
This time Troy wanted to do a poster of the kids to introduce the choir program to the school. He wanted to make it fun and exciting – not the normal 'choir robes' type of static shot. In this, as in many other inner-city schools, getting kids interested in choir takes a commitment to marketing. We started by sketching up a grid poster idea, then looked in the room for a place to shoot it. In Troy's classroom, there are very few blank walls… it is a haven for music lovers. Posters, charts and more on every square foot.
We found a spot, took down a few posters and set it for our shoot space. This would be a place I would return to every moment I wasn't shooting the choirs and the seniors. (I told you we shoot about a gazillion images, didn't I?) To do that, I had to keep my 'MOJO' in play. That little thing inside us that keeps us centered or crazy (depending on need) for extended time. Mojo is an old, out of date term… I'm old and out of date… seems apropos. More after the jump below.
Before we take that jump, let's take a quick look at some very cool posts from the web.
ProFotoResource.com has an article about the single portraits I did of the seniors. Check it out.
Hamburger Eyes from Chase Jarvis. You just gotta watch it.
Kirk Tuck stirs thing up with this post on the Flickr-ization of Photography. Leave a comment!
Bruce DeBoer has an interesting interview with Dominek Rella, Creative Director, at Permission to Suck.
Workin' hard to get those Social Media numbers up? Seth Godin has some insight.
Good advice from Gary Vaynerchuk… as always.
And some popular posts here as well.
8 Essential Sites for Photographers.
Branding Your Photography Business: A Practical Approach.
10 Nifty, Excellent Excuses for Failing at Photography
If you are looking for a workshop, take a look at Learn to Light for our schedule and sign-up pages.
Jan 16, 17 : Phoenix (first one of the year… woohoo!)
Jan 30, 31 : Seattle (This workshop rocks… great studio and incredible talent)
Feb 6, 7 : San Diego (Last years San Diego workshop was amazing.)
Feb 27, 28 : Houston (Three-peat for Houston. Great town for us)
March 13, 14 : Santa Cruz (First time in Santa Cruz. Excited about that.)
March 27, 28 : New Orleans (Never even been to NO… very cool!)
April 17, 18 : Philadelphia (Philly is one of my favorite towns.)
April 24, 25 : Omaha (We had a ball in Omaha last time… probably have one again this time!)
Look for an announcement about Austin coming soon. we hope. Heh.
We have had some pretty interesting discussions at the LE FLickr Forum lately. Marketing, introducing your work to potential clients, lighting information and more. Join us, it's free and fun.
And if you are looking for gear… MPEX has a little icon on the upper right of this page. Clicking on that will take you to the Lighting Essentials page (stuff I like) and you can save 10% on your first order. As long as you enter through this link, you can then go anywhere on the site and the 10% will be in effect. Save $180-$200 on Dynalite and Profoto Lighting kits… That's cool. Thanks MPEX.
You can also save 50% ($100) on Selina Maitreya's incredible audio program "The View From Here"… Just use the code FOSLE at checkout. I bought a little iPod shuffle and loaded this on it. Walking, flying, relaxing in the yard… that little iPod is clipped to my shirt.
Now let's take a look at how to keep the shoot moving, under pressure, without losing the enthusiasm of the subjects.