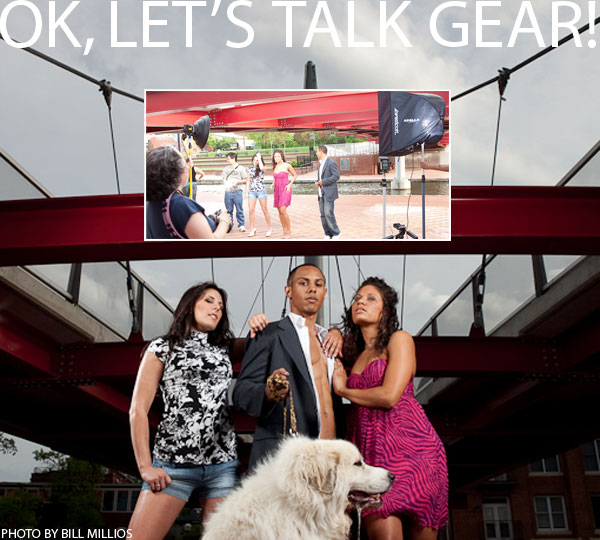 I get a lot of questions about gear at the workshops and by email. I have lots to say about gear, but I am not a gear-head. I love gear that helps make my work easier, and couldn't care less about cost or prestige. If something works well I like it. And if it isn't worth a premium price, I wont spend a premium price. Period.
There are lots of camera manufacturers, lots of lighting manufacturers and lots of gear manufacturers to choose from. And this article is in no way stating that other peoples choices are wrong. These are the tools I use and like a lot. I do not do negative reviews, so if I talk about it, it is because I like it.
Before we get to the specific items, I want to let everyone know that the workshops are going to be offered again next year and we will have the schedule up soon at Learn to Light. They have been very successful for us, and we are kicking them up a notch with a lot of interesting learning tools for next year. Everything will go up but the price. We are holding at our current price and still keeping to our very small 10-12 participants. If you are thinking about a workshop for your photography, I hope that you take a look at our schedule and mark one you like.
I want to link back to a few other gear articles we have done before getting going here.
Simple Setups for Dramatic Lighting
Mini Workshop: Location Portraits and Glamour
Speedlights: Unleash Their Creative Power
ON LOCATION: with Jerry OConnor, Jim Vigileos and Christina
Enough Modifiers to Keep It Interesting
Shoot Thru Umbrella and Bounce Umbrella – A Comparison
Twenty+ Non-Photographic Essentials For Location Photography
And a few recent articles you should be aware of:
Still Life Shot for a Magazine Ad
Modifying Natural Light with Simple Tools
And this 10 post long series on Going Pro. We are adding more to the Going Pro real soon.
Some new blogs and sites that I love are also something I want to share.
Heather Morton is an Art Buyer in Canada. Her blog is so damn interesting I cannot recommend it more. Absolutely amazing look at the real world of advertising photography. Also there is the wonderful blog by Nick Onken. Nick is one of my favorite shooters and his blog is very insightful. Rodney Smith is also one of my all-time favorite shooters. He now has a blog and it is fascinating reading.
I hope to meet more of you next year, and we are sure loving the fact that so many of you are telling your friends about Lighting Essentials. Thanks so much for your support.
And we still have a few openings in Pittsburgh and Boise. One spot left in Boston and one in Detroit. Florida is full. We will be starting next year with San Diego and Houston. See Learn to Light for more information.
So let's get going on the gear post.