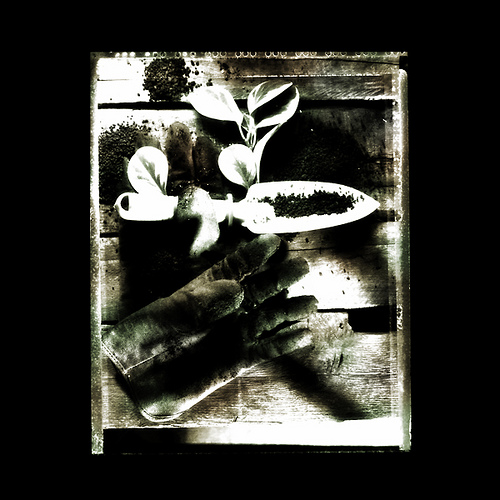 … or something like that.
I don't remember the particulars on the slant of the article.
Late on a Monday, the art director called in a panic with a rush job. Could I do an illustration for a publication that was going to press on Wednesday. We had to shoot it, approve it, scan it, get it separated and into the layout in a day.
Sure, we can do that. She faxed over the page layout and the ideas for the shot and we went out to get the props instead of heading to a planned dinner. (You gotta have a very understanding spouse in this business.)
I started out at the local hardware store and they had the scoop thing, as well as some very course fertilizer. They also had some very nice work gloves that I bought. I had an idea, but I know I needed gloves anyway, so I got them and we headed back to the studio.
On the way, I dropped in on a local nursery down on Baseline and about 32nd St and made one of the guys an offer. Trade the brand new gloves for his pair of ratty old gloves. Well, it was a deal he couldn't turn down.
So back to the studio and it was now going on 6. The AD was waiting and we got going on the shot.
She wanted:
Black and white.
"Gritty and Earthy"
Vertical
It will be framed by copy.
Small area bottom right to be used for copy (call out).
More After Jump.
(more…)