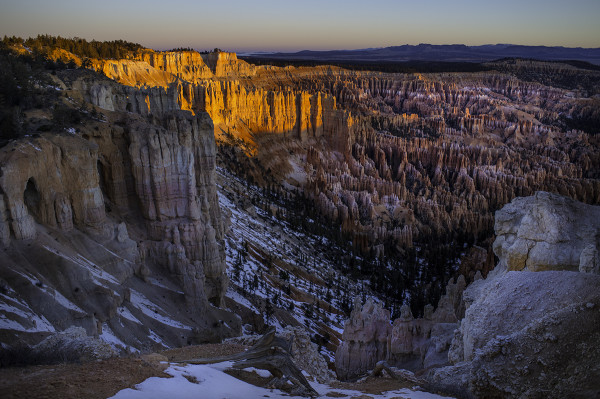 We all pile into a large, comfortable van and head off to Northern Arizona. Our first night is in Flagstaff, then off to the reservation lands of the Navajo, Vermillion Cliffs, Marble Canyon, Kaibab Plateau and more. We spend an afternoon and a morning in Zion National Park. We are up for dawn in Zion, watching the sun creep over the incredible formations of rock is simply amazing.
Then it is off to Bryce for an afternoon view of that incredible landscape. The next morning we watch the sun rise over Bryce… delicate lines of light and shadow are mesmerizing… and it is an event that will simply never be forgotten. Later that day we head to Page, Arizona for a trip to Upper Antelope Canyon with our own guide. The slot canyons are simply breathtaking and you will love being in them. We end that day photographically at Horseshoe Bend… a much photographed part of the Colorado River. Then for some wonderful Mexican food in Page.
Our final day finds us traveling through Navajo land to the East Entrance to the Grand Canyon. If you have never seen that part of the canyon it will be a highlight. We visit the south rim stopping at all the major overlooks, then into the lodge for ice cream and coffee. That night we travel back to Flagstaff for a good nights rest before heading back to Phoenix on Friday morning.
We arrive in Phoenix at approximately 2PM. We start on Sunday afternoon and back on Friday… this ain't no 'learn how to use your speedlights' workshop.