Wow…
Have you ever gotten a product that made so much sense to you that you think it was made to order? That is how I feel about these Trigmaster Plus II's from Aputure.
Wireless Triggers for flash is now one of the most important tools we have seen emerge in the last decade. Being able to fire flashes without having cords running all over the floor – or work to create "line of sight" for opticals means more freedom for the photographer.
I am a manual flash photographer. I am not interested in ETTL, ATTL, or whatever your camera manufacturer calls the auto-flash exposure mode. I know others who love it. Fine.
I don't. I like manual and for the way I work, manual works just fine.
And speaking of 'manual'… (nice segue, eh?), the manual – instruction book – that comes with these triggers is clear, concise and easy to understand. That is pretty cool, right there. I wish all manuals were this easy to go through to find what I need. Clear illustrations and simple concepts had me working with them within a few minutes of taking them out of the box.
And out of the box… the worked flawlessly. That is even cooler than the instruction manual!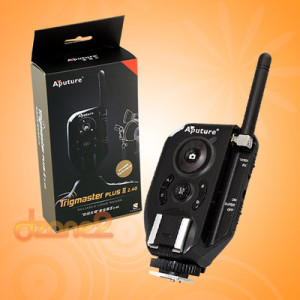 They have literally everything I would ever want in a trigger system. Multiple mounting tools (straps, hot shoes, stands) and the options that make sense for the way I shoot.
All-In-One Transmitter and Receiver

Interlink Triggering Mode
Four Zones
Relay Mode
Multi-Camera Control
Power Display
Compatibile with all Aputure 2.4G Triggers
500m Range
2 AA Batteries
Compatible with high voltage flash units (up to 300v)
Compatible with all major brands of flashes (you must purchase the ones for your brand camera)
2.4G Wireless Signal
1/320 Max Sync Speed
Metal Hot Shoe
Locking Wheel (nice)
Antenna folds down for easier storage
Easy to read display and controls
1/4″ Tripod Mount on cold shoe
Safety Strap
All cables needed for most flashes
Extra Battery Case
PC Cable
Flash Sync Cable
Sync Output Converter (for larger flashes like my Profoto's)
Test Trigger Button
Camera Trigger (remotely fire camera)
6 Channels / Four Zones for maximum productivity
Something I like a lot is the ability to use the remote camera trigger AND have the camera fire a remote flash at the same time. That is new – at least to me – I have not seen any triggers that do that. This is the "Interlink" feature of the units and it is pretty cool
Using the Relay mode on "Super" you can reach out to distances not imagined in inexpensive wireless triggers. I tried it and found that I could get my daughter at one end of the block and me at the other and it still triggered… amazing.
These are not TTL or ETTL or whatever your camera brand calls automatic exposure control of the flash from camera. These units are manual, sturdy, feature rich tools that make shooting with all kinds of flashes (large, medium, small) easier and with less stress.
I have a big batch of different kinds of strobes from Dynalite and Profoto studio strobes to off-brand flashes purchased on EBay for a few bucks. These triggers fired all of my working flashes – without missing a beat.
I need to add an additional big shout out to the designers who used white lettering on the black unit. I know that is an additional cost in the manufacturing process – but it so welcome to many of us who may not have those same young eyes we did back when we were 25. I love the fact that I can see what I need to do without having to angle them to the light to catch black raised letters on a black surface.
Look for them soon on Amazon – we will add a link here as well.
Available on EBay for $59 per.