Adi Talwar has been a strong member of Project 52. His wit and charm infuse his work no matter whether it is lifestyle, photojournalism or portrait.
Adi was asked to do a show of some of his experimental work, and for those of you who may not be near NY at this moment, he has graciously let us view some of his work. These are a few shots that will be on display starting Thursday.
The show, at Illuminated Metropolis Gallery, will run from July 11 to August 3, 2013. I do hope all of you in the Metro NY area can join Adi for his opening Thursday evening.
Illuminated Metropolis Gallery
547 W 27th Street, Suite 529
New York, NY 10001
Betweenn 10th and 11th Ave
Artists Reception from 6-8PM.
From Adi's website:
Adi Talwar is a self taught photographer who enjoys capturing emotions and making memories. His portfolio ranges from portraits on the street, to performances, appetizing food, Corporate events and personal work. His work has been published in the New York Times, the Wall Street Journal, City Limits Magazine, The Next American City, Daily News, Norwood News to name  a few.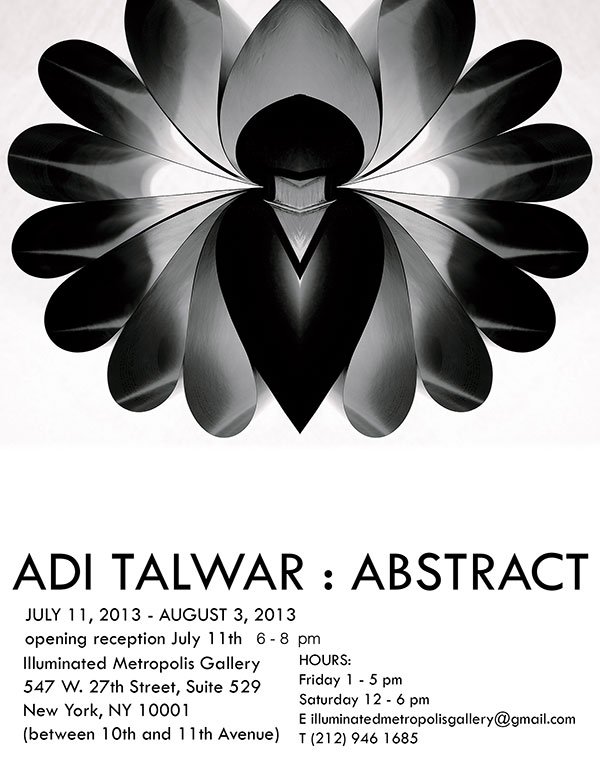 I find this work to be quite interesting. The lines and compositions lead one to an abstract view of common subjects – and that is particularly cool.
See more of Adi's work on his blog as well.
The images:
Thanks for sharing your work, Adi.