All of my current classes on UDEMY are FREE. No charge. Hours of information for you.
Portrait Photography with Simple Gear
Natural Light Fashion Photography
How to Use a Photographic Light Meter
No BS Marketing for Photographers
See UDEMY for more information and to take the classes for free.
I enjoy teaching greatly, and this format is pretty interesting to me. I am also looking at creating micro-courses there… 2 hour deep looks into different aspects of the creative photography experience. Keeping the price low and the learning intense.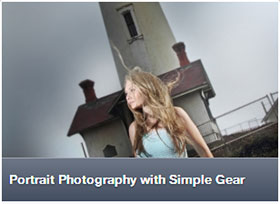 Here is the introduction information from the Portrait Photography with Simple Gear class:
This course is created for the beginning to early intermediate photographer who wants to use simple gear to make much better portraits. We will examine fresh ways to use natural light, augmented natural light, strobes with both natural light and as the main lights only and how to create our own reality with only a single speedlight.
Over Six and a half full hours of video: shooting, explaining, shooting and Photoshopping. Fourteen + downloadable PSD files in layers to see exactly what we did with the Photoshop work… and use them to understand the Photoshop videos you are watching.
We show the setup and how the image is put together, adding fill cards and additional tools as necessary to make the images WE want to see.
Follow along as I set the lights, find the exposure, work with the models and build the image to what I want it to be.
Understanding how to use light to make the portraits you want means you can make portraits at almost any time you want.
Some of the things you will learn are:
Using the small flash for lighting portraits How to make traditional 'Beauty" portraits Using a single light to produce extraordinary results Working with models and subjects How to blend ambient daylight with your strobes – and do it easily Using modifiers like umbrellas and softboxes and knowing which you want to use Adding strobe to bring the subject into a very contrasty situation Adding contrast with a wink of strobe in very flat lighting Creating your own reality with lighting Methods for making the most beautiful natural light headshots you can In addition we show the post production of the images in Photoshop so you can learn to use some basic, and yet very useful tools in post to make the shots pop even more. We include the PSD files in layers for you do download and view as we are doing the Photoshop demonstrations in the videos.
Learn how to add small amounts of "light" to an image Simple moves with the Curves Adjustment can make so much difference How to simply retouch faces to eliminate blemishes Using layers for more control Adding depth with contrast and attention to detail There will be several scheduled live sessions to discuss your images, and to answer any questions you may have. In addition, there will be additional shoots added one per month until 12/31/2012. If you are familiar with your camera, and would like to be able to make better portraits without spending a ton of money on gear, check out this set of lectures.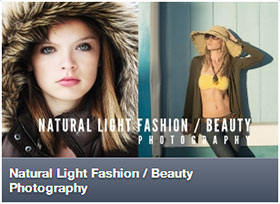 This is the class detail page for the Natural Light Fashion and Beauty Class:
There is something inherently beautiful about natural light. It can be soft and warm, or hard and unforgiving, or even have a sort of melancholy to it. These are the areas we will be looking at in this course.
Fashion and Beauty photographers use natural light in many ways. A recent viewing of Vogue (October, 2012) reveals many natural light shots by up and coming and well established photographers. The techniques are not hard to understand, but still require the finesse and deliberate approach that is required when using artificial lighting.
We will look at natural light from all angles; full sun, modified sun, shade and moody, emotional light.
We will build some inexpensive modifiers for natural light, and also show how to correctly use white reflectors, silver and gold reflectors, scrims, mirrors, and more. These tools are not expensive, but the results they give can be astounding.
The course is divided into 12 lectures, each running approximately 30 minutes. There is a workbook, plans for building a scrim and large reflector, and lots of videos.
Most lectures include a shoot with the gear we are using, a Photoshop tutorial, the PSD file for viewing and a look at how the final images were selected. Looking at the images as they are shot, and then edited, is very powerful as a learning tool.
If you are interested in portraiture, fashion, beauty or glamour, this course will open your eyes to the very cool ways you can use natural light to make your images.
The course is suited to any level of photographer. I recommend a light meter, although we will also show you ways to use your camera meter as we go. A couple of stands would also be a good addition to your natural light arsenal.
Natural Light Fashion and Beauty Photography