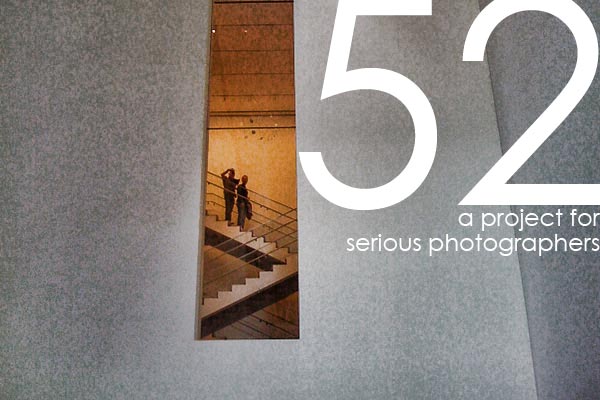 UPDATE:
Thanks to all the folks on the Project 52 LIVE last evening. As promised, here is the audio file. It will be linked here for one week, and one week only.

Part One

Part Two
Some things we talked about.
1. The reason we do a 'vision' statement for ourselves it to get our minds eye to become our filter. It is like when we see something for the first time, and then realize that it has been there all around us… but we haven't seen it.
2. When you write it down, you think about it more. It becomes indelibly etched. That keeps us focused.
3. New Website coming for the project. www.project52.org (not live until Monday).
4. Use Flickr for the work. This is the link for the Flickr Group. Post your image there, and use the 'description' area for your vision statement. This is the link to the first project discussion on the Flickr group. There are tag infos for Flickr and Twitter.
5. Assignments are due in two weeks from the posted assignment.
6. There will be a notice if you will need to have a person or subject for your assignment with enough time to get that put together.
7. You can start at any point in the program.
The premium thing is coming, but none of what we are doing here now will be considered premium. Watch for that on February 1. $'s around 10… so keeping it inexpensive.
This is going to be really exciting…
Here we go.
This week we meet on Thursday evening, January 6, 2010. We will be discussing the first assignment: creating a mission statement, and why that is important.
NOTE: the show is supposed to be at 7PM, MST – 6PM PST. I am hoping the glitch in the time shown won't be an issue. Will update here if it is… stay tuned as they say…
Create a free account to be able to ask questions and make suggestions. You can click on the "Join Event" button above to create an account – they do not spam, but you must be identified so you can participate. It's a server thing… heh. Or go to Vokle directly.
(NOTE: in the text below I mention live chats on Wednesday evenings. I hope to keep to that as much as possible, but there will be times when I will have to move the night. That is the case this week. I am shooting and will probably go a little deeper into the evening at the studio. My goal is to have them on Wednesdays, but situations being what they are, they occasionally will be moved. See you all Thursday.)
Today we start our 52 weeks, 52 Assignments Project. We'll just refer to it as "52". An assignment every week with discussion, critiques, development reviews and more. If you are wanting to make the break and go into professional photography, this integrated, synergistic approach may be just the thing you need.
The first post of the new year, the first post of 52, and we must set some ground rules:
This website exists for you, the reader. There are many sites out there that will teach you how to put a light on an umbrella stand, set an exposure, and make a shot. There are sites that will open your eyes to the joys of composition, strobes, natural light, Photoshop and how to make a beauty dish out of a potted plant (sans the plant).
I have no intention of trying to double down on that effort, rather I will do what I think I do best. Mentor. And I am going to try a little experiment here on the web. We will try this for a year, see how it goes and adjust next December.
In college I took a course called "Integrated Musicianship" at ASU. Under the guidance of composer Ronald LoPresti, a small group of hand picked students met each morning at 8AM and we held class until 1PM. 5 hours a day devoted to the integrated study of music. We conducted, analyzed, composed and performed music in such a way that it was totally natural in its relationship to our studies. We saw and worked with the entire scope – from tonality to orchestration to presentation. Nothing was separate, all was synergistic.
As it should be.
As it will be for us as we pursue the development of a professional position in commercial photography. Whether you want to make it a full time career or just do some extra commercial work to add to your income, this is a serious foray into the heart of the beast.
We will take the same approach to the work we do as photographers. We are going to immerse ourselves in the process and the production, with plenty of discussion of the techniques.
For this incursion into the workings of a professional photographer, we will need certain items and certain mindsets.
Let me say right at the start that I am not a wedding photographer, nor do I do much direct to consumer photography. I doubt we will be doing much in those particular genres, but I would expect that a lot of what we do will make the leap over to that work as well.
Our mindset is one of discovery, adventure, a willingness to work beyond the bounds, and a desire to make images that are the best they can possibly be.
I am going to make some suggestions here. And a demand or two.
Notes for discussion: We will be discussing your work, concepts, lighting and such and having notes will sure make it easier to do.
1. A notebook. A nice 5×7 or 6×9 book for making notations and keeping records in will be of tremendous help to you. I use the Moleskine brand. Here is a link to some great prices. There are other brands as well, so what ever you are comfortable with, do that one.
2. If you wish to go electronic, may I recommend Evernote for your computers and devices. A great tool for collecting information and being able to retrieve it from anywhere. Think of it as an online Moleskin. You can also use them on your devices – android and IOS.
3. If you are totally device driven, I will recommend Awesome Note, or Penultimate. Muji Notebook is a nice program as well for iPad. For those of you who are Android users, look for "Easy Note" in the Android Market. Same as Awesome Note above.
Storage Area for work:
We will be looking at work and critiquing it. At this point we will be working through the Lighting Essentials page at FaceBook, but for those who will be doing some of the premium stuff with us, you will need an online storage area. My favorite right now is DropBox.com. It is free for 2 gigs which will be fine for what we are doing. Even if you are not planning on doing the full program with us, you should most definitely have a DropBox account. Click here and sign up (I get a few megabytes added to my account if you sign up through me).
Currently we have a Lighting Essentials Flickr page where we can share images, and some new things are in the works, but for now we will use it. Click here to become a member (free of course) and we will use the forum until we get the FaceBook page ready.
The Structure:
We will give you an overview of assignments on the first Monday of every month. You will be able to have time to get a subject or a model lined up for any portraits we may be doing. You will have two weeks to shoot every assignment save for a few. Occasionally there will be a quick turnaround emergency shoot. Just like in real life, you will have very little time to prepare and plan… just fly on guts and technique and faith in you abilities.
The images will have a due date for critique and discussion. There will be no late work. There is no such thing as late work in the real world of professional photography. It is in by deadline, or it is a lost assignment. Nothing personal, and if you miss one the world doesn't come to an end. There are no grades, but you will grade yourself.
We will have a audio/visual discussion by broadcast, as well as on the forums. I will record all our public online discussions and they will be available if you missed the live one. We will also have an extended online discussion for our premium members, and that will also be recorded. Those recordings will not be available for the general public, but will be reserved for our premium members.
ADDED: Many of you have asked if it is a problem that you may not be able to do every assignment. That is fine. You will learn from those that do. The discussions and work sheets and critiques and more will be a wonderful learning experience. I do hope you do as many as possible, but there are most certainly some circumstances that may get in the way of the full "52". And remember, you may be able to catch up and do them anyway.
There will be more coming, but let's get started with our first two assignments:
Assignment Number One: Mission Statement #1
January 3, 2011
What do you want to do photographically? Tell us with a single paragraph what you want to be able to do with your images. Tell us what you do without telling us you are a photographer. Accompany that message with a single image taken around your home. Inside or out, make a photograph that adds insight into the mission statement you will be writing.
Don't get overly flowery, just write down what you want to do.
"I am a story teller. I illustrate the times in which we live and try to put it into a context of meaning with images of ordinary people in extraordinary situations. I strive to enlighten each and every one of us by portraiture that reveals more than the surface reflects."
"I want to capture that moment between reality and fantasy with my images. A tiny sliver of time caught for eternity, and worthy of notice, is what I work toward with every image I take."
"Chicks in stripper heels, wrapped in caution tape on railroad tracks…"
Well, maybe not that one.
We will revisit the mission statement toward the end of the year. Maybe things have changed, and maybe they will remain the same.
A mission statement, even a rudimentary one, can make a huge difference when you are shooting. It reminds you what you want to do. It helps the focus of the image be what you want it to be. It can help put you back into the position of creating instead of taking. And even those photographers who 'find and take' images have a vision that helps them do the finding.
Some posts here at LE for you to consider:
"So You're a Photographer…"
"Enough Negativity…"
It's All About Me… Creative "About Me" Pages.
As for the photograph… think long and hard about it. It should reflect your mission statement as best as possible. It can be done indoors or outside. I only want you to to shoot around your house/apartment as an exercise in creativity. Sometimes we have to make do with what we have… and I want you to make do for an important photograph without leaving your yard. That is the extent of the rule.
Questions? Let's use the comments area here to keep the focus on this assignment.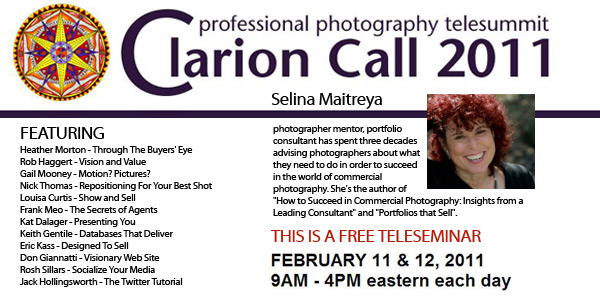 Due: On or before Monday, January 17, 2011
Thursday, January 6th, 7PM Mountain, we will discuss the mission statement and how it can help drive your vision, here, live for an hour. I will post the link here on Tuesday. We will do it a second time on the weekend – time to be announced. (While most of the time we will try to make them on Wednesday, there will be times it has to move. I am also working on a second broadcast that will work for our European followers – stay tuned.)
January Assignment Forecast:
(Note: These are assignment dates, not due dates)
Assignment Number Two: Portrait of a Stranger
January 10, 2011
We will be doing an on location shot of a stranger. More to come next week, there will be parameters and instructions.
Assignment Number Three: Still Life
January 17, 2011
We will also be discussing how to bill this type of work.
Assignment Number Four: Environment and the Weather
January 24, 2011
Three shots for a magazine story.
Special 5th Monday Quick Assignment to be announced.
January 31, 2011
Thanks so much for joining us at Lighting Essentials this year. This will be a very exciting time for photographers, and we want you to be ready to get out there. As always, check the Learn to Light site for information on the workshops, and follow me on Twitter for pithy insights and oh-so-clever tweets about photography. Learn more about me here.