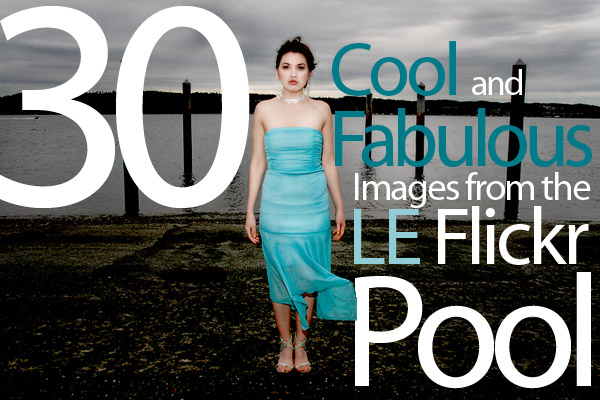 Well, we present 30 images from the pool today. Images that are soft and wild and quiet and loud… but all of them compelling in their own way. As always, the images link to the photographer's Flickr pages so please click and visit. Leaving them a comment always brightens their day.
Before we get going with that, some fun stuff to share.
From the web:
Heather Morton has a post on breaking out and adding to your genre.
Kirk Tuck shares some insights from a nice ad job he did.
Mathieu Young grabbed a big strobe and walked all over LA making photographs of every one he met.
Mike Sheil gives us his take on working as a photographer for over 30 years.
And here are Ten NO's for all of us freelancers.
On the Lighting Essentials site, we have just completed a three part interview with Selina Maitreya. Her insights into what is working now and what to do to get out there are really indispensable.
The new Rants and Raves section is getting quite a bit of play. And we added some testimonials to the Learn to Light site. If you are considering a workshop, take a few minutes and check out ours. I want to make it the best workshop experience you have ever had.
Upcoming dates for the workshops:
Jan 30, 31 : Seattle
Feb 6, 7 : San Diego
Feb 27, 28 : Houston
March 13, 14 : Santa Cruz
March 27, 28 : New Orleans
April 17, 18 : Philadelphia
April 24, 25 : Omaha
Please let me know if you have some questions that you would like me to explore. I am preparing a few posts n shooting film, medium format and large format, as well as some on-the-scene coverage of some working pros. Your input is always welcome.
BTW… if you haven't started a 365 Project yet… it is never too late. Just start today and run it for a year. Let us know about it and we will compile a list of LE folks with their 365 projects.
OK… let's go look at some images from the forum. I think you are going to like these.
As always on these posts, please click the image and leave a comment on the photographer's Flickr page. It means a lot to them to hear from you.
I love the gesture here. The "Jazz Hands" and the impossible position give the photograph so much dynamic motion.

The light, smoke and position of the subject make the shot seem formal. The subject offsets the formality of the composition by the gentle twist of the head and the informal hands.

This image just pulls me into it. Such a nice composition, and the tonalities make it inviting. I love that little bottle dead center. The casual effect of the subject looking off camera is powerful.

Careful focus and wonderful soft, wrapping light make this portrait stand out. The attention of the subject on his hand lends a feeling of reality to the image.

This subtle black and white landscape shot has such a nice composition. Love the texture versus smooth foreground. Those clouds bring the eye right back to the land, don't they?

This dramatic shot looks fabulous as a thumbnail. The big shot doesn't disappoint. Nice use of flare to help make the statement.

Sublime texture and line in this classically composed environment. Black and white works so well.

Careful attention to casting, props and wardrobe make this image stand out. The light is complex without being distracting. Ahhhh… texture.

Wow. Lighting and mood. Props and color as well as the DOF control make this little guy pop without being blown out. Clean light and beautiful baby.

This crew should love the photo. Very complex lighting, but the result is a well done commercial image.

The softness of the natural light, with the flare and wrap make this image a perfect match for what the photographer was going for… a dreamy state of mind.

The offset composition, shallow DOF, gesture of the model and very nice, dramatic sidelight give this image some real punch. Hard not to notice it… and then it draws you in.

Color, gesture, angle and the model's pose all together present a moment perhaps to be remembered.

Sometimes the portrait is so dramatic and the concept so pure, it cannot helped but be seen. The gesture brings you in and you leave with more questions than answers. Nice light too!

Sometimes the light is so nice, it can enhance an otherwise already nice image. Composition is classic, subject is gorgeous and the light sets her off very well.

Clean, solid light, limited DOF and a smile that is infectious. A nicely done headshot for sure.

I like how he seems to be emerging from the light. Nice effect. And really nice pose.

Dontcha just love images that are like little short stories? Mini novellas? Light, gesture, pose, composition… so much going on here.

Dramatic composition and effective use of two lights present this subject in a classic, yet a bit modern image. Limited DOF and the pose of the subject make the image stand out.

Hmmm… that looks like it may be a Corona. That works for me!

Yeah… sometimes it's just like that. Lighting works to present an illustrative portrait with a lot of appeal.

What could be a cliche ends up bringing us in. Nice use of a color pallet and gesture.

Sensual color and light. The composition sets our eyes moving into the mist to see what is there, but ultimately we are drawn back to the windmill.

Alright… this just looks like a hell of a lot of fun.

Such a classic composition. Quiet and understated and so very interesting. Great detail to offset the whimsical pose.

Oh man, this shot works on so many levels. Such energy from the subjects. Placing the rider to one side in the composition makes it even more dynamic.

Rich color and dramatic DOF make this image pop.

A beautiful, natural light portrait of a lovely subject. What else could you ask.

A feeling of 'paparazzi' created by the lighting and the subjects attention elsewhere. Seems almost a grabshot, and that makes it immediate.

Light, color pallet, gesture, styling and makeup artistrty combine with subtle and effective lighting to present an 'other worldly' portrait.

Hey, thanks everyone for taking a look at some of these amazing images from the Lighting Essentials Flickr Pool. Come on and join us there for images and discussions on a wide ranging set of topics.
Follow me on Twitter, and visit my workshop site at Learn to Light.